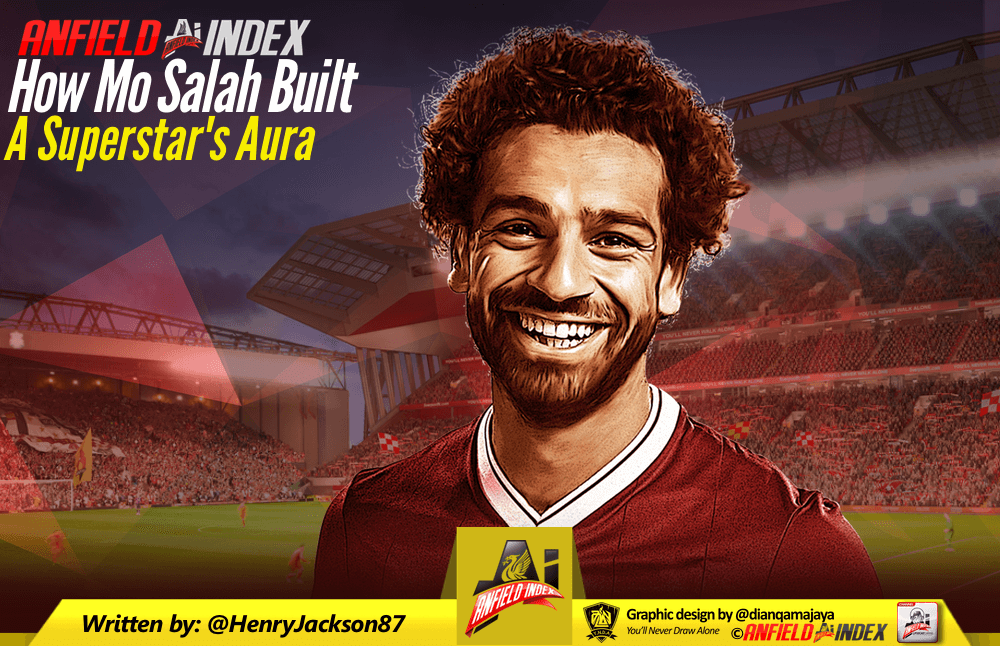 How Mo Salah Built A Superstar's Aura
There are many things that make Lionel Messi and Cristiano Ronaldo the greatest players of their generation, if not in the history of the game.

They score goals at an unfathomable rate; they lift their teams when they are struggling; they produce moments of genius and their level of consistency is second to none.
Something that stands out most is their ability to make an impact when not at their best – an issue that even this unbelievable duo experience from time to time.

Ronaldo, in particular, has games when he can go unnoticed for large periods, producing heavier touches than normal, being well-marked and missing the target a number of times.
But he's always in the game. He's always there at the forefront of opposition sides' plans, affecting the game in a way that benefits his team.
It is an aura that he and Messi have built up over the years and it is a key component of what makes them what they are, much like Tiger Woods and Roger Federer at their peak. They are more than just great sportsmen.
To say that Mo Salah is in the same company as these true all-time greats is clearly a ridiculous statement, but one thing is clear: he now possesses an aura of his own.
In the space of 12 months, he has gone from supposedly iffy signing to one of the most destructive attacking players on the planet.
Liverpool picked up a significant 2-0 win at Crystal Palace on Monday night, grinding their way to victory at a horrible place to go, without ever being close to their best.
Salah was actually one of the Reds' poorer players on the night, which is something that has barely ever been said since his move from Roma last summer.
The Reds' No.11 often struggled with his decision-making and he didn't cut the same ruthless figure of last season, as highlighted by his wayward lofted effort, following that outrageous piece of play by Naby Keita.
There were moments that left you frustrated, but if you take a step back and look at what he ultimately achieved on a tense but thrilling night, his vast influence is there for all to see.
He won the James Milner-converted penalty that has caused such a bizarre amount of debate over the last few days, having been clipped by former Reds favourite Mamadou Sakho.
Yes, it was soft, but anyone claiming it wasn't a spot-kick must have quite a deep-rooted dislike for Liverpool Football Club.
Salah then raced through in the second-half before being hauled down by Aaron Wan-Bissaka, leading to a red card for Palace's impressive young right-back.
The subsequent free-kick from the Egyptian was agonisingly close to clearing the wall and finding the top corner, as his goal threat remained on show.
In the dying seconds, Virgil van Dijk headed clear to Salah, who fed Sadio Mane with a perfect pass inside his own half. The Reds' fellow speedster was sent clean-through, rounded Wayne Hennessey and did the rest in style.
That is three influential moments Salah produced in south London, on an evening when he was genuinely off the boil for a chunk of proceedings.
Salah may be more like Messi in style, with that beautiful left foot and a low centre of gravity, but his performance had Ronaldo written all over it.
The Portuguese star has been 'bad' but pivotal on so many occasions you lose count.
Even when he's not at his best, Salah will affect football matches in a positive manner, with most players only dreaming of achieving what he did at Palace on a good night, let alone a below-par one.
This is the level that the 26-year-old has got to, following his extraordinary exploits last season, in which he scored 44 times and scooped both the PFA Player of the Year and Football Writers' Association Footballer of the Year awards.
When opposing players take to the pitch they are now coming up against 'Mo Salah: Global Icon' rather than just an excellent player who will be difficult to stop.
It is something Steven Gerrard had in abundance during the mid to late 2000s, with Luis Suarez very much the same in 2013/14. Everything felt better when they were on the pitch.
You can look at rival players and say the same, albeit not from a Liverpool point of view, from Eric Cantona at Man United in the mid-1990s to Thierry Henry during Arsenal's 'Invincibles' period.
It is a priceless asset to have and such is the focus paid on one individual, other top players can be afforded more room to work their magic.
This is a Liverpool team littered with brilliance these days, with Alisson, Van Dijk, Mane, Keita and Roberto Firmino among the best in their respective positions in Europe.
Salah is that sprinkling of stardust, though – Keita could be the same eventually – and in a psychological sense, he almost gives the Reds a 1-0 head-start before some matches have even kicked off.
He is yet to find his best form in the opening two matches of this season, but his impact has still been undeniable, with a goal, an assist, a penalty won and a red card caused.
His performance levels are only going to grow as the campaign progresses and he holds the key to Liverpool's title challenge, despite so many others feeling indispensable, too.
This aura that Salah has created should only grow as he enters the best years of his career.