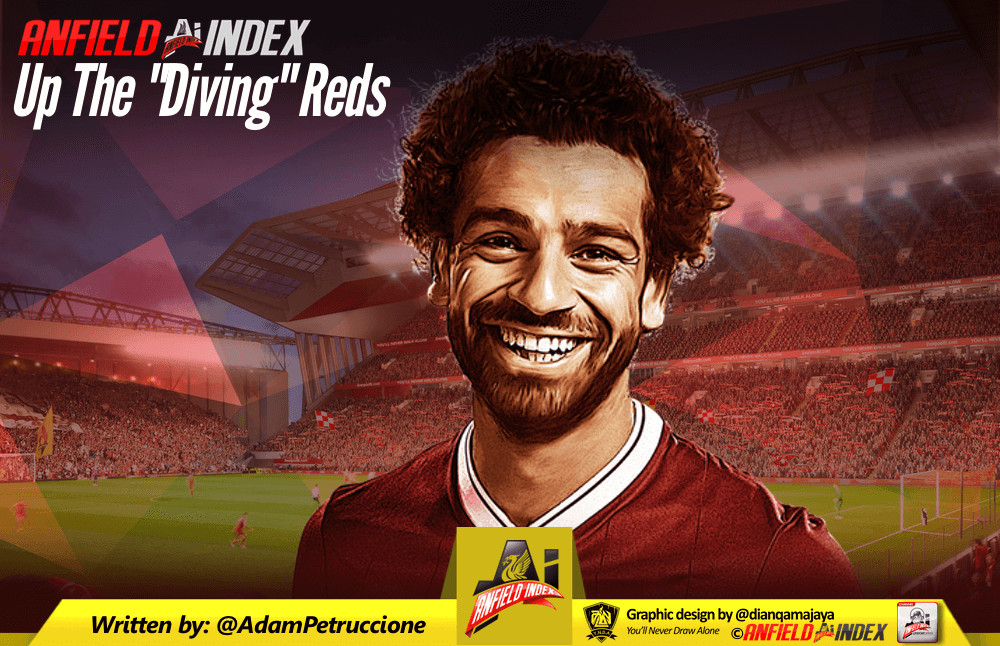 Up The "Diving" Reds
In a world where Trump is the leader of the free world and Sergio Ramos has a closet full of trophies, you have to ask yourself, can Liverpool win while being nice guys?
Being everybody's second favourite club is nice, but it doesn't exactly fill up the trophy cabinet. None of us would want a switch to Mourinho ball. Even if parking the bus guaranteed trophies, most of us would take our chances with Klopp's rock & roll football.
However, the breakneck pace with which Liverpool captivates the football world should not preclude the Reds from pushing the boundaries of the FA rulebook. Manchester City drew 18 penalties last season, 8 in the league, while LFC managed 8 all year with 3 in the league. Aside from being Liverpool's main competitor for the league, City is one of the few squads that can play at our speed, but it doesn't stop them from seducing the ref.

On Monday night as a rock 'em sock 'em first half wound down, Mo Salah received the ball with Sakho grabbing him, spun away and got his legs tangled with Mama's as he began to sprint away. Salah goes to ground and draws your basic, run of the mill penalty that would be called 8 times out of 10.
Mo being Mo, he could have stayed on his feet. Last season he would have stayed on his feet. On Monday he went to ground. James Milner converts. Liverpool 1 Palace 0 and the whistle blows on the first half moments later. That was an absolute dagger to the heart of Palace's players and fans to give up a goal in that manner, in that moment.
Did Liverpool star Mohamed Salah dive to win penalty against Crystal Palace? https://t.co/sBe9Yq2eZ8 pic.twitter.com/65wGBz8tKe

— Today's Footy News ⚽️ (@TodaysFootyNews) August 21, 2018
For now, I'd like to believe that Salah was aware of what he was doing and there is absolutely nothing wrong with that. Until penalties start to be called without players going to ground, every player who wants to compete for something is going to hit the deck and roll around and throw their hands in the air. Sort of like Salah did when Wan-Bissaka clipped his leg as he was through on goal in the second half. Again, he's enough of an athlete that he could have stayed up, but Bissaka has already gifted him the opportunity. Salah has to take it there and does.
'SaLaH DoEs NoT dIvE' pic.twitter.com/zXDudZCk0B

— ubæ (@ubaydelapogbaa) August 21, 2018
If Liverpool are going to overtake City they'll need more goals in critical moments, and there are few places where they can squeeze more out of their already potent squad. LFC are going to have to grab every opportunity afforded them with both hands. It's just a couple of instances, but Salah took full advantage in a way that we haven't since Suarez and Sterling left town.
If the Egyptian does that fifteen more times this season, we should cheer him on every stumbling, flailing step of the way. Remember Sergio Ramos. If anything positive comes out of Kiev, it should be a lesson that ruthlessness is not just a suggestion for those who want to hold up major trophies, it's a requirement.
It's great that Liverpool has such a wholesome squad. I'm proud, you're proud, their families are proud. Injuring opponents and fabricating incidents is not what anyone is suggesting. But against opponents like Palace in the 44th minute, when things aren't firing on all cylinders, and an awkward centre-back sticks out a leg… dive man, dive! Hug that turf like you haven't smelled it's glorious scent in years.
Up the diving Reds.