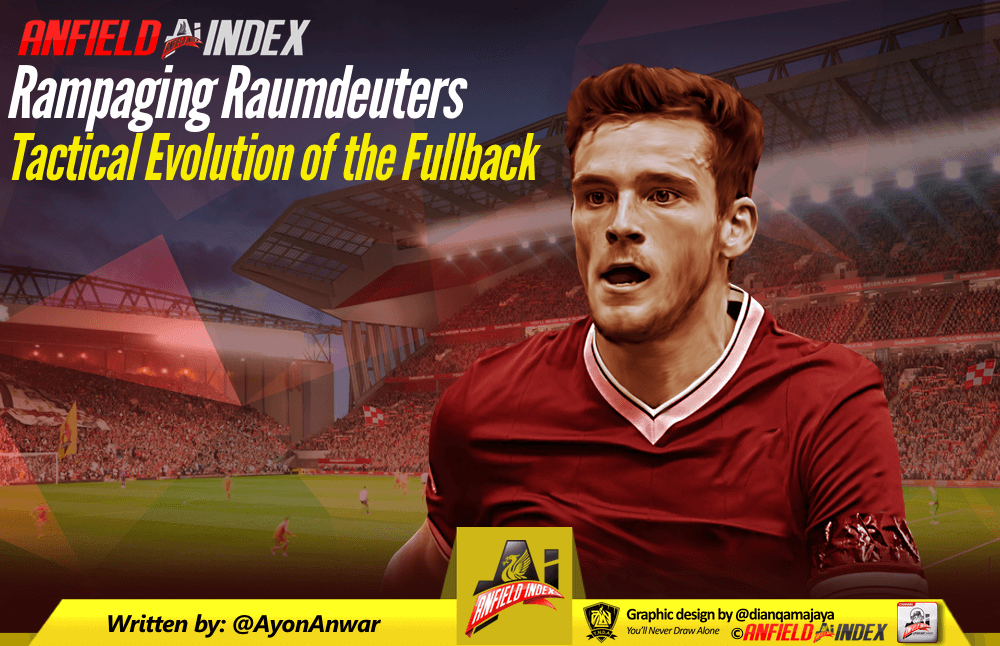 Rampaging Raumdeuters: Tactical Evolution of the Fullback
Thomas Muller is a peculiar footballer. The zany German is known for his aloof attitude, general mischievous behaviour, his pranks on Bayern teammates and his excellent Kermit the frog impression, once even feigning a phone call with his passport held to his ear to avoid speaking to the press. The man is a genius.
His attacking statistics are formidable, with 150 goals and 105 assists for club and country. Many a youth coach would advise a young player dreaming of being a professional to take Muller as a role model.
Delving deeper into how the Die Mannschaft Stalwart has achieved such a highly held status leads to some moments of head tilting like a perplexed puppy. Muller does not possess silky skill with the ball at his feet, he is not blessed with extreme pace nor is he as aerially dominant as would be befitting a man of his stature. So how is he so effective?

In a 2011 interview, when asked about his role in the Bayern Munich set up, Muller coined a term which would later be incorporated into the Football Manager series: Raumdeuter. Roughly translated, the role can be defined as a space interpreter. The understanding of space or the ability to be in the right place at the right time for maximum efficiency. Following in Muller's footsteps are a multitude of players, particularly fullbacks.
Pep Guardiola's decision to spend £52 million on Benjamin Mendy was ridiculed amongst the English media, especially as fullback was seen as a position of weakness in the English game. If the Frenchman's performance in Manchester City's 6-1 drubbing against Huddersfield is anything to go by, the fee could be seen as a bargain.
City lined up in a 3-5-2 formation with Mendy on the left and Bernardo Silva listed as a pseudo right wing-back, which would effectively switch to a 4-4-2 in defence (occurring on only a handful of occasion due to City's utter dominance).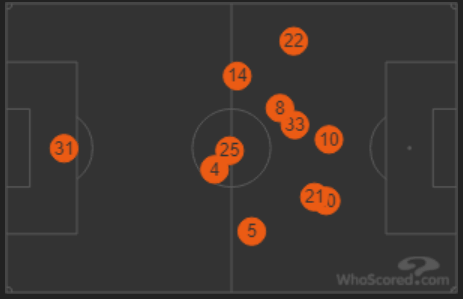 A look at the Man City's average positions shows the former Monaco man's dominance on the left wing as he was tasked with not only firing in deadly crosses (12 in total) – one of which was the assist for Sergio Aguero's hat-trick goal – but positioning himself in such a way to exploit gaps in a tiring Terriers' defence. One such example of this was a mazy run starting in his own half, splitting two defenders which eventually resulted in Gabriel Jesus' goal.
Down south in the blue quarters of London, Marcos Alonso finds himself in a similar role with a profile comparable to Muller. Installed as the left wing-back in Chelsea's title-winning campaign in 2017 under Antonio Conte, the Spaniard was more likely to be seen in the opposition box than his own, in stark contrast to the era of Jose Mourinho where the fullbacks were famously not allowed passed the halfway line.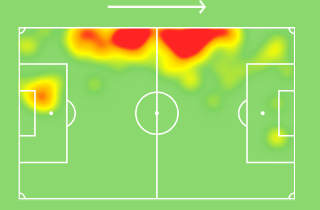 Marcos Alonso heat map vs Arsenal (Image taken from sofascore.com)
Against the Gunners, Alonso was essentially positioned on the halfway line, tasked with perceiving the environment and how best he could influence the situation – space interpretation 101. Such is his success in the role, Real and Atletico Madrid have been linked with his signature.
We were given a glimpse of Andy Robertson's potential to fill the role in Liverpool's 2-0 victory over Crystal Palace when he burst into space vacated by both teams on the flank when Palace pressed near the defensive left corner flag. His bursting run and bending ball would have resulted in a certain goal were it not for Wayne Hennessey's excellent timing followed by Naby Keita's profligacy in front of goal.
However, as much as a hero that Robertson is to Liverpool supporters, he is not quite Liverpool's version of his fellow rampant fullbacks in blue. This can be attributed to two factors. Firstly, the Scot's skillset is much more aligned with that of a traditional fullback, diligent in defence (whereas Mendy and Alonso are ironically poor), intelligence on the overlap and excellent ability to rifle balls in across the 6-yard box.
Secondly, the system which the Reds employ is symmetrical. City and Chelsea both can use asymmetrical systems due to their dearth of talent at centre-half, with City using a three at the back system and Chelsea – four – with Cesar Azpilicueta, a natural centre back, deployed on the right. The tactical flexibility of the defence allowing for adjustments based on the opposition. This facet of Manchester City's game is arguably what sets them apart.
This is not to say that the former Hull City man would not thrive if given the opportunity. Perhaps when Fabinho can be incorporated into the side a 3-4-3 formation could be tested, with Dejan Lovren slotting in beside Virgil Van Dijk and Joe Gomez. As it stands, however, the 4-3-3 is here to stay, why fix what isn't broken? A look into tactical flexibility an issue for another day.
Louis Van Gaal's initial use of the original raumdeuter in the 09/10 season corresponded with the beginning of Bayern Munich's recent dominance of German football, winning 7 out of 9 league titles and a champions league since. Now, with some of the Premier Leagues elite in possession of their own, the rise of the raumdeuter seems to be the future of football.