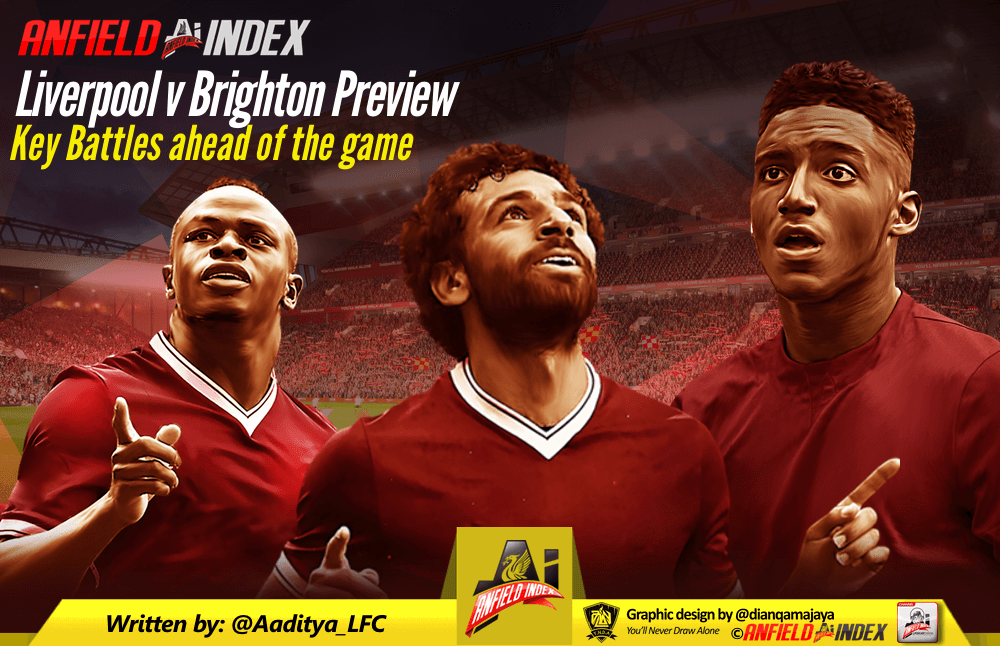 Liverpool v Brighton & Hove Albion: Key Battles
After two wins in their first two games, the Reds are back in Premier League action on Saturday evening as Brighton & Hove Albion come to Anfield in good spirits, after a fabulous win over Manchester United last weekend.
The Reds have scored six and conceded nothing in their first two games, so they will be full of confidence. Two very different games have happened for Liverpool, with a comfortable stroll against West Ham being followed by a stern examination from a plucky Crystal Palace side. Jurgen Klopp's men have come out of both unscathed, and will be looking to extend their perfect start to the campaign.
Since 1993, the Reds have only once won all their opening three games of a new season – in 2013. It is a golden opportunity for that feat to be repeated again.

Here are some key individual duels that could decide the outcome of the game.
MOHAMED SALAH V GAETAN BONG
Although Brighton have traditionally been strong defensively, they aren't exactly the fastest at the back, and that could be a disadvantage for them against Salah. Bong generally tries to get forward and support the winger in front of him, but in this game, he might well have to shelve that aspect of his game.
Salah should start on the right flank, and ideally a little wider than he did at Selhurst Park last week. The narrower Salah goes, the more difficult he finds it to make room to do what he does best.
Salah didn't score against Palace on Monday and was not playing at the heights that everyone knows he can. Yet, he was hugely influential, as he won a penalty just before half-time enabling the Reds to take the lead, and he also set up the second goal for Sadio Mane to round off an efficient victory.
In the game against Palace, there were several occasions when Liverpool could have played the ball behind the defence, but Salah was not making his usual runs in behind, instead preferring to come short and receive the ball.
It might have been a specific instruction from Klopp, but it definitely isn't one that you can see lasting too long, because the Reds' power is at its most furious when Salah and Mane are making those runs behind the defenders.
With Bobby Firmino gaining more fitness with every game he plays, he should be expected to return to his best form soon. With Firmino's sharpness of mind and foot, it allows Salah and Mane to drift infield, and worry the centre-backs along with the fullbacks.
Bong is sure to have his hands full – a lot more trouble than Juan Mata gave him last week. If his last trip to Anfield – on the last day of last season – is anything to go by, he must be already praying that those 90 minutes elapse as soon as they possibly can.
SADIO MANE v MARTIN MONTOYA
On his competitive debut for the Seagulls last week, the former Barcelona man put in a very accomplished performance, as Brighton thwarted Manchester United. On Saturday, he will come up against one of the most in-form players in the league in Mane.
Mane seems to be enjoying his new role a little further infield than last season and is causing havoc for defenders along with Naby Keita and Andrew Robertson. Montoya is going to have to deal with a lot of movement, and most importantly, movement at pace.
Keita has already shown an affinity to drift towards the left flank, Robertson will tirelessly run up and down. And then, there is the trickery and speed of Mane. Last season, the Senegalese got the least goals among the Liverpool front three, and he has started the new campaign as a man on a mission to set that right.
With teams focusing more on Salah, it has allowed Mane more freedom and space on the opposite flank. And he has enjoyed having that room to express himself.
Mane already has three goals in two games and will be looking to add to that tally to hurt a team that the Reds put nine past in the two games last season.
JOE GOMEZ v GLENN MURRAY
Murray was phenomenal for Chris Hughton's men last week. He didn't rest for a single minute and constantly asked questions of Victor Lindelof and Eric Bailly. His performance was highlighted by the deftness of the finish, as he scored to put Brighton ahead against United.
Gomez has just come off a difficult test with rather flying colours, and that will be a big boost to his confidence, especially given the sparse number of games that he has played at centre-back.
Murray's biggest asset is his strength and his aerial power, and that is a well-documented weakness for the Reds' no.12. Even against Palace on Monday, it was evident that Virgil van Dijk was the man tasked with dealing with the aerial balls towards Christian Benteke, while Gomez was left to ensure that he won the second balls, and tracked the runs from Wilfred Zaha, which he dealt with expertly.
There are already enough signs that Van Dijk and Gomez are forging a very good understanding at the heart of Liverpool's defence, and it can only be a positive sign if Gomez grows into his role as the centre-back, which has long been touted as his best position.