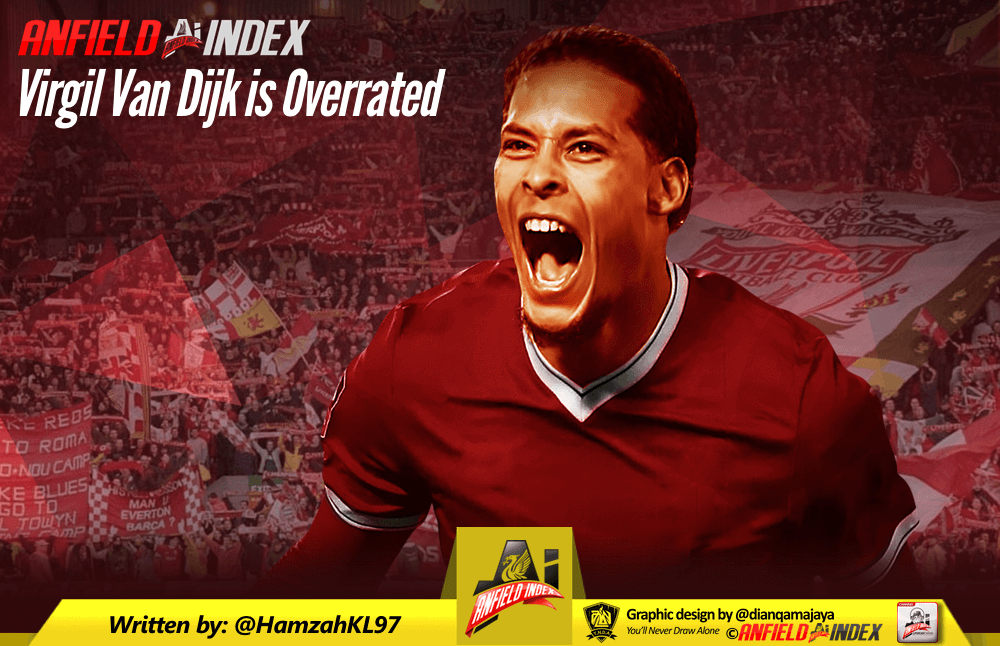 Virgil Van Dijk is Overrated
It's hard to ignore the presence of Virgil Van Dijk at Liverpool FC. Looking past a 14 stone 6 ft 3 man-mountain is a challenge in itself, but the world record £75 million fee drew the attention of anyone and everyone with an interest in football.
Against Crystal Palace, Van Dijk was awarded the Man of the Match award. Jamie Carragher went on to compare Van Dijk to Alan Hansen, whilst Gary Neville spoke of how Van Dijk reminded him of the colossus, Jaap Stam. Not long later, in his column for the Liverpool Echo, John Aldridge mentioned his experiences playing against Franco Baresi and Paolo Maldini, and how his time playing against them mirrored what Christian Beneteke may have been up against.
It all seems a bit much. Van Dijk is good, but is he really that good? The comparisons just appear completely excessive: Alan Hansen was the best defender of his era and played his part in a Liverpool defence which between 1975-1984, played 263 competitive home games, and lost 15. Within these 9 seasons was an 85 match unbeaten streak between '78-'81.

Hansen was the finest centre-back the home nations had produced, a leader and a serial winner. Comparing Van Dijk to him after half a season at Liverpool seems excessive in this regard, and that's before we consider comparisons to Stam, Baresi, and perhaps the finest defender to have ever played: Paulo Maldini. These players either redefined defending or were the players of their generation. In my opinion, the only players who can honestly hold a torch to them who are playing right now are Sergio Ramos and Rafael Varane – both World Cup and serial Champions League winners.
Van Dijk's superfans point to the defensive statistics of Liverpool since he joined. However, these figures were generally improving irrespective of Van Dijk, with Liverpool's defensive record following the 4-1 away loss to Spurs the best in the league. Besides, the stats used to hype Van Dijk up are defensive stats, which are to a large degree down to Liverpool's back five, but really, are actually due to the entire team's structure & pressing.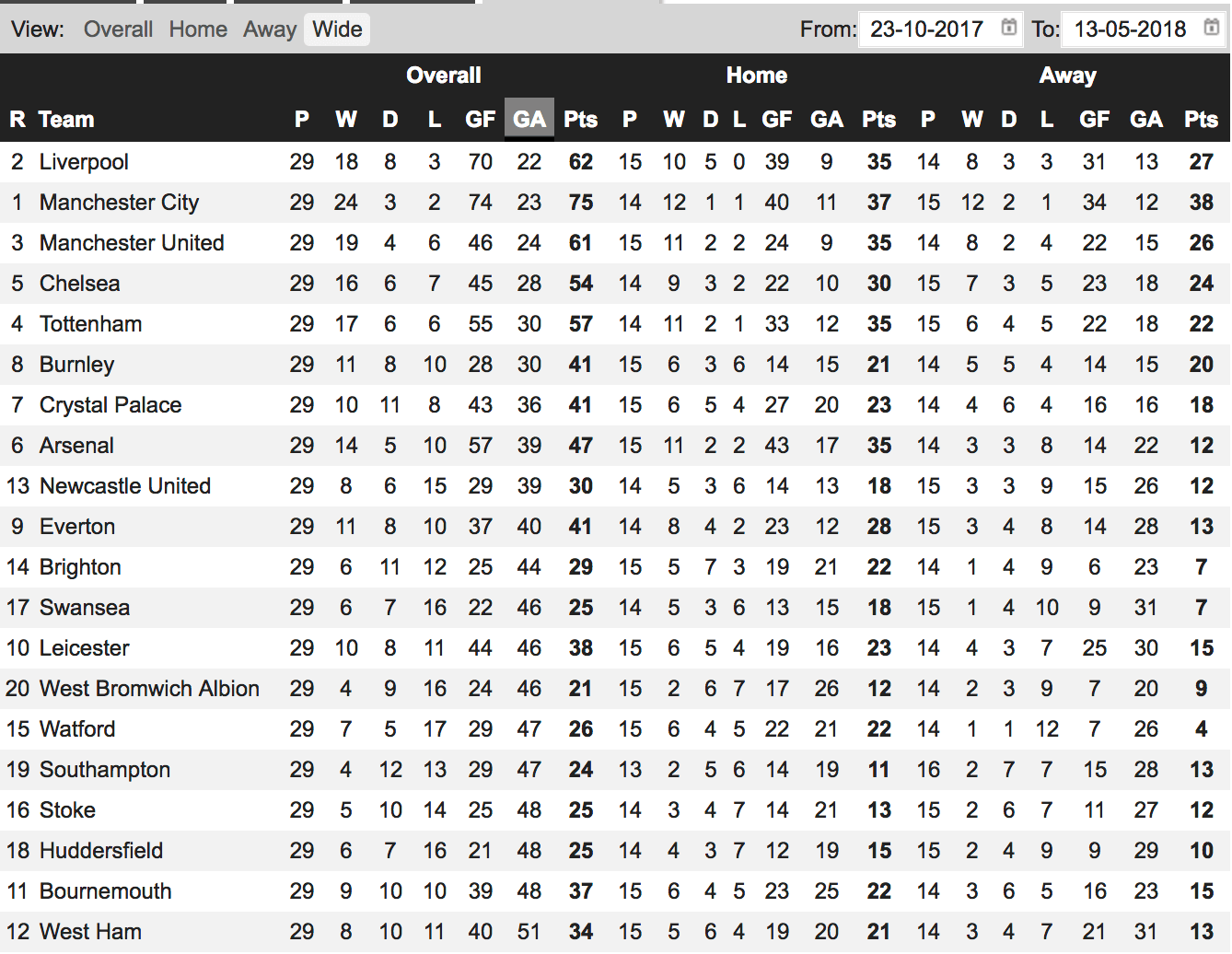 Nonetheless, Andy Robertson's inclusion in the team from December onwards, starting with a 5-1 victory against Brighton, could well be used as a significant point in Liverpool's defensive improvements, and in fairness to him, he has a good claim to be Liverpool's best defender across the 2017/18 season.
This excerpt from a Statsbomb article by Grace Robertson, further underscores how Liverpool's defensive record, whilst likely aided by Van Dijk, seemed to be improving well before he joined the club.
"Virgil van Dijk's signing is easy to look to as a pivotal turning point here, and while he clearly had a positive impact, the improvement started before his arrival. In the first nine games of the season, culminating in the embarrassing 4-1 away defeat to Tottenham, Liverpool conceded 11.35 expected goals, or 1.26 xG per game. In the next 29 games , the side conceded 19.35 xG, a much more pleasing 0.67 per game. It's possible that this is just random variance, and some bad performances just happened to come earlier in the season, but there's a decent chance this reflects a genuine improvement."
The value of this xG graph, which quantifies the quality of chances Liverpool gave away across the season, supports this conclusion too:
This week, I was fortunate to find myself on the AI Pro Tactics Weekly podcast, in which I looked at the Crystal Palace game alongside Paul Dalglish, who displayed both remarkable insight and foresight with regard to Van Dijk. He attributed the attention Van Dijk has been receiving due to the polarised and impassioned nature of football fans, stating,
"It's emotion, we are very very extreme as football fans"
However, he went on to discuss in depth the areas in which Van Dijk may need to improve, specifically his awareness when the ball goes into wide areas and he has players behind or around him looking to attack the ball; the following clip is an extract from the Tactics Weekly podcast on Anfield Index Pro, which explores Van Dijk's potential weaknesses more closely.
His body position and head movement were two specific points which Paul picked up on, and he noted a number of examples, including an incident against Crystal Palace where Van Dijk lost his man, a West Ham corner in which he did the same, and even similar actions against Chelsea at Stamford Bridge, and Roma in the second-leg of the Champions League semi-final.
As it so happened, Van Dijk would be guilty of the same error again, against Brighton, as he loses his man due to him ball-watching and having a body position disposed to only clearing the ball if it lands in front of him.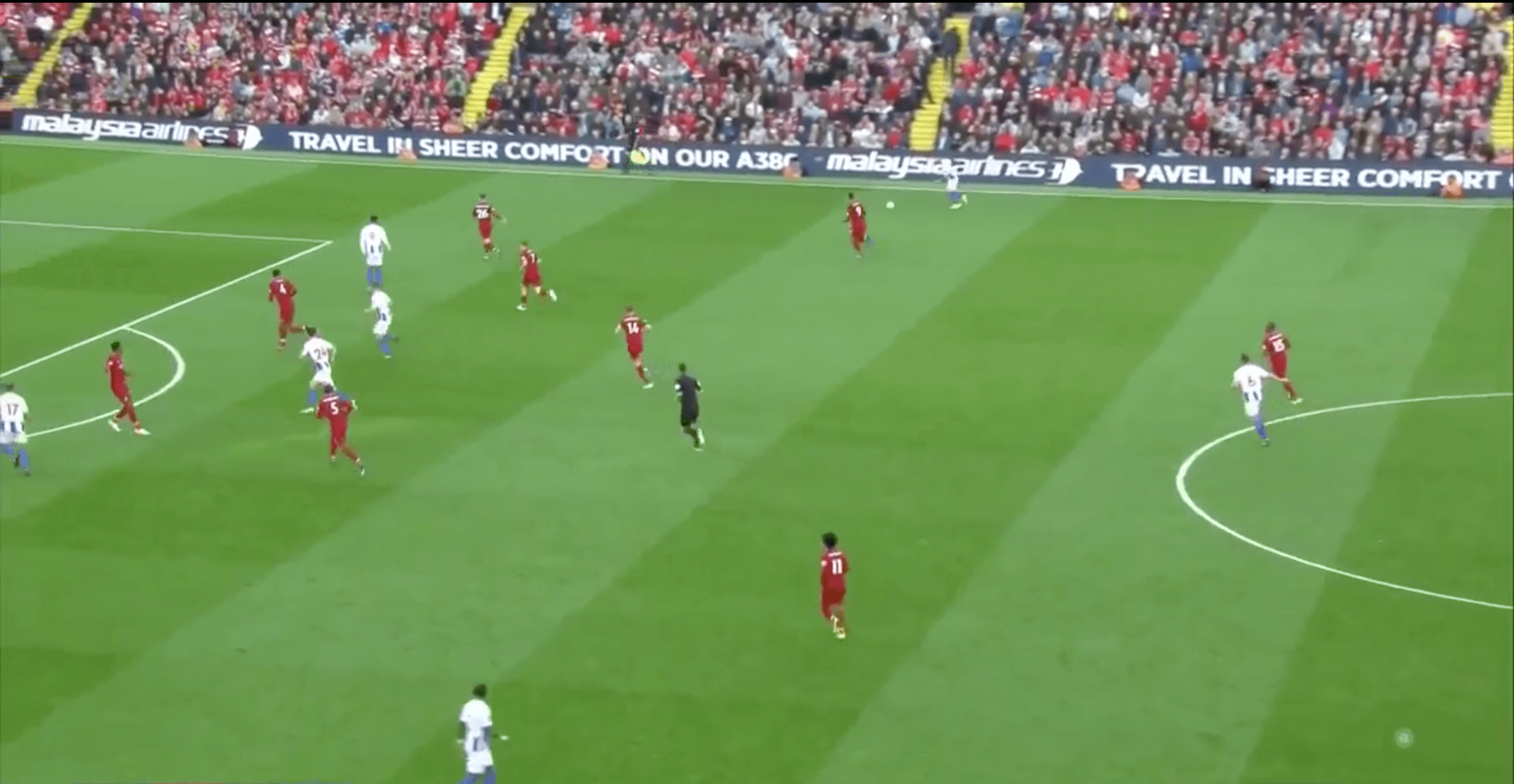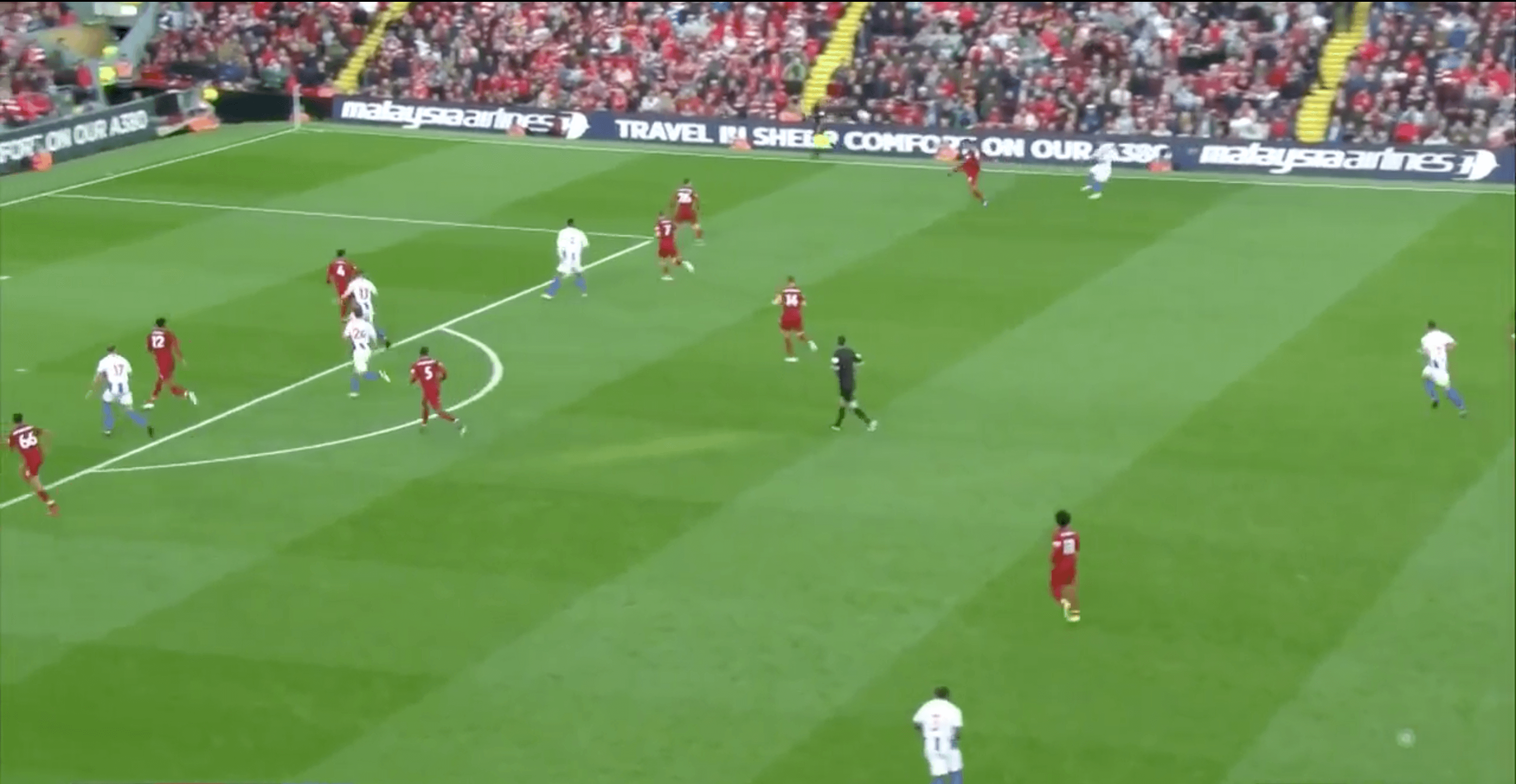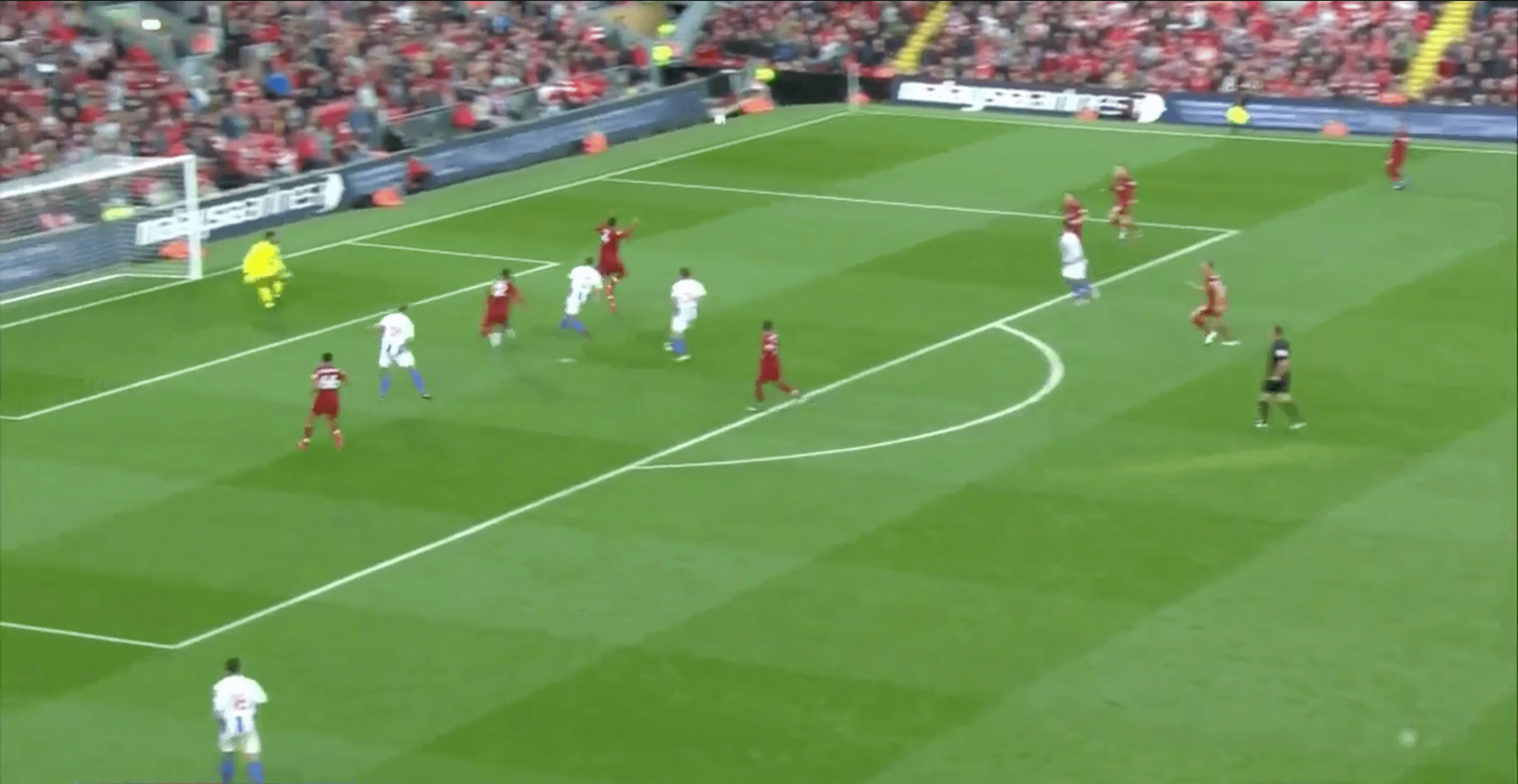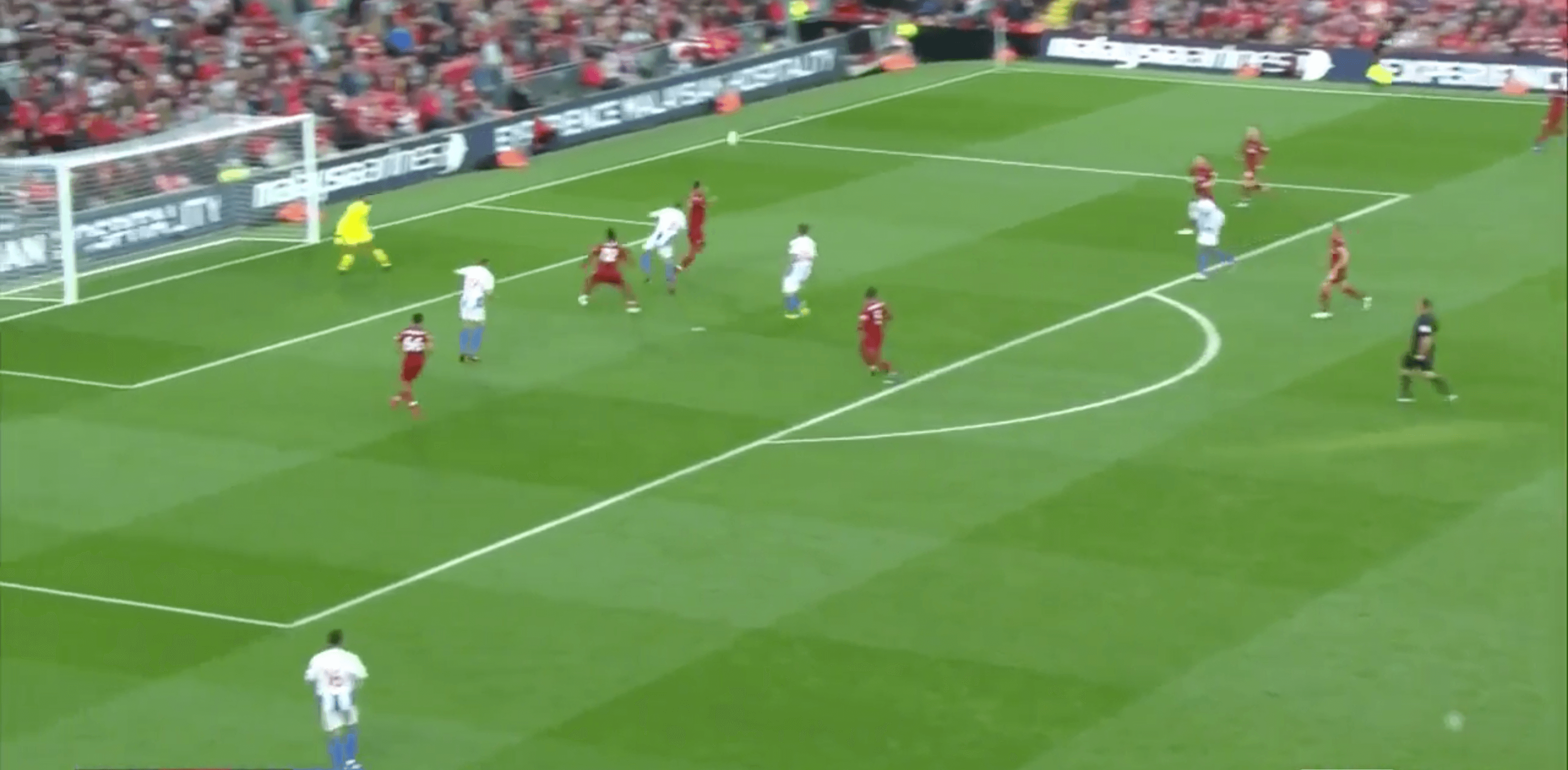 For Liverpool over the past few seasons, this is nothing new. Usually, the team defends well for 85 minutes or so, but an individual makes an error which is put away by the opposing team. Consequently, players such as Moreno, or Lovren are slaughtered by the media and fans online. Van Dijk though has been fortunate enough to get away with it on the occasions he has made errors, and subsequently, his pass success rate or some other inane statistic is banded around and touted as further evidence of the best centre-half on the planet. The nature of defending for a team such as Liverpool though, is that for the vast majority of most games, as a defender, you will have very little action. However, in those few moments where there is action, you must focus absolutely, for those are the only moments in the match that will matter, and likely affect the scoreline, and ultimately the outcome of the match.
Examples such as the one above, or the West Ham corner, have gone unpunished so far, but it's clearly an area in which he has considerable scope for improvement. It's not that he's a poor defender, because he is clearly a player with phenomenal qualities, who is nigh unbeatable aerially, supremely confident with the ball at his feet, and a skilled tackler too. However, we as fans or commentators on the game should be fair to him too, hyping a player up too much can often have detrimental consequences when something goes wrong. We should also be fair to ourselves too, as fans we expect and demand a high quality of player and an equally high level of performance – Van Dijk has only played half a season for Liverpool FC, he's never been in a Premier League title race, and his Champions League experience is limited to appearances for Celtic, in which his role was a far cry from what he's expected to do at Liverpool.
We should give Van Dijk time to improve, but not fawn over him as if he's the world's best centre-back because he has a considerable way to go before he's earned that accolade.
Van Dijk is really good, but attributing Liverpool's defensive improvements to him solely is completely unfair on the players alongside him, but also those behind and in front of him; Liverpool's midfield and forwards are perhaps the most hardworking in the league, with some players hitting incredible running figures of 14km per game. So often pressing is understood as an offensive mechanism, but it is also a huge defensive mechanism, preventing the ball and opposition teams from attacking down the centre, limiting their options and time on the ball, forcing the ball backwards and so on. Essentially, Van Dijk has six defenders in front of him who are supporting him too with their relentless work – Van Dijk may be important, but he's only a single component, in an eleven man defensive unit.
If we consider Klopp's tactical evolution as well, it's blindingly obvious that we cannot truthfully lay down the reason for Liverpool's improved defensive record solely at Van Dijk's feet. We've seen Gomez used as a third centre-back when in possession, whilst playing as a fullback when out of possession, which was used to provide stability when countered. This eventually developed into us committing one fullback into a winger position, whilst the other, and the deepest centre-midfielder sat back with the centre-backs, primed for a counter attack. Klopp has worked his team to improve their defensive performances, and it's not just the statistics that prove that, but the eye test too – you can pick almost any game after the Spurs defeat and see a marked defensive improvement, and discipline – with the vast majority of goals conceded from that point onwards (but also characterising those games preceding that particular fixture) due to individual errors rather than any tactical flaws or systemic issues. Indeed, it's actually probably fair to say that the record between the defeat to City and Spurs was simply a freakishly anomalous and exceptionally poor run of form which was out of step with the preceding half-season from January-May of 2016, and thus Van Dijk was the beneficiary of Liverpool's defensive record reverting to the mean.
Hence, with all of the above in mind, the attention and praise Van Dijk is receiving is wholly disproportionate to the reality of Liverpool's defensive improvements, and his own performances too. Van Dijk is good, really damn good. But he's not great and he isn't redefining defending. Perhaps he will be and will do so one day, but until then we should judge him as we judge most other players in the squad. But for now, the hype that's he's the best player since Hansen, and the best centre-back in the world is undeserved.