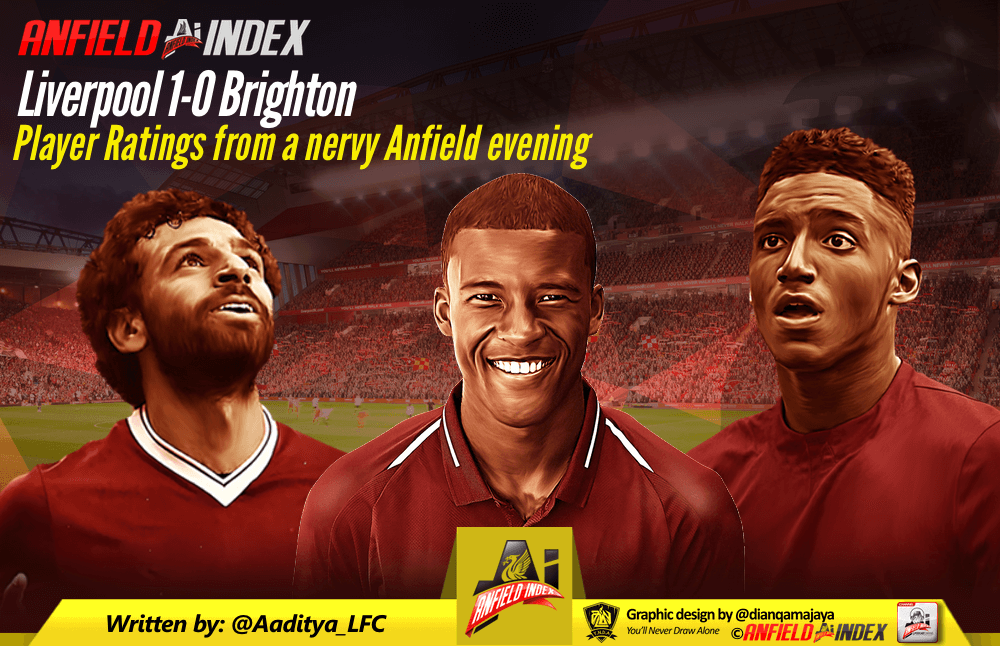 Liverpool 1-0 Brighton: Player Ratings from a nervy Anfield evening
Liverpool made it three Premier League wins in three games with a 1-0 win over Brighton at Anfield. A well-worked move was finished off by Mo Salah midway through the first half, and the Reds saw off the rest of the game with that lead intact.
It was a game that meandered between uninspiring and downright boring, but for Jurgen Klopp and Liverpool, the biggest takeaway will be that they got three points out of that game – which is something that Manchester City cannot say about their game this weekend.
Once again, Liverpool were solid defensively, as exemplified by another clean sheet at Anfield, where the Reds haven't conceded since the last week of February.

Here's how each individual player fared in this game.
ALISSON BECKER – 8/10
His confidence with the ball borders on cockiness, and for all Liverpool fans alike, he does make the heart pound a little faster than they'd like. But once again, he was slick with the ball at his feet. He pulled off a brilliant save off a Pascal Gross header late in the game to keep Liverpool in the lead. But, he might have been caught out by Murray's pressing while dwelling on the ball for too long.
TRENT ALEXANDER-ARNOLD – 6/10
Defensively, it was a solid showing from the young man. He nearly started the game in spectacular fashion, as an early free-kick cannoned back off Mat Ryan's crossbar. He handled the threat of March adeptly throughout the game.
JOE GOMEZ – 8/10
Another solid, competent showing from Gomez at the heart of the Reds' defence. He handled the power and physicality of Murray with consummate ease. He is growing into this role and his partnership with Van Dijk seems to have most bases covered.
VIRGIL VAN DIJK – 6/10
Maybe because he has made it all look so routine, this game looked like a little let-down from Van Dijk. He was once again fantastic in the defensive sense. But with the ball at his feet, he wasn't great, misplacing or underhitting a few passes too many.
ANDREW ROBERTSON – 7/10
In a continuation of the theme from the last game against Crystal Palace, his team-mates were not doing him any favours with a good number of passes going behind him, making him check his runs. But when he did get in advanced positions, his crossing was mostly a thing of beauty. Firmino might have done better with a header in the first few minutes when Robertson crossed after being played through on the flank.
GEORGINIO WIJNALDUM – 9/10
With two recognized no.6's in the Liverpool squad right now, Gini Wijnaldum has stepped up and made Jurgen Klopp take notice. He once again put in a powerful performance, moving the ball around with ease. His positional sense was fantastic in this game, enabling him to nip Brighton attacks in the bud.
JAMES MILNER – 7/10
Another workmanlike showing from Milner. He covered a lot of ground and was always a cover for Alexander-Arnold on the right wing. But some of the things he did were incomprehensible, such as the repeated hung crosses to the far post. His set-piece delivery was sub-par too, to put it mildly. To his credit, it was his press that led to Liverpool winning the ball for the goal.
NABY KEITA – 6/10
A quiet outing for the Guinean. His pressing was good, but he tended to be a little too safe on the ball. His full repertoire was not seen in this game.
SADIO MANÉ – 4/10
That was the worst game Mané has played in a very long time. His passing was off, balls weren't sticking at his feet, and he was generally a very peripheral figure in the game.
ROBERTO FIRMINO – 7/10
Much better performance from Firmino, after two underwhelming displays. He was buzzing around all over the pitch, and the sharpness in his movement and touches were visible to see. The weight of pass to allow Salah to score was a thing of beauty.
MOHAMED SALAH – 8/10
Salah was a constant threat to the Brighton defenders, as he kept moving infield to link up with Firmino and Mane. It was one of those days when a lot of things were just not happening for Liverpool, but the one big moment that did happen was down to the pure class of Salah. The weight of Firmino's pass allowed him to strike the ball first time, and it was a peach that game Ryan no chance.
SUBSTITUTES
JORDAN HENDERSON – 6/10
The skipper came on and helped the Reds retain possession a little better. Also broke up a couple of attacks that could have developed into something more threatening.
DANIEL STURRIDGE – 6/10
He came on with 15 minutes to go and didn't have too much of an opportunity in front of goal. But he looks sharp, and his movement was fabulous, as he helped the Reds retain more possession.
JOEL MATIP – N/A
Came on for Alexander-Arnold with barely any time left.