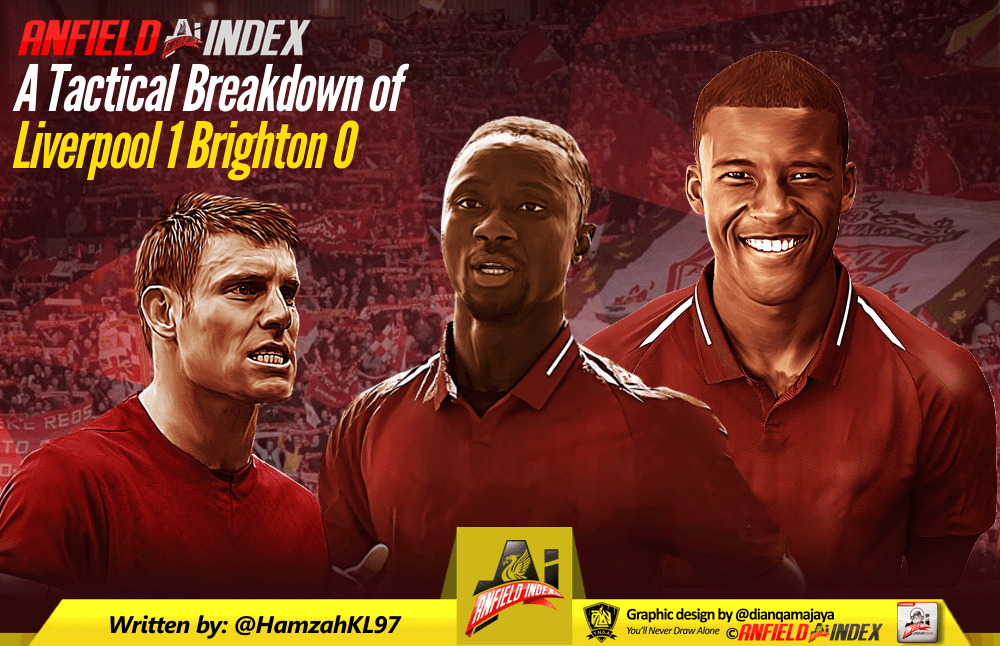 Liverpool 1-0 Brighton: A Tactical Breakdown
On the final game of the 2017/18 season, Liverpool romped to a 4-0 victory against Brighton, but this time around, Chris Hughton was determined for the type of game and result to be completely different to the preceding meeting between the two sides.
Brighton set up in a 4-5-1 off ball formation. In recent games, both this season and last season, Liverpool have come up against a number of teams at Anfield looking to defend rigidly, and fight for a point. Where Brighton differed though was in their structure. So far this season, we've seen WHU set up in a bizarrely expansive 4-3-3 in which LFC ran riot, Crystal Palace in a 4-4-2 which restricted the time and space of Liverpool's deepest midfielder on the ball, and forced Liverpool to go wide when building up from the back, and then moving the back into the centre, but Brighton's 4-5-1 presented a different type of challenge.
In the first half, because Brighton played a single striker, they opted not to press Liverpool's centre-backs or deepest midfielder (most often Wijnaldum, although he did rotate with Keïta from time to time). But because Brighton's back four was especially tight, and there were three central midfielders in front, it made it much harder for Liverpool to try and pass their way through the middle of the pitch.

As a result, Liverpool tried to engage their fullbacks when the ball was in the middle third of the pitch, but when either Alexander-Arnold or Robertson received the ball, they were pressed by their opposite wide midfielder, forcing them or the ball backwards. This meant the Liverpool players were largely given space in non-dangerous areas, but when attempting to play into a dangerous area, be it central or wide, or near the box, they found little space to exploit or were pressed back.
To deal with this, Roberto Firmino sought to act as a link between the forwards and the midfield. In order to lose his man, he would drop deep into midfield and then break quickly onto the defensive line – as we saw with his header at the near post which was saved. What he also tried to do was break the Brighton lines with quick, short passes, following which he would turn his marker and attempt to break in behind. Likewise, when he was on the ball he would look to pass forward through Brighton lines, or dribble through those lines instead.
Salah realised this, and worked closely with Firmino on a number of occasions, feeding off his flicks, but also looking to drop deep and then drive onto the Brighton midfield or defensive lines, thus attracting an opposition player or two (or even three), and thus making space for other LFC players to exploit.
What Liverpool needed though, was a supporting midfield, which was looking to break lines, play through balls, and dribble at the Brighton midfield and defensive lines. Milner, Wijnaldum and Keïta did not offer that though, with a combined zero successful take-ons between them, and Wijnaldum the sole attempter of one..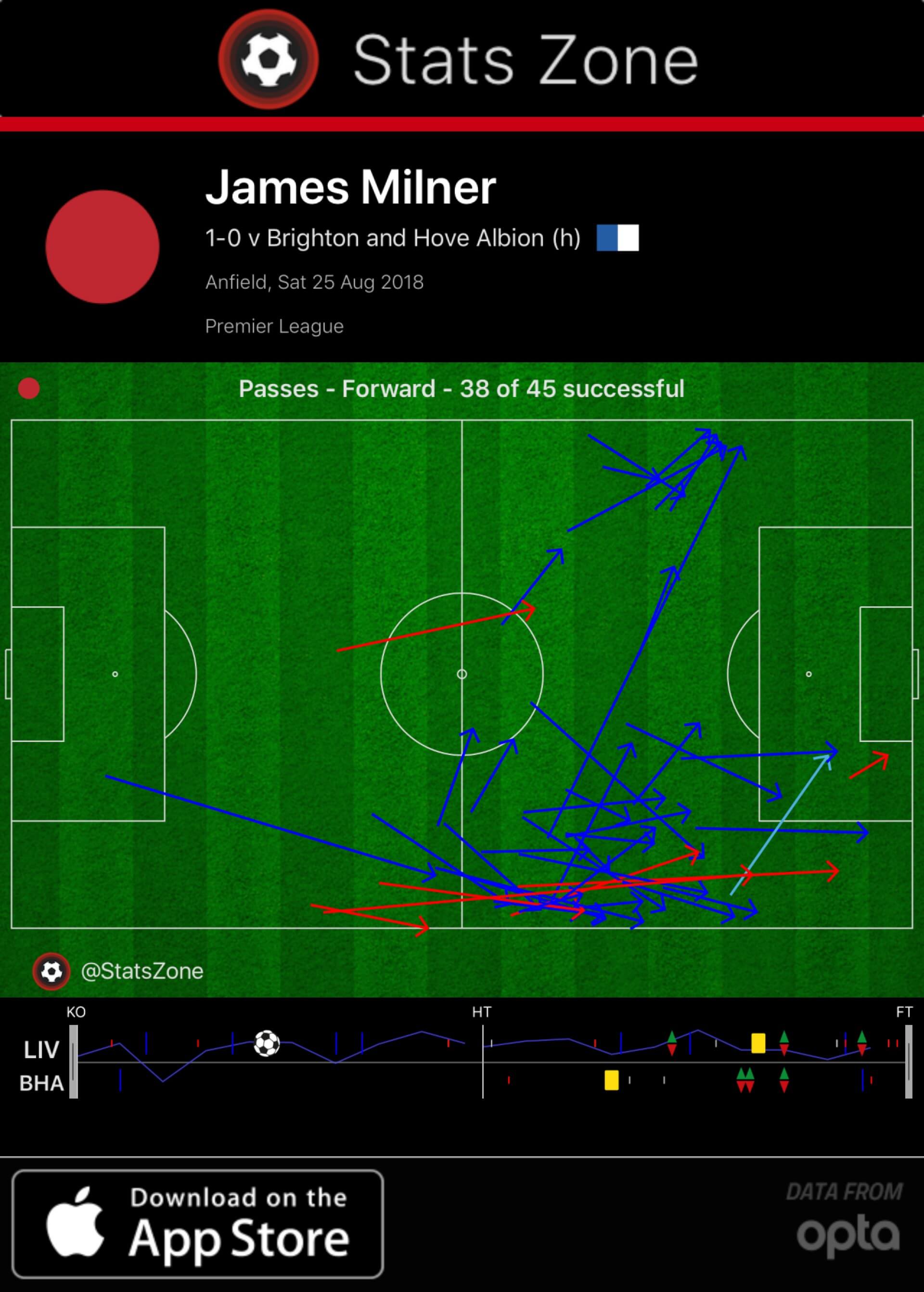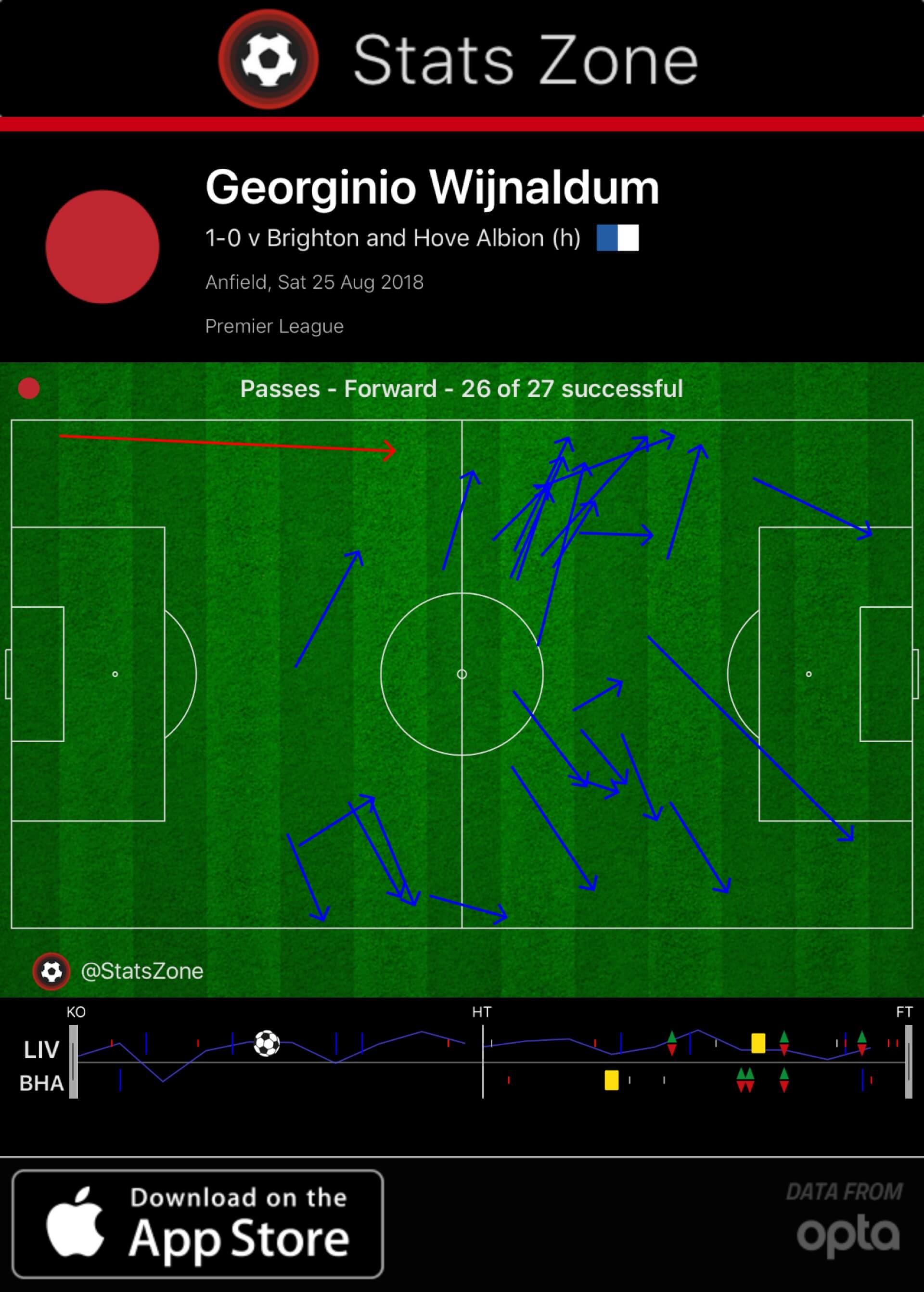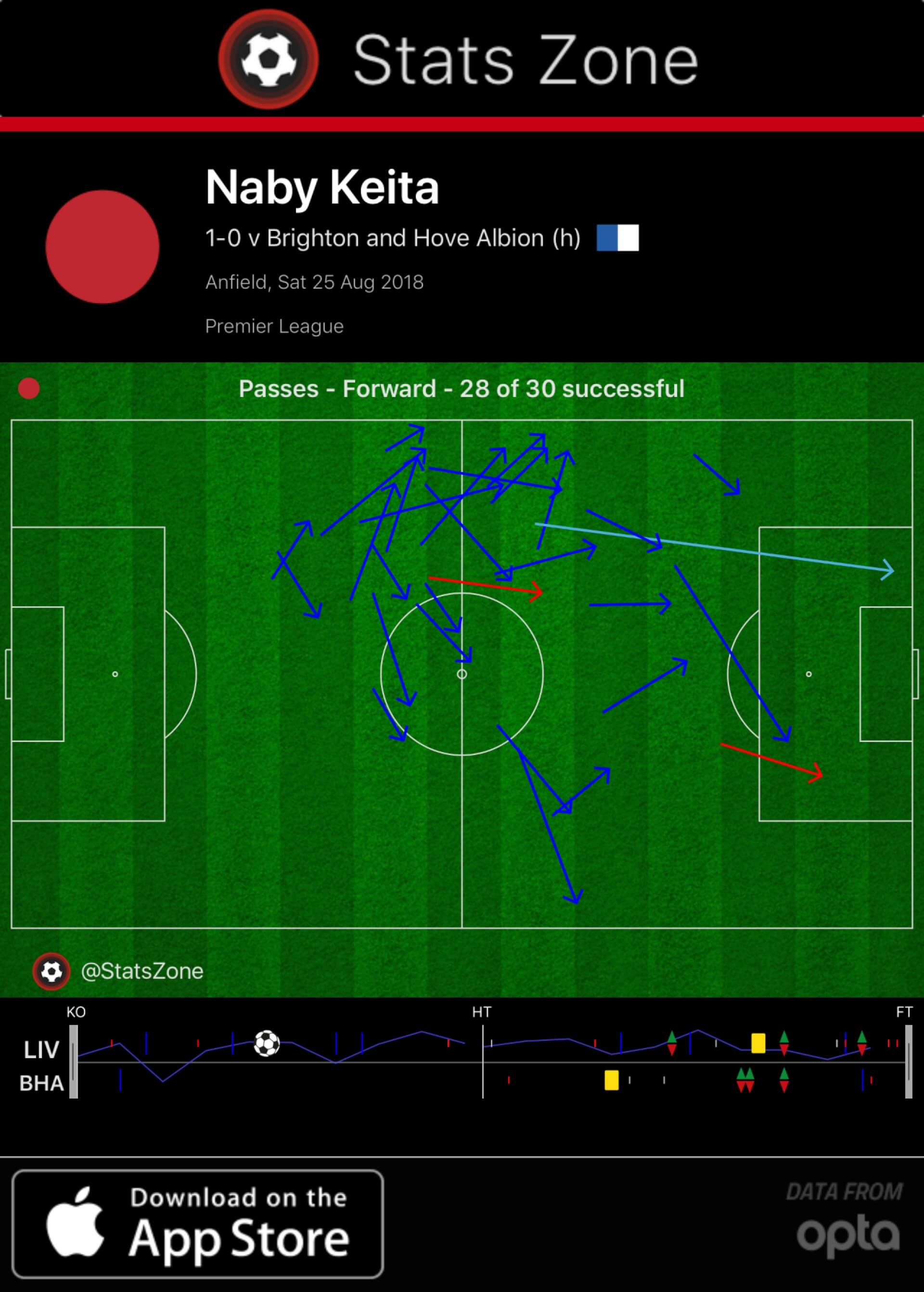 Liverpool attempted a number of different methods to break through. The switch pass was utilised from time to time, but in order to take advantage of the space on the opposite side, Liverpool needed to pass and move quickly.
One such example, instigated by a progressive pass from Alexander-Arnold is the chance below: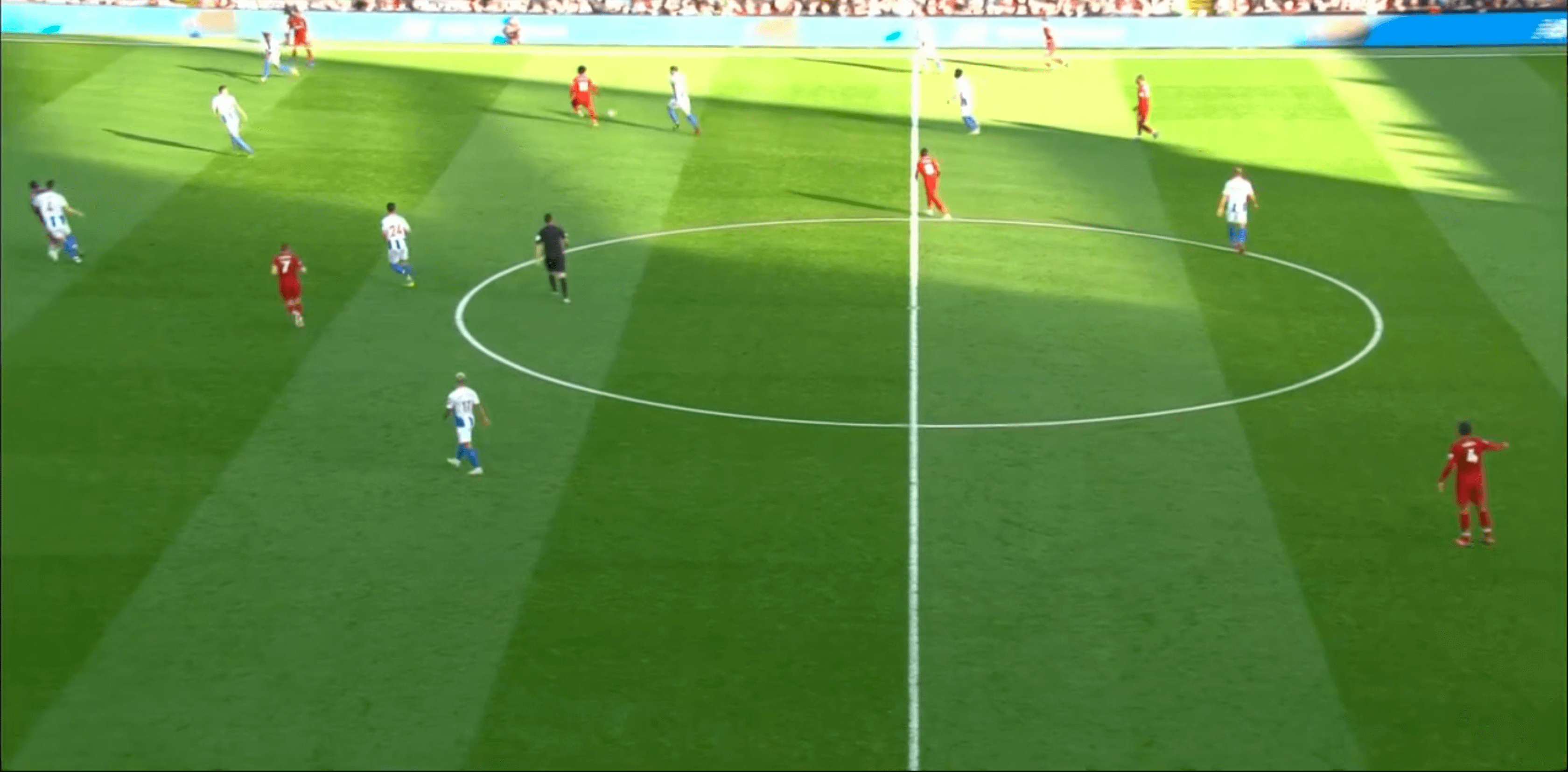 As the ball went into Liverpool's half, Brighton pushed up, leaving space in behind. Alexander-Arnold took advantage of this, as Salah dropped deep. Him dropping deep meant he could exploit the space between the Brighton defensive and midfield lines.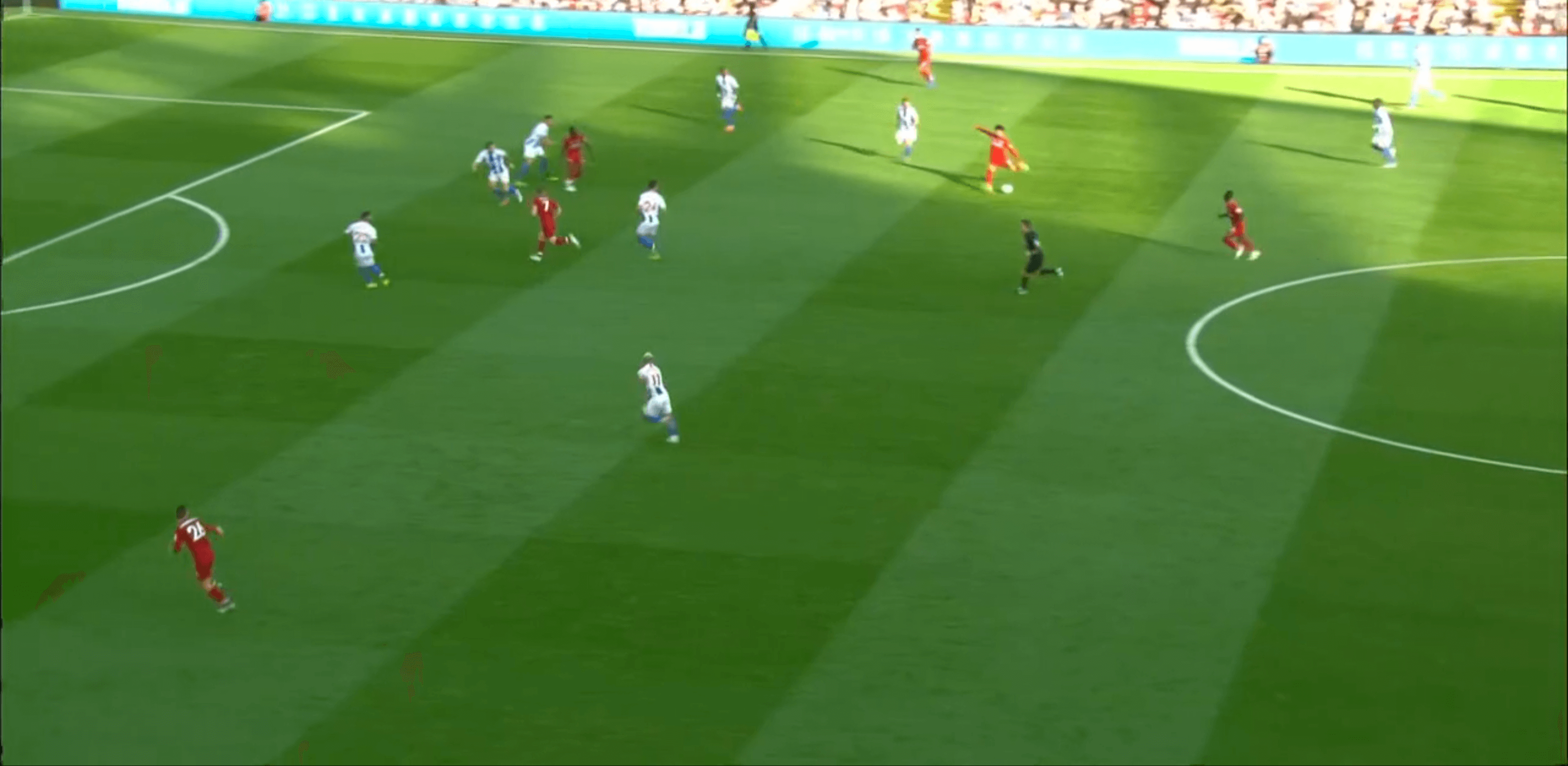 Crucially, Salah receives the ball, and runs at speed forwards, thereby not allowing the Brighton defence to settle, as they try to run backwards and watch the ball. Robertson subsequently takes advantage of the space out wide, and Salah breaks another line with a fantastic ball in front of Robertson, which he can run onto.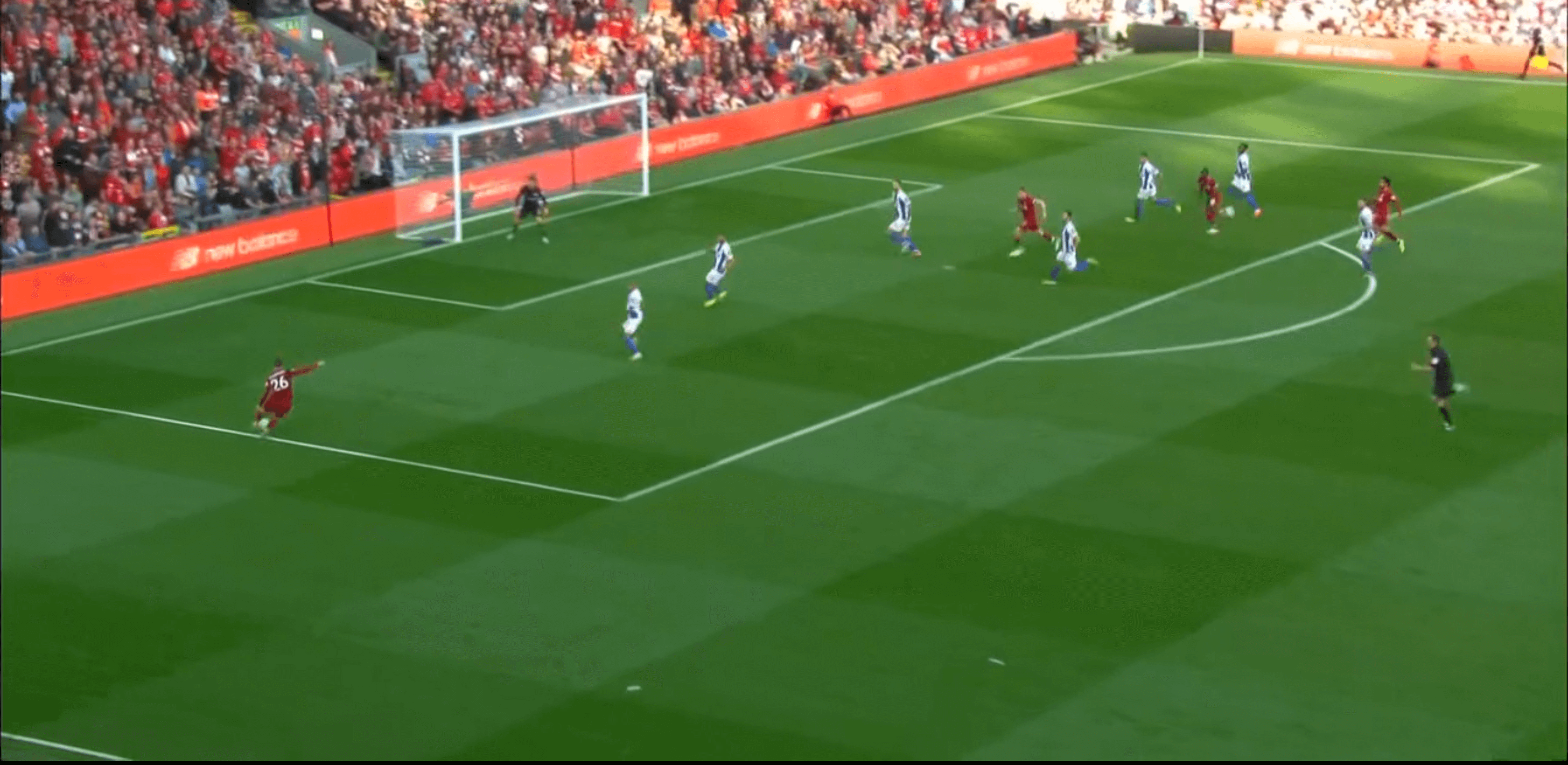 Eventually, a fortunate deflection takes the ball away from Mané, but this was perhaps the standout attack from deep, and a perfect example of how to break down a low block via attracting them forwards, and then playing the ball vertically through the pitch at speed.
Risky forward passes are crucial to breaking down a well-organised defensive side such as Brighton, and the ball below from Keïta into Salah is another example of this. The issue with LFC though was that the frequency of risky, aggressive and progressive passes from the midfield was far too low to cause problems for Brighton.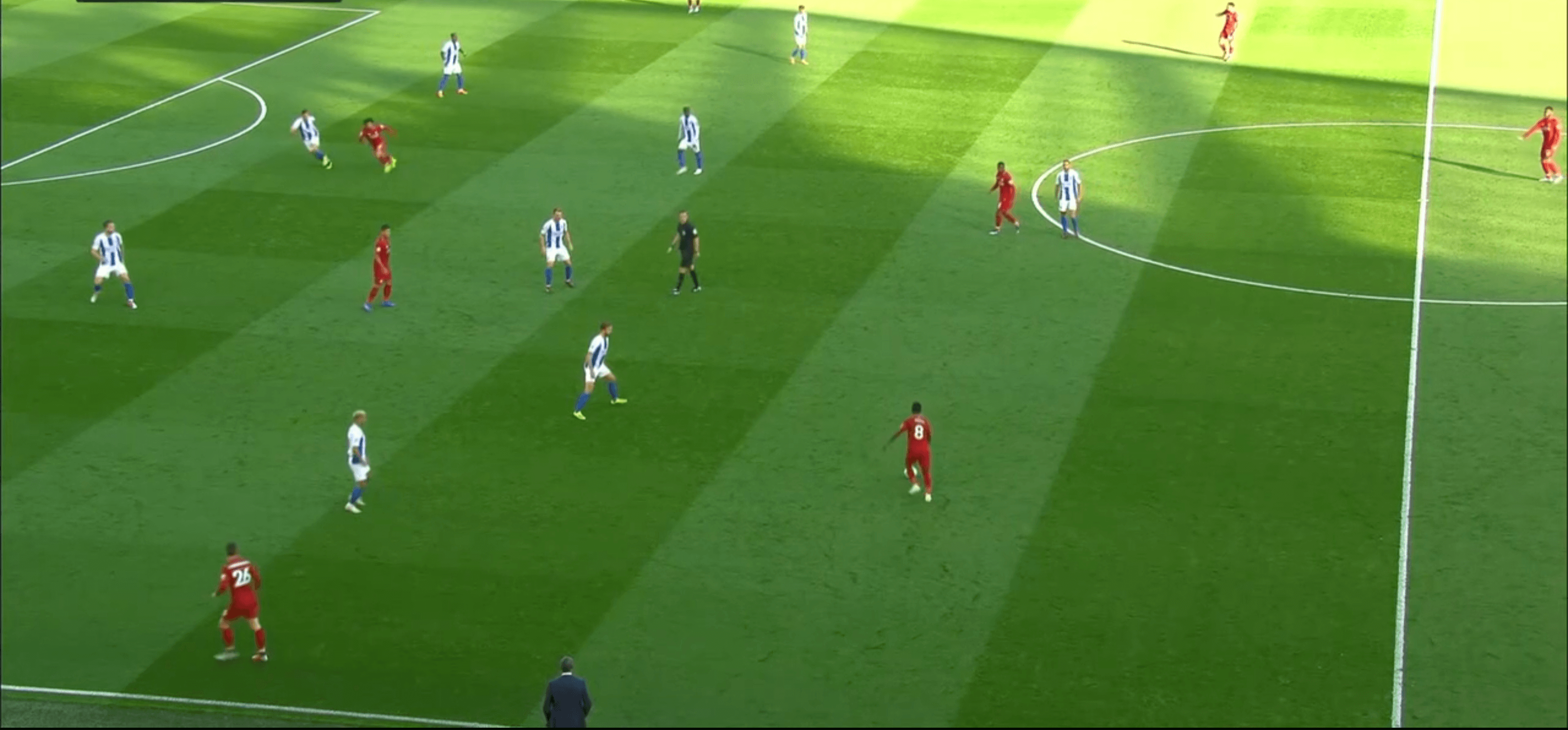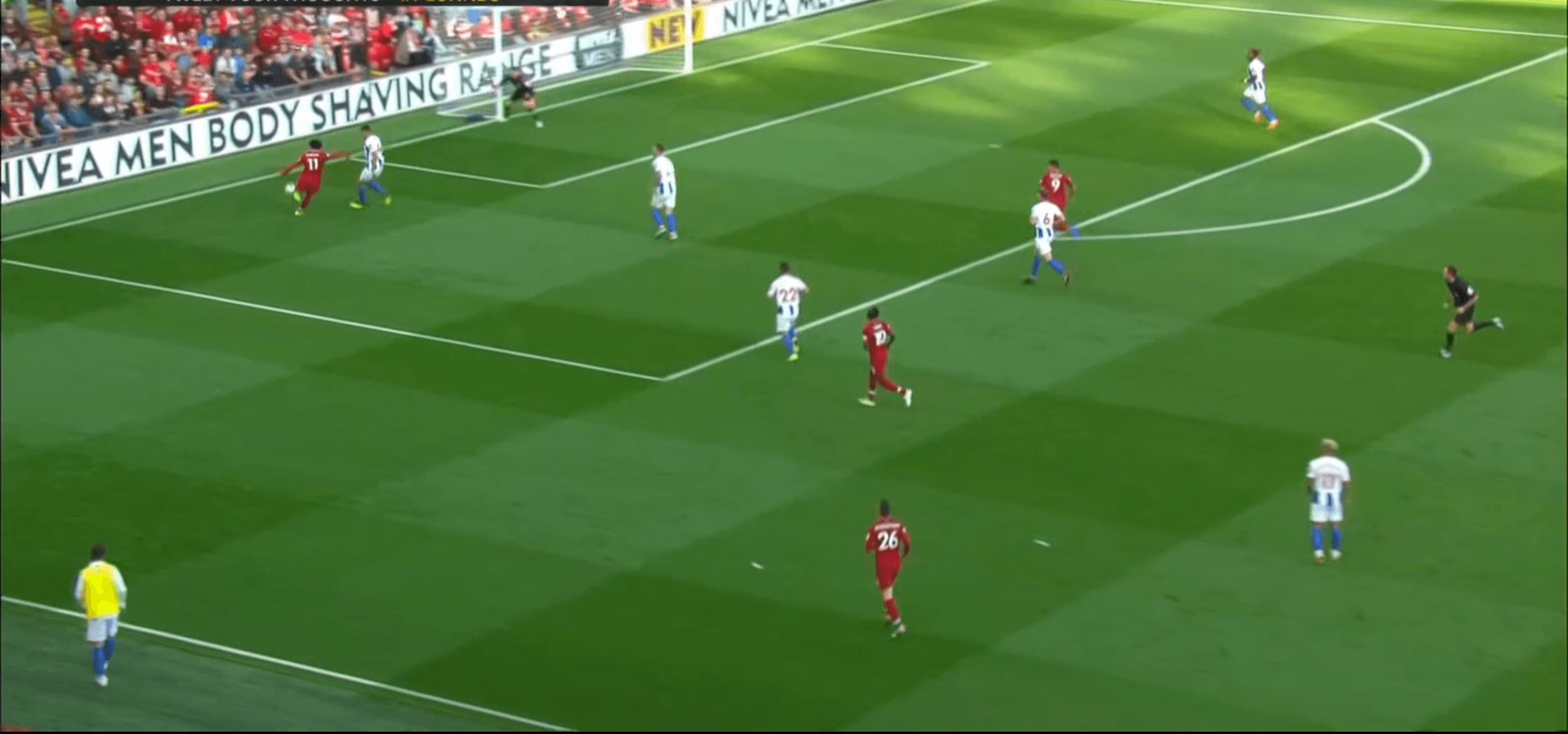 But as the examples above and below illustrate, this in itself is not enough, for even when LFC broke, Brighton's defensive structure and numbers were often enough to put off the forwards.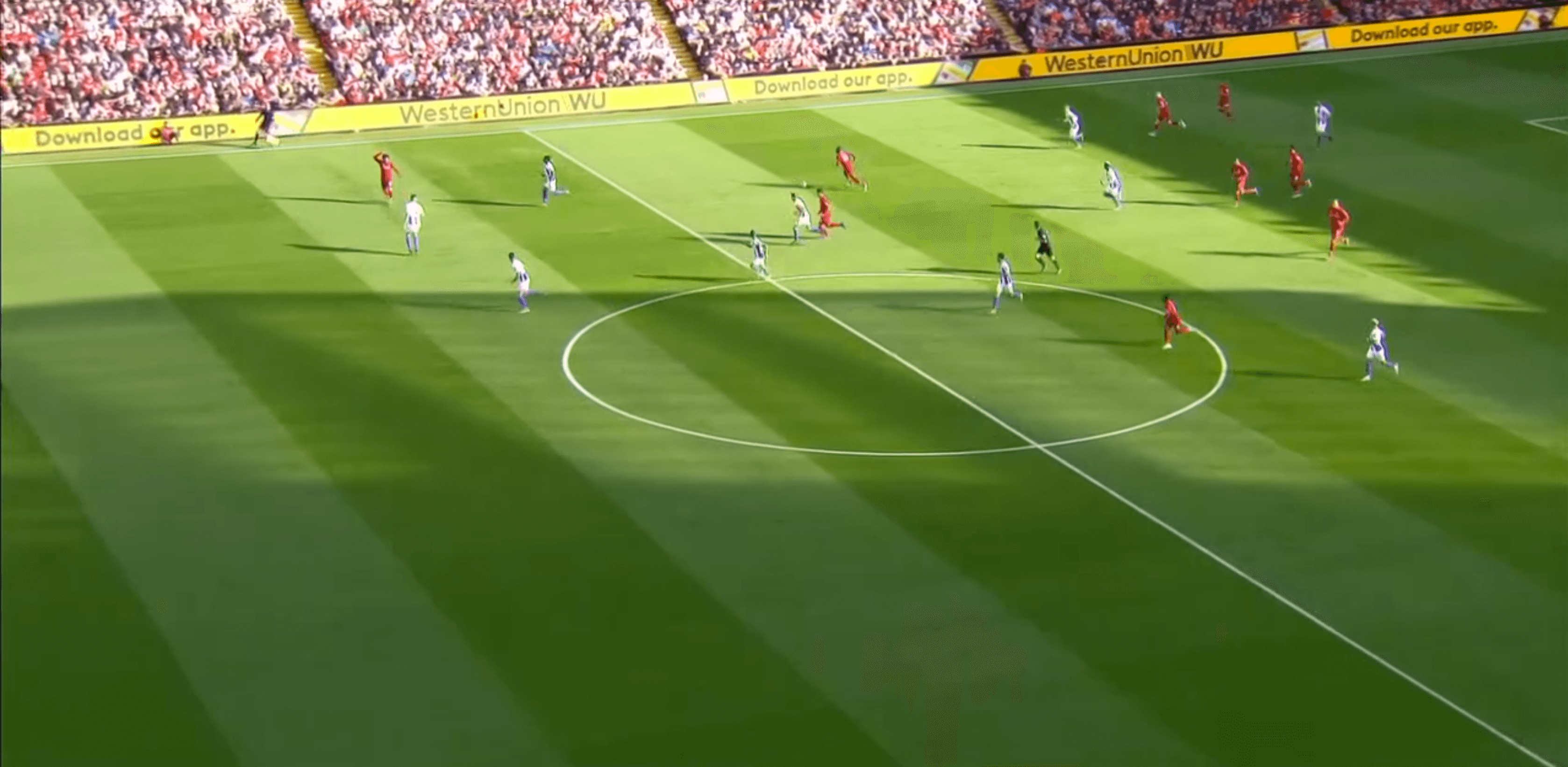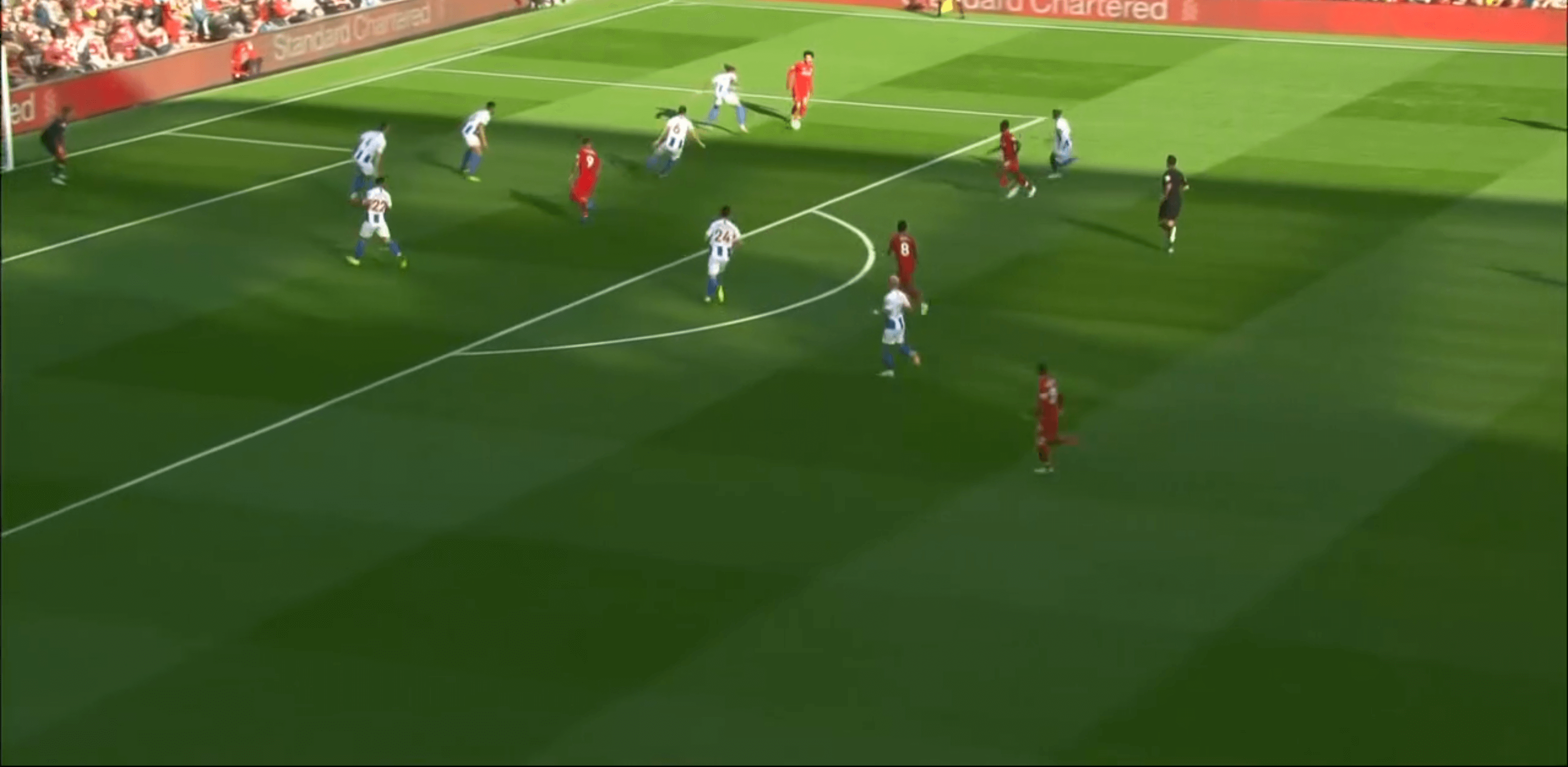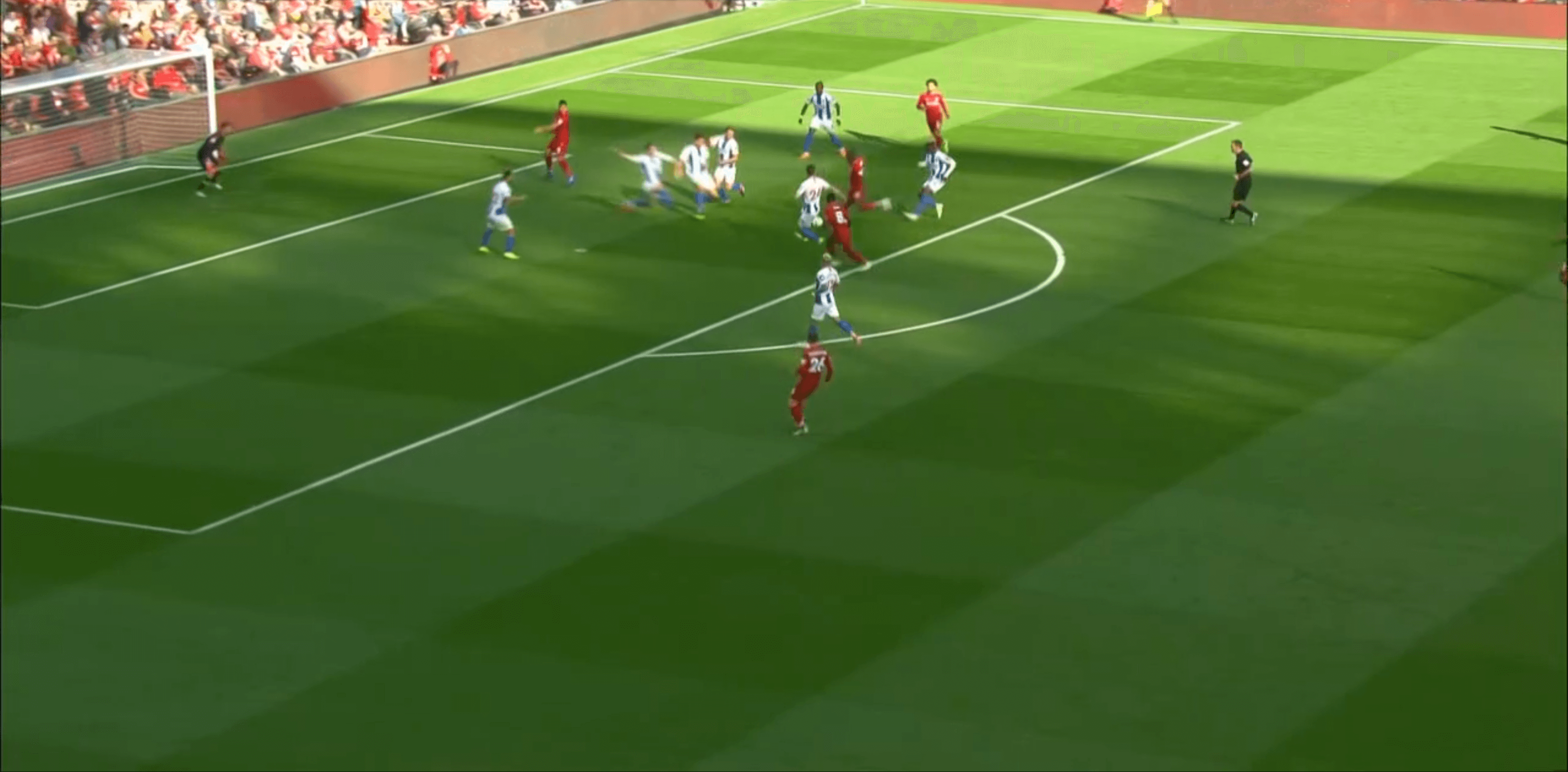 Another issue arose because of Brighton's 4-5-1 too. Murray pressed Wijnaldum, which led to Keïta dropping in order to aid the centre-backs in moving the ball into midfield. The problem with this was that because Keïta dropped, there was one less body in midfield to pass to. Whilst if Keïta did run forward with the ball and try to take on a Brighton player, he would be creating space in an area which ideally he would be looking to exploit as the no.8, but could not do so, as he was on the ball and deeper. Essentially, the Liverpool forwards were the main players driving the ball up the pitch, which is obviously problematic if the ball is predominantly in the middle third, and they need to move out of their offensive positions to do so.
To create more chances, Liverpool needed to manufacture one on one situations, ideally against the Brighton LM or RM, in which a player could break beyond them, and into space. Firmino attempted to bring Alexander-Arnold into the game with passes around the corner a few times, and to Milner too, but we should credit Brighton for discouraging Milner and Alexander-Arnold from breaking through in wide areas with their press.
For Liverpool's goal though, Brighton made an error which was out of step with the majority of their first-half performance. Through pushing up, and playing short in the final third, Brighton illustrated perfectly why they tried to set up as they did for the rest of the first half. When teams leave space in behind for Liverpool's forwards to break into and leave so few players defending that space, the outcome is almost certainly a high xG shot.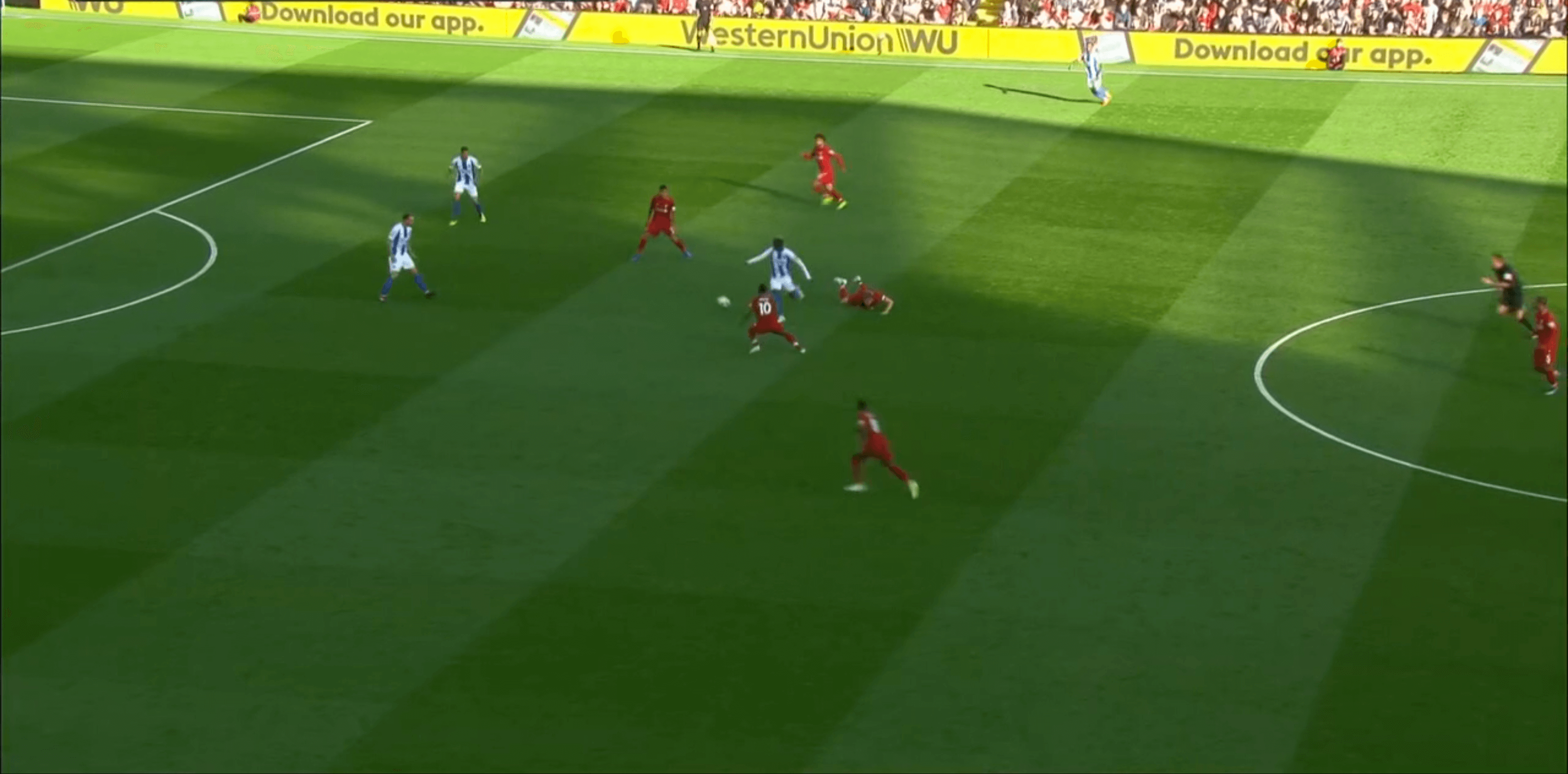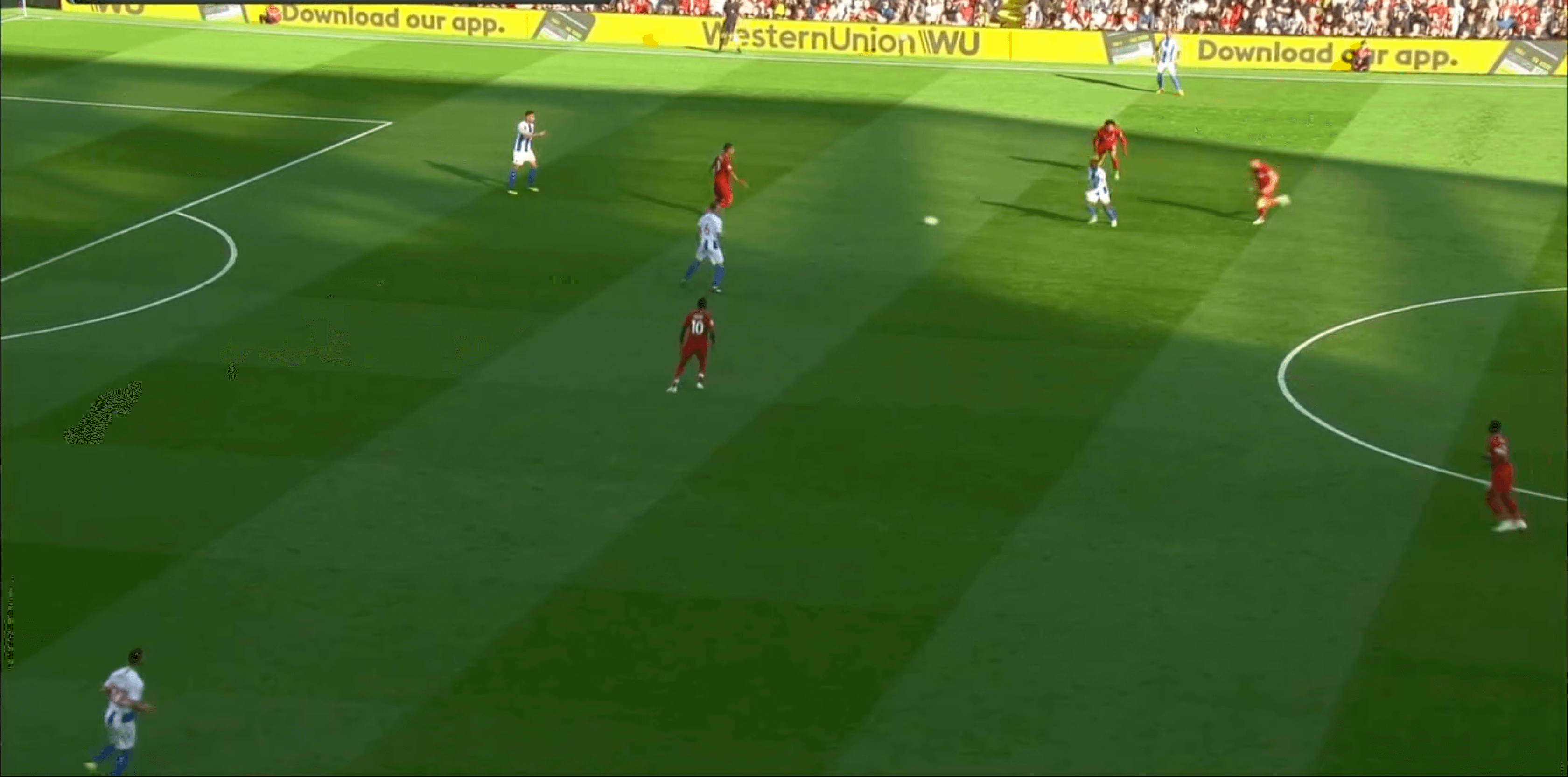 However, rather unexpectedly – and to their credit – Brighton did not push out when they went 1-0 down, which is usually the route to which Liverpool can pick off opposition teams at will. Because of this, Brighton broke infrequently, and as their LM and RM were pinned back, their counter-attacks struggled to really get going as they waited for them in order to attack. But in the last 15 minutes or so, Brighton grew into the game and put Liverpool under pressure, and engineered a headed chance, as Van Dijk lost his man, and Alisson was forced into making the save.
Liverpool were not at their best, and nor is it fair to expect Liverpool to be at their best every week, however, in their past two games, Liverpool's troubles against the low block have come to the fore again. Whilst they may have found a way through in these two games, the route to victory does not appear sustainable yet, and the impact of not having Oxlade-Chamberlain seems especially apparent. For opposition teams though, if they are to get a result at Anfield this season, they can do a great deal worse than setting up as Brighton did.
Klopp's own displeasure at the second-half performance is telling, but fortunately for Liverpool, they've managed to secure the points even though they didn't play particularly well, but one thing is for sure. If Liverpool want to improve on last season's league performance, these are the games in which Liverpool need to improve on, and find a game plan to break down the opposition, if not, this could well be Liverpool's downfall this season.