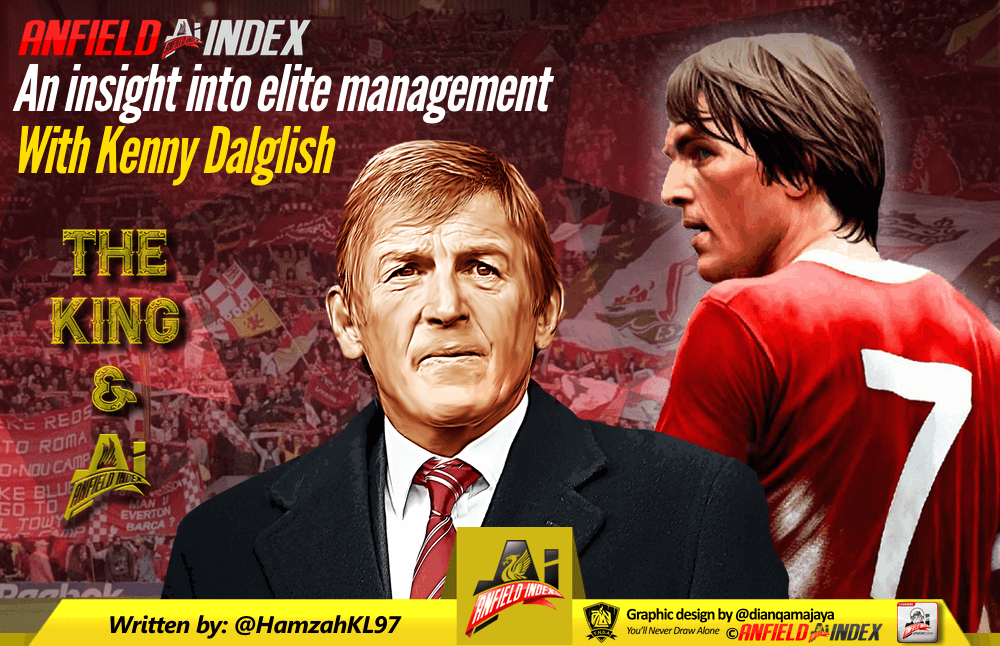 An insight into elite management, with Kenny Dalglish
In Anfield Index Pro's newest podcast, The King and AI, Sir Kenny Dalglish made his podcasting debut in what may be the first episode of a new series. This podcast is set up to support, fundraise, and raise awareness of the Marina Dalglish Appeal, an organisation made to aid sufferers of breast cancer, and we strongly encourage you to click on the link and support or donate if possible. You can listen to the King and AI Podcast for free with a 7 day trial.
https://twitter.com/AnfieldIndex/status/1034124603252264961
This first episode featured Miami FC coach, former Liverpool FC player, and Tactics Weekly guest, Paul Dalglish alongside his father, and together with AI's Eddie Gibbs, they discussed Liverpool's start to the season and Sir Kenny's time as manager, which included fantastic insights into the training methods at the club and importance of the famous Boot Room at Anfield.
Liverpool have started well this season, with three wins from their first three league games, but already, the weight of expectation is there, upon the players, manager and club to deliver a title challenge. It's a completely different climate to what has been the norm in recent years, but Sir Kenny put this down to a number of aspects, one of which was the manager, Jürgen Klopp,
"Everything about the club comes from the example Jurgen sets, he's got a good attitude to life, fantastic respect for everyone around the club – not just the players, but people working within the club too – and it's fantastic to see. But you feel more comfortable now when watching the game."
For a team which has struggled in recent finals, and whose highest league position under Klopp is merely fourth, Liverpool have an assured confidence about them, stemming from what Dalglish noted as a complete sense about the team, due to the professionalism of key players and leaders within the dressing room such as Milner or Henderson, the confidence derived from three consecutive victories against Manchester City, and the defensive foundation laid with new signing Alisson, coupling with the young and supremely impressive fullbacks, both of whom made their Champions League debuts this season, and took it in their stride too.
In his characteristically humble tone, Sir Kenny played down his role in the success of his Liverpool team, after he took over as player-manager in the 1985-86 season. The success of that team and the teams that preceded his premiership owed a great deal, in his eyes, to the work of the great Bill Shankly,
"What Shanks had set up all those years ago, we were getting the huge benefits of that, and everyone who passed through the doors of Liverpool, since Shanks had been there, should be eternally grateful to that man, because he's the one that set it on its way… and everybody had a bit of Shanks in them, because of the contribution he made – [Shankly] was why they [the Boot Room boys] were so good."
To Dalglish, the Boot Room was an essential component of the success of the club, through their forensic attention to detail, their collective decades of experience, and in some ways, their futuristic methods, which were well ahead of their time. This included five a side training drills, which would be adjusted to accommodate for certain outcomes, for example, as Paul Dalglish noted, for finishing training, full-size goals would be incorporated, whereas for possession-based drills, small goals would be instead, or if fitness was the objective, the playing area would be increased or 7 a side games would be played on a full-size pitch, or if sharpness was the objective the playing area would be reduced in size. It seems simple, but as any modern day coach would know, these are the methods that bodies such as the FA are promoting and pushing for right now, and the methods that Johan Cryuff built his Barcelona side on, and which Pep Guardiola bases his own training drills around.
This remarkably simple approach was only made remarkable through the work of the Boot Room though, whose expertise and elite demands and mentality developed a culture of hard work and commitment to every training session. And to Dalglish, the importance of individuals such as these in the club cannot be understated, for it's this attention to detail at every single level of the club which made it so great, and it's this elite mentality throughout the entire club which set it apart from the rival sides of its day. Even now, managers such as Marcelo Bielsa strive for this level of detail and perfection, but the support the manager needs from their staff is crucial to this, and Dalglish laid a great deal of praise and gratitude at the work of his own support staff,
"[Management] is never easy, but it was made an awful lot easier by staff around you: Ronnie Moran, Roy Evans, Tom Saunders shared an office with myslef, and old Bob Paisley was in an office upstairs [and] Peter Robinson, the best administrator in the football world."
For Dalglish, the dressing room was the heart of the team, and the balance and harmony there was crucial to the on-field success, the camaraderie of his players, and his own experiences as a player shaped his management, and it's easy to see parallels between the elite yet feel-good atmosphere around the club in the 1980s and the same culture which Jürgen Klopp is so drawn to, and committed to bringing.
Despite how football has changed since the 1980s though, the basic principles remain very much the same. It's very easy to point to the commercialisation of football and use that as evidence of a footballing revolution, but it's easy to forget that between Dalglish's first managerial stint at Liverpool, and then his time at Blackburn, British football was already undergoing considerable change, as sports science was incorporated into the game, as did the first big money signings too. But, as noted above, the basic principles now are still the same as they were then, and it takes a perceptive individual to note that, for Dalglish, the level of money spent by a manager is largely irrelevant,
"The two things that are really important – obviously you don't overspend so the club dont get in trouble, financially, secondly, what every you're spending it on, you've got to make sure you're getting returns for it on the pitch."
At Liverpool, Dalglish oversaw the signings of Aldridge, Barnes, Houghton and Peter Beardsley, whilst at Blackburn, Alan Shearer was signed too. And despite Dalglish's humble nature belying this was a clear, determined competitive edge and a fierce elite mentality that came across in the way he discussed the nature of signings. For him, as a manager, the outcome is the barometer of success, progress or value. And this itself seems a curious point for a man who places so much value on family, friends, the people around him, the club and the people of Liverpool; and due to his charm, humbleness and understated manner, it's easy when listening to forget what made Kenny Dalglish "The King", as he attributes a great deal of his successes to the work of others. But as this remarkable podcast showed, if you listen very closely, it's crystal clear, Kenny Dalglish, above all, is a winner at heart, and that made all the difference.