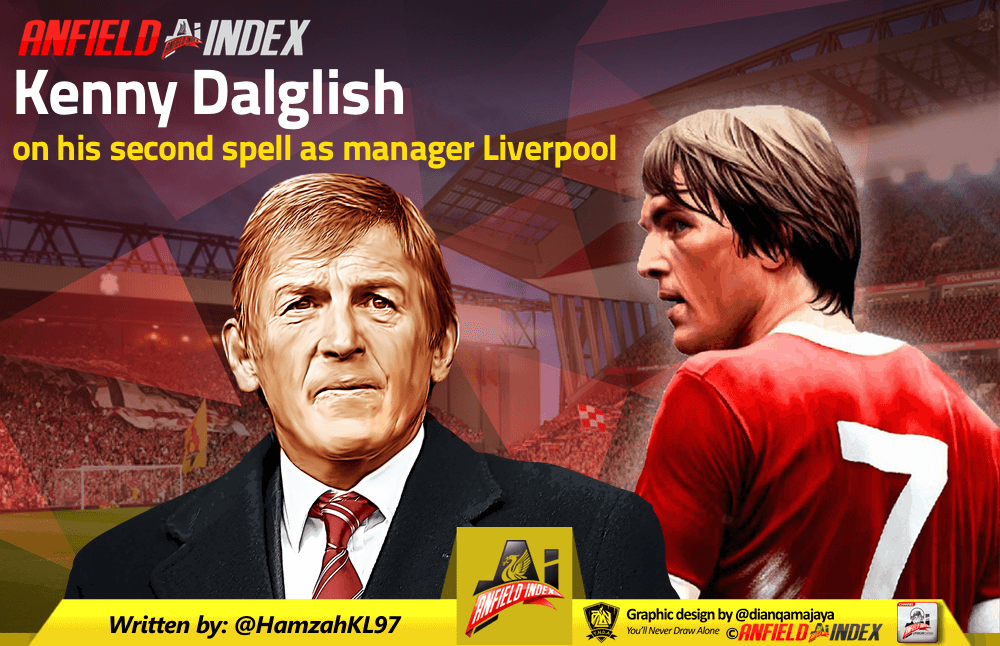 Kenny Dalglish on his second spell as manager Liverpool
"I was really looking forward to seeing Fernando playing with Suarez." – Kenny Dalglish, The King and AI, episode 2
Weren't we all…
As an outsider to the inner machinations of the club, no matter how big of a fan you are, it's very rare to get a chance to get the full, unabridged, unaltered story. But Sir Kenny Dalglish afforded us a rare insight into those processes during his second term as Liverpool manager, and how challenges that management in the 21st posed were not all that different to those in the late 20th century.
Managers having to deal with wantaway players is nothing unique to the modern game, rather famously Ian Rush moved to Juventus for the 1987-78 season, but Dalglish touched on the reverence towards Real Madrid and Barcelona for South American players, ceding,

"With the South American boys, once there's an interest from Barcelona or Real Madrid, it's really hard for them to turn it down.
Dalglish's time as Liverpool manager for a second time was an exceptionally challenging one. Having taken over a club which appeared in dire straits, and seemingly stranded at the bottom of the table, Dalglish attempted to steer the club to relative safety, a position in which future seasons could be built upon. Dalglish's appointment was met with widespread fervour, but if the drama of his appointment and the footballing state of the club was not enough, Fernando Torres, Liverpool's star player and fan favourite wanted to move to rivals Chelsea.
As one great striker left, another joined, and Luis Suarez donned the famous no.7 shirt, made iconic by his manager. Suarez's time at Liverpool would be a tour de force for Liverpool fans. An undoubted talent, he developed into a goalscorer, but controversy was never far from him, and made managing him, the squad and protecting the reputation of the club a challenging affair for Dalglish, yet despite this, when acknowledging Suarez's inevitable departure, Dalglish preferred to salute his professionalism,
"There was no way Luis was going to play anything other than his best, even though he was desperate to go, and Phillipe would have been the same."
For Dalglish though, his loyalty and faith in his players was a cornerstone of his management style, and to him, "If you support your players, I think you get the reward for that". Dalglish's management style though differs a great deal to some of the big names to have made their mark on the game, be it, Clough or Mourinho. As a player who has done and won it all, he comes across as someone tired and without patience for the ego pampering and attention that the camera-loving managers crave.
Dalglish understood and held the club in a regard that can only come from the precedent Bill Shankly set. And this reverence of the club as an institution and the importance of the people that made it what it is shaped his entire philosophy – even evident in the way he represented himself in front of the cameras,
"When you're in front of the TV you have a responsibility, an obligation to speak to the media, before and after every game, but you've also got for me a far greater responsibility to represent the club you work for as well as you possibly can, and for me, I would put the club before any story you gave the journalists."
The principles and beliefs that drove Dalglish are unlike any you'll hear now. To him, football plays a beautiful part as a familial experience, more specifically the relationship between generations through the ability of one generation to tell tales and stories to another of days gone by, and then to share in making new experiences and stories to tell further generations. This was what made the League Cup victory so important to him, and a much-needed tonic for fans to the trophy drought from 2006 onwards, coupled with the severe unrest at the club.
"For me, a really important part of growing up with the success of Liverpool were the stories the parents could tell to their children, and it's fundamental to why Liverpool Football Club have such a thriving support – and for me, I wanted to give that present supporter the ability to tell their children about when they went to Wembley, that for me was really important."
When it comes to management for Dalglish too, again, he is persistent in stressing the role of his backroom staff and coaches, going as far as saying,
"I wasn't a coach, I didn't have to be a coach… I concentrated on the [man] management side of it.

"[and it's] important if you're in management, you can identify your weakness, and strengthen it as best you possibly can."
For all Dalglish's willingness to share in his successes, and downplay his own undeniable skills he is determined to take responsibility for those less successful moments and took time to clarify a common misconception about the role of Liverpool's Director of Football, Damien Comolli,
"Damien Comolli never brought one player in that I didnt want. Every player that was there between the time I was there and Damien leaving was my choice."
It's remarkable what you can wean about Dalglish from a few quotes or moments of honesty. The way he views the club is unlike most modern managers, every single component of it, to him has an important role to play, be it the supporters, the directors, the backroom staff, or even those oft-omitted cooks or cleaners. And this is what set him apart from the rest, his appreciation of everyone who makes the club what it is.
The King and AI is a podcast series, listen for free here, set up to raise support, awareness and funding for the Marina Dalglish Appeal, we strongly encourage you to make a donation or support the cause in any way you can, and you can make a donation via this link: https://www.anfieldindex.com/mda