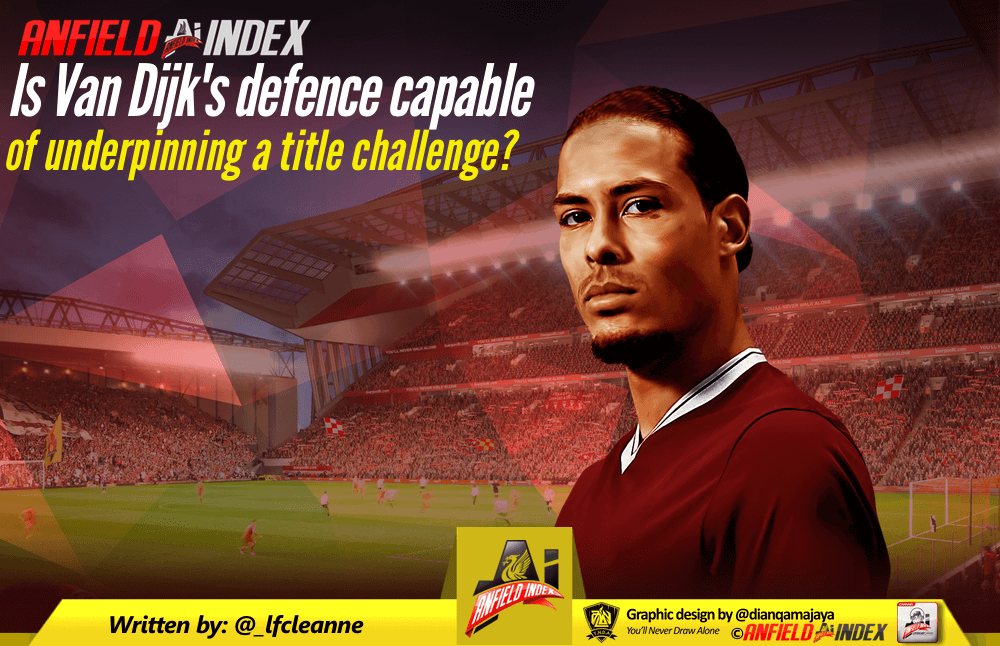 Is Van Dijk's defence capable of underpinning a title challenge?
Liverpool's £75m capture of Virgil van Dijk made him the most expensive defender in the world. Of course, eyebrows were raised left, right and centre given the size of such an investment; a good defender for Southampton but one worthy of such an outlay? Outsiders weren't particularly convinced.
Fast forward to the present and the critics have gone eerily quiet as it appears one man can indeed fix a defence.
A third successive clean sheet of the season in the 1-0 win against Brighton highlighted just how far the Liverpool defence has come; ridiculed for shipping needless goals and succumbing positions of strength with individual errors, the Reds now pose a strong defensive unit marshalled by Van Dijk.

When Bill Shankly signed Ron Yeats back in 1961, he beseeched people to "take a walk around my centre-half, he's a colossus."
As the modern-day colossus, Van Dijk has provided direction and leadership in equal measure to a back-four bereft of such qualities in January 2018, enabling Dejan Lovren to strip his game back to the basics as in his Southampton days.
Free from the pressure of being the most experienced defender in the back-four, he re-found his form at crucial points last season, namely the Champions League run-in in which he appeared far more like the defender Liverpool thought they were buying from the Saints.
The very best defenders spark an improvement in those around them and that's exactly what the 27-year-old has done; injuries to Lovren and Matip have given Joe Gomez opportunities in the first-team for the opening three games, a challenge he's more than risen to, partly due to the authoritative, calming influence of his partner.
Critiqued for failing to read the flight of the ball last season, particularly against Manchester City in which Leroy Sane was allowed to coast in from the right-hand side and flash the ball in at the near post, the 21-year-old has looked far more resolute alongside Van Dijk.
Indeed, there are few better players to learn the job from, with the budding partnership offering an insight into the future of Liverpool's defence.
The summer arrival of Alisson has only fuelled defensive improvements, thereby ending the increasingly divisive careers of Simon Mignolet and Loris Karius at Anfield. Like the Dutchman, he's a very communicative figure who exudes a certain calm and composure to those around him.
Miscommunication and poor judgement have been Liverpool's undoing in recent years as shown by last seasons capitulation against both Manchester City and Spurs. However, as the only team yet to concede a goal in the 2018/19 season, Klopp now has the authoritative figure the club has been crying out for and a defence capable of underpinning a genuine title challenge.
From a statistical standpoint, before Van Dijk joined in January, Liverpool had conceded 28 goals in 2017/18, an average of 1.17 goals per game. Yet, in the final 14 league games of the season after Van Dijk's arrival, only ten goals were shipped, producing an average of 0.71 per game.
Using this average, we can extrapolate what Liverpool would have been on course to concede over an entire 38-game season with Van Dijk at the back. Shipping a mere 27 goals would've matched Man City for the best defence in the league while conceding one fewer than Man United.
In title terms, previous league winners garner an average of 34.25 goals conceded in total over the course of the season. Manchester City conceded just 27 goals in 2017/18 while Chelsea's tally of 32 and 33 goals conceded in 2014/15 and 2016/17 respectively show that Liverpool could be genuine title contenders with Van Dijk marshalling the back four.
Of course, this extrapolation isn't entirely accurate and is susceptible to tactical changes and injuries throughout the course of a season, but the point remains that Liverpool look far better equipped following the signing of Van Dijk.
Since making his Liverpool debut, no player has more Premier League clean sheets (9) while the club has kept seven consecutive league clean sheets at Anfield for the first time since 2006/07.
Van Dijk played every single minute of the action, illustrating how his commanding figure has helped transform Klopp's defensive picture.
Since making his Liverpool debut, none of these players have kept more league clean sheets than Virgil van Dijk:

Diego Godín
Giorgio Chiellini
Leonardo Bonucci
Sergio Ramos
Gerard Pique
Thiago Silva
Mats Hummels

Solid. pic.twitter.com/IVIVvEPYtx

— bet365 (@bet365) August 21, 2018
The very fact no one talks about his world-record fee is a testament in itself; the perennially critical Gary Neville even branded him "a monster" defender just like Jaap Stam.
Who knows if Liverpool will win the league this season or not, but having achieved three clean sheets on the trot, they appear in damn good shape to challenge. Van Dijk is a huge reason why.