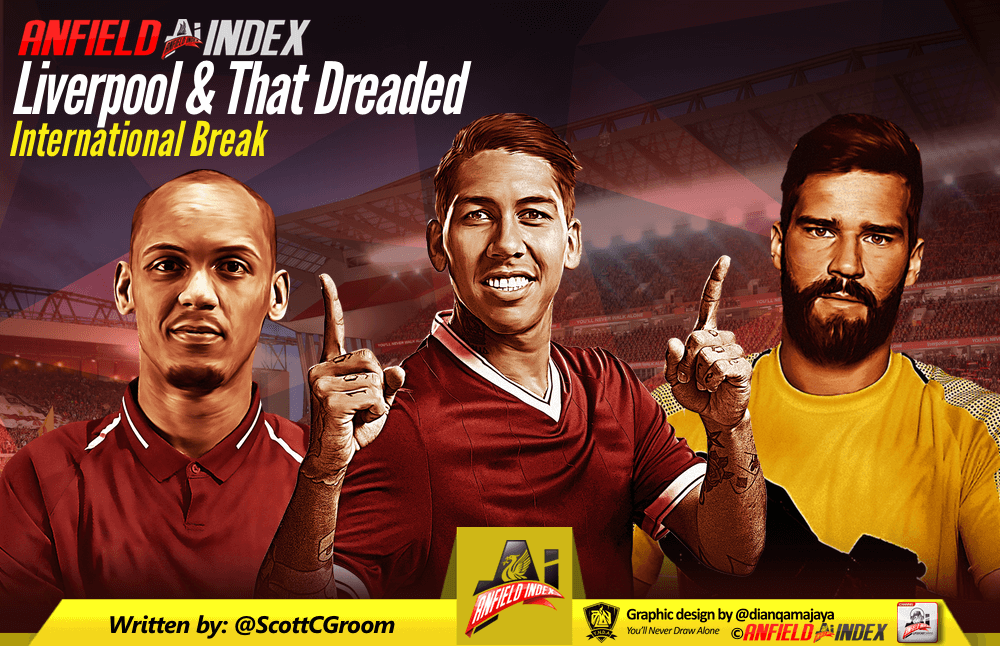 Liverpool & That Dreaded International Break
The Premier League is back and in full swing, and what a time it is to be a Liverpool fan: three wins out of three, zero goals conceded, the team are playing some great football – and United are struggling which just makes life that bit sweeter.
Wins against Brighton, West Ham and Crystal Palace have seen Liverpool live up to the pre-season hype so far, with one more test in the form of a trip to Leicester City heading their way domestically before the international break begins.
And it is perhaps with commencing of the international break that the biggest hurdle of Liverpool's season so far presents itself.

It is arguably coming at entirely the wrong time for Klopp and his squad, with a mere four games in the season being played when the squad breaks up to represent their countries across all four corners of the globe.
It is also, especially in my view, an absolutely ridiculous and pointless time for any international break to take place. It's either a pointless competition or an even more fruitless friendly that these players will be taking part in.
It's like whetting our appetite with a smattering of Premier League action for it to be snatched away, leaving us dissatisfied and salivating at the thought of its return.
Players and squads, like Liverpool, build momentum, build up a head of steam before they're then carted off half-way around the world to play in a meaningless match.
It must be so frustrating for Klopp, having worked so hard during the close season training sessions to implement his plans, getting players used to the systems and intricacies of his plans only for them to be taken away for a good week and having to readjust to someone else's schemes.
I know that these are elite athletes and performers we're talking about here, but it still presents a challenge.
It's like going on holiday for a week from work, you get out of the groove a little. You don't forget how to do your job as such, but you might be slower and off the boil for a day or two – so the players must feel an aspect of this.
Then there's the tiredness. Take Liverpool's Brazilians for example, playing in South America, almost 5,500 miles away. That is quite some trip to go all that way, continue a high intensity of training and competitive matches, then fly back to Merseyside.
Again, Klopp must be seething knowing that without this additional travelling, his players would be fresher and able to perform at a higher level upon their return.
With tiredness also comes the increased risk of muscle injuries, which could further delay the individuals return to first-team action. It could even be worse than that, as these are competitive games in which nobody will hold back (and rightly so as they're representing their country) – so the risk of an injury being picked up on the pitch is also something that will no doubt give Klopp some sleepless nights.
Imagine if Roberto Firmino picks up and ankle ligament injury due to a late challenge, or Trent Alexander-Arnold tears a hamstring while playing in a 0-0 friendly. I, for one, will be furious.
And I'll be so incensed because the first few weeks of the domestic season are crucial to setting the tone for the rest of the campaign, and Liverpool have started off so very well.
For them to come back from this break with a depleted squad, or a tired one at best, could impact on results, with big games against the likes of Spurs, Chelsea and Manchester City coming up before mid-October.
Nobody wants to see the end of international football and only watch club fixtures, but I think a break at this point in the season represents very little merit and potentially poses a huge threat to the excitement and brilliance of the Premier League.
On a selfish level, we want to see the Reds do as well as they can and challenge on all fronts, so why risk that with an away friendly against Hungary? Not for me, thanks.