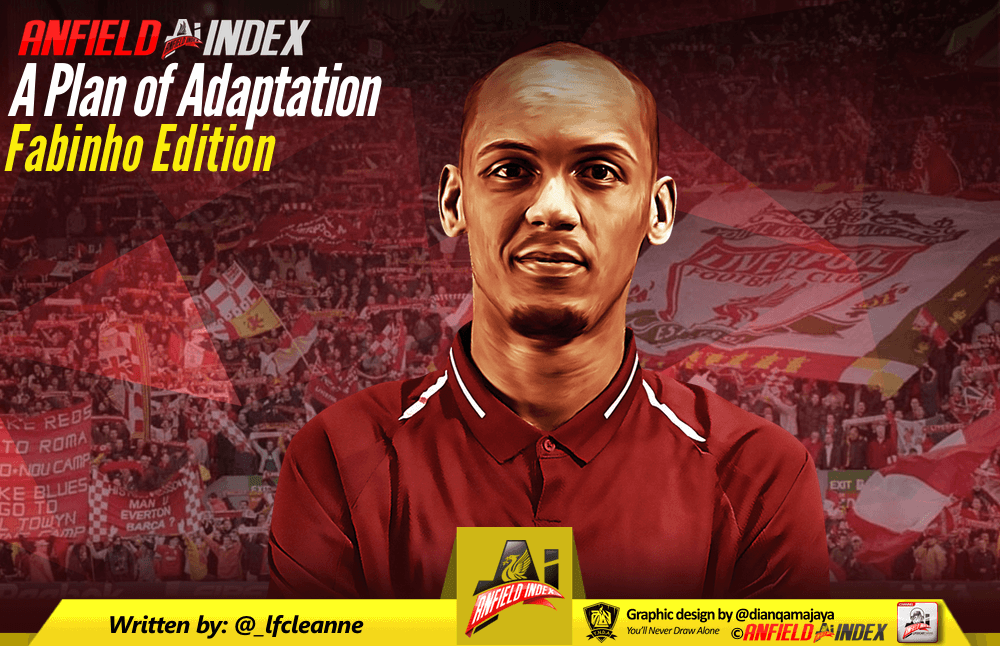 A Plan of Adaptation: Fabinho Edition
Having spent £40m on Fabinho this summer, some fans would've expected him to come straight into the starting eleven and offer a blanket to the back-four we've not seen since the days of Javier Mascherano.
Crunching into tackles and feeding the ball to his teammates higher up the pitch, his inclusion would bring Liverpool to new heights amid hopes of a title challenge.
However, the Brazilian hasn't featured in the opening three games and didn't even make the bench against Palace and Brighton, the first of which he was highly expected to due to the physicality of Selhurst Park.

Why? Because of Klopp's plan of adaptation.
A strategy where you learn patience really is a virtue, the lack of appearances for Fabinho shouldn't be raising any eyebrows over his importance to the side, nor the manager's opinions on his ability.
This isn't something new after all. Oxlade-Chamberlain arrived on deadline day in the summer of 2017, undergoing a steady period of adaptation after spending six seasons at Arsenal.
While both clubs play similar 'tika-taka' football, the physical demands of Klopp's gegenpressing system weren't something that could be learnt overnight. Indeed, the very fact Naby Keita has slotted straight into the Liverpool midfield says more about his quality than any shortcomings on previous arrivals.
Oxlade-Chamberlain didn't make his first start for the club until September in the harrowing 2-0 League Cup defeat against Leicester City while his first ninety minutes of league action came much later in December against Bournemouth. Prior to that, he made a string of substitute performances against City, Burnley, Leicester, Newcastle, United et al., all of which involved a maximum of 12 minutes of action.
It wasn't until the departure of Philippe Coutinho that we really saw Ox in and around the starting eleven on a consistent basis, with a bit-part bench role allowing him to learn the demands and tactical nuances of Liverpool's system in training.
The 25-year-old was one of the best players in the second half of the season, scoring a stunning long-range strike against Manchester City in the Champions League. Forceful runs from deep coincided with relentless pressing when out of possession to make him a real asset in central midfield, making good of the faith shown by Klopp to play him in his favoured role.
The manager's patient approach was therefore vindicated, allowing Ox time to adapt and improve so that when the time came he was able to impact the side in the best possible way.
Now considered a major loss to the system after sustaining a cruciate ligament injury against Roma that'll likely rule him out for the entire 2018/19 campaign, fans have quickly warmed to a man hardly seen during his first few months at the club.
Andy Robertson is another prime example; fulfilling a bit-part role as understudy to Moreno after the Spaniard made a flying start to the season, Robbo had made just two appearances by the start of December.
A rather fortuitous injury allowed the shackles to come off and from then, he's developed into one of the most important players in the side and arguably the best left-back in the division. Marauding down the flank, Robbo's brought a new dynamic to the attack while maintaining diligence and discipline in his defensive duties – rather unlike his predecessor if I may add.
Klopp's adaptation policy was justified again.
Fabinho himself has openly admitted he's still adapting to life at Anfield and as Klopp rightly said, Robbo is a "completely different person to the one who was here in the first three months."
Therefore, throwing Fabinho into a system that he's still learning doesn't benefit anyone; a poor start and failure to hit the ground running would only harm the player's confidence and potentially cost the team points. Gaining valuable time on the training pitch serves both better in the long run. It's merely a test of patience.
It's also worth considering that Liverpool have achieved maximum points so far and are still yet to concede a goal. Changing the midfield right now would defy logic ahead of a tough run of games in which momentum could be key.
Klopp's strategy of adaptation has come to fruition for Oxlade-Chamberlain and Robertson.
Have faith that the outcome will be the same with Fabinho.