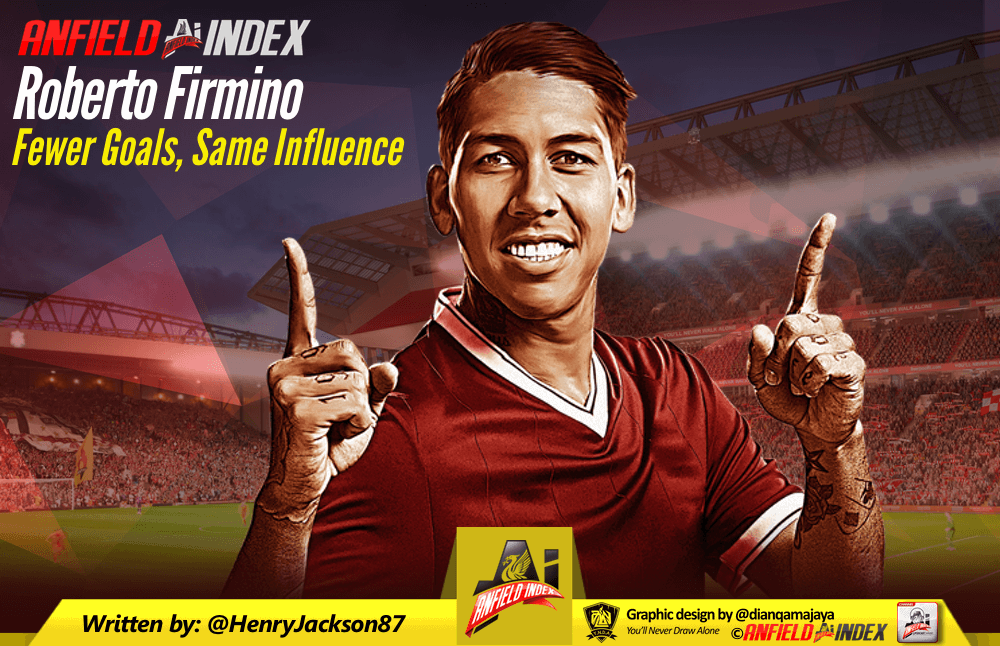 Roberto Firmino: Fewer Goals, Same Influence
When Roberto Firmino was denied by Mat Ryan in Saturday's gritty 1-0 win over Brighton, a nagging thought entered my mind immediately.

"He's still looking for his first goal of the season", I thought, knowing full well where the current narrative is slowly heading towards Liverpool's brilliant Brazilian, rather than being worried about his form.
The Reds are now three matches into the season and Firmino hasn't yet registered, which means lazy talk of him not shining as a striker are in danger of rearing their ugly head again.

Last season was a monumental one for Firmino – comfortably the best of his ever-improving career to date – with 27 goals and 17 assists finally seeing him earn the adulation he deserved long before that.
A pivotal member of Liverpool's much-loved front-three, the 26-year-old became a crowd favourite whose work ethic and subtle intelligence were second to none in his position.
He embodied everything good about a Reds side who came tantalisingly close to Champions League glory.
The one frustrating aspect was that widespread acclaim only really came Firmino's way once the net was bulging regularly, with goals so often the only aspect of a striker's game that will attract such attention.
The truth of the matter was that goals were a long way from being his key attribute, with the South American adopting the role of a 'striker', rather than a striker.
His ability to nick the ball away from opposition players was more akin to a defensive midfielder, his intellect when it came to creative decision-making felt like a No.10 and there was also an unselfishness on show that you don't always associate with a centre-forward.
That was perfectly highlighted by his assist for Mo Salah's solitary strike against Brighton, with Firmino's pass played speedily and in inch-perfect fashion to his teammate.
Equally, he played in Sadio Mane in the 4-0 drubbing of West Ham on the opening weekend, meaning two assists in three appearances have already come his way. He is unique, and few players are more important to the way Jurgen Klopp plays.
One thing that appears unlikely, however, is Firmino being quite so productive in front of goal this season.
Twenty-seven is an eye-catching return for any striker at a top-six club, but to find the net so many times when goal-hanging and a shoot-on-sight policy is not even part of your game is sensational.
It may simply be that Firmino enjoyed a freakish campaign in that respect, so we shouldn't be expecting such a regular flow this time around.
You only have to look at some of the positions he has been taking up so far in 2018/19 to see this, with Salah often the man given the task of being Liverpool's true striker, getting into the most dangerous goalscoring positions.
Liverpool's average positions from the first three games of the season. Safe to say this starting XI are well drilled and know what they're doing.

Latest @thisisanfield tactics and stats piece: https://t.co/PfEdEl990p pic.twitter.com/7OOcxaB4LU

— James Nalton (@JDNalton) August 27, 2018
Mad how the pre-match angle was that Firmino was suffering a "World Cup hangover" – because he hadn't scored in two games no less.

This is where he's being asked to drop now Keita's in the side. pic.twitter.com/m72GC97V9z

— Jack Lusby (@jacklusby_) August 25, 2018
In fact, we have seen him dropping so deep in recent weeks that both Naby Keita and James Milner have pushed on ahead of him a number of times.
He is not a forward who will regularly be in the penalty area, instead opting to drift out wide, find deeper pockets of space centrally and allow others to blossom in the final third.
As touched upon in an interesting article in the Times, Firmino has only had a total of seven shots in the wins against West Ham, Crystal Palace and Brighton – as a comparison, Cristiano Ronaldo managed eight on his Juventus debut alone.
He will never be a shot-happy striker desperate to land Golden Boot award, much in the way Harry Kane, Sergio Aguero, Romelu Lukaku and even Salah are.
That's not to say he isn't lethal when given a chance, with a shot conversion rate of 25 per cent recorded last season, but it is a travesty if you only measure his worth by looking at his goal tally.
Much as some will be desperate to jump on the "Liverpool need a proper striker" bandwagon, should the goals dry up, Firmino's importance to the cause will stay exactly as it is.
Every other facet of his game is far more likely to make the Reds tick than a few missed chances or failure to get into as many dangerous areas, and there will be a regular supply coming from the likes of Salah and Mane, in particular.
There is, of course, still a chance that Firmino will replicate his feats of last season and prove to be every bit as devastating, but it would be a surprise if such an impressive total came his way again.
We are yet to see him at his sparkling best in the first three games, but that is to do with a late return to pre-season more than anything.
His influence has still been there for all to see and he is only going to grow as his fitness levels improve and his world-class touch, brain and all-round rhythm return to their peak.
Don't start panicking if Firmino doesn't score as regularly this time around.