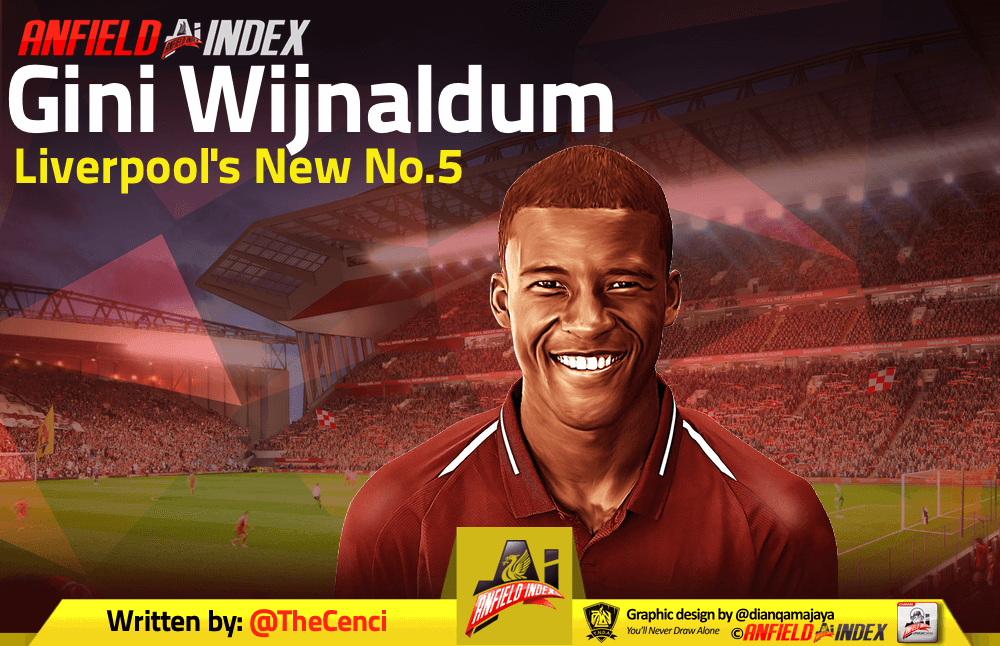 Gini Wijnaldum - Liverpool's New No.5
Naby Keita, James Milner, Alex Oxlade-Chamberlain, Jordan Henderson, Adam Lallana, Fabinho and Gini Wijnaldum. Seven midfielders, all of whom are justified in thinking themselves worthy of a starting position in the Liverpool line-up.
Had you asked many fans which of the above would be looking for a club over the summer, the betting would suggest Lallana and Wijnaldum? Not that they're bad players, merely that Liverpool's purchases have significantly improved the squad and it would be hard to see where those lads get their game. Furthermore, there were rumours that the Dutchman was the focus of substantial bids to take him away from Anfield. All looked grim. Fabinho, Keita plus one more. That seemed to be the pecking order and Gini looked like the sparest of spare wheels.
But talk about taking his chances. Gini has been a revelation for the Reds this season. A quiet, understated performer, yes, but one vital to the team in its current guise. The other midfielders have little hope of shifting him at the moment. Henderson seems to be a natural replacement for Milner once his legs tire rather than Gini and Fabinho is still a little away from a competitive debut.

This seemed an unlikely scenario last season. Wijnaldum was used in many positions, even featuring as a makeshift centre-half at the AMEX Stadium when Liverpool ran riot on the south coast. Mercifully though, that was a short-term measure though it's worth remembering that Liverpool only lost a clean sheet to a ludicrous penalty decision rather than an individual error.
Maybe his exorcising of 'that stat' has seen an upturn in his form. It has been well-documented that Gini Wijnaldum has a strange relationship with the away grounds. He failed to trouble the scoresheet in his season at Newcastle and his first at Anfield, though he managed 16 goals at home across that time. His last goal on his opponent's turf came in his last game in Holland in May 2015
That all ended when Gini finally notched away from Anfield last spring. He chose his time well. First away goal? The winner in a European Cup Final at the Stadio Olimpico, Rome. Yeah, that will do. Part of me wonders if he did it deliberately, like an experienced actor knowing the right time to come on and take a curtain call when the atmosphere has been whipped up sufficiently.
But it wasn't just the goals that were the issue last season. Some of his performances at away grounds were ghostlike. The game at St James Park is a case in point. Many speculated that he might end his hoodoo there as he had scored there eleven times when he was a Newcastle player, but no. He faded so much that at one point I wondered if it were time to bring him on from the bench. I'd honestly not noticed him and thought he was a substitute.
The arrival of Oxlade-Chamberlain may also be significant. Suddenly, Liverpool had a midfielder prepared to push players out of the way to get to the ball or cover a run. Wijnaldum could do that too but had a more laissez-faire attitude when on one of his more somnambulant games. No less important, of course, but Chamberlain was far more noticeable in his brief purple patch before his injury.
What has emerged this season is a whole new player. Or is it? Maybe the system suits his calm delivery and sensible passing. Maybe it's the combined energy and game intelligence of Naby Keita and James Milner that have improved him. Maybe he just feels more comfortable with them rather than Emre Can.
In any case, Wijnaldum was equally comfortable at Selhurst Park as he was against West Ham and Brighton in what was often a fraught encounter. True, Van Dijk and Gomez were excellent last Monday night, but the protection of him by the big number 5 was pretty much perfect.
And it's this improvement which has led Jurgen Klopp's side to the top of the league, albeit at an early stage. Finally, there is a healthy competition for places in the midfield—a sharp contrast to last season where we lacked the bodies, never mind the quality, to fill the first team. Danny Ings and Trent Alexander-Arnold were even played there as Klopp had to rest players for the midweek European encounters as limbs tired.
Now, Saturday aside, a man who played in the World Cup semi-final will struggle to get into the first eleven and Adam Lallana—arguably first choice in previous campaigns—has even less chance. Fabinho is yet to start a competitive game at all.
Keeping his captain out of the Liverpool side is a huge statement and while there was once a time when the biggest Gini fan wouldn't raise an eyebrow and him starting on the bench, it's the Dutchman who deserves his place and will be difficult to shift.
There is nothing better in football than when a player surprises you and your opinion of them alters even in the slightest.
His critics will look at his activity in the Leicester game and argue where he was poor, but he wasn't alone there as all the middle three struggled against Mendy and Ndidi. It should not tarnish what has been an excellent start for him. He like Joe Gomez has stepped up this season. Long may it continue.