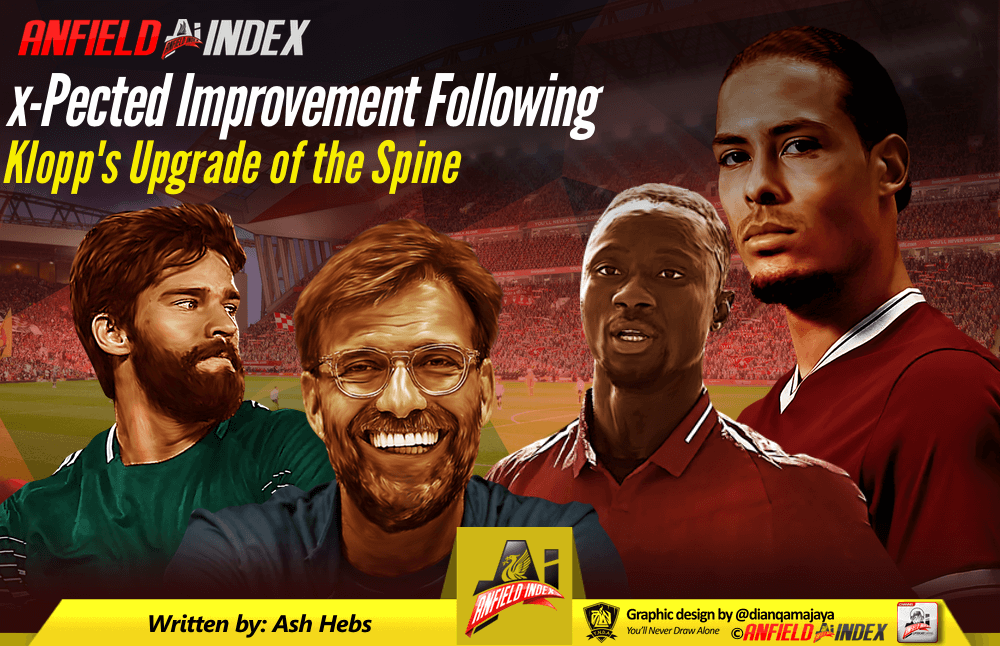 x-Pected Improvement Following Klopp's Upgrade of the Spine
A mere 3 games into a highly anticipated new season and Liverpool sit atop the Premier League table. While it's still early days, with the integration of new players underway, it's extremely satisfying to see the club hit maximum points thus far. 9 points, zero goals conceded, firing at probably only 60-70% of our true level. Improvement is sure to follow as the season progresses.
Yet this is the Premier League. The toughest domestic competition in all of Europe, and quite possibly the world. Manchester City, devoid of Kevin De Bruyne for the foreseeable future, continue to show the form of last season. Spurs are their frustratingly efficient selves as their players retain some sharpness following their World Cup exploits. Chelsea, long over-due a recurring decline in fortunes, look invigorated under their latest ex-Serie A manager (for now).
But, like I said, it's still early days. The only thing Jurgen Klopp can do is focus on what he does best: that is, maximising the performance of his own side. The rest will follow.

All about the spine
Following a theme of last season, perhaps the biggest difference between Pep Guardiola's formidable Man City team and Klopp's Reds was the difference in the spine. Last season's City had a tremendous spine relative to Liverpool. In the space of two transfer windows, however, Liverpool have upgraded their spine spectacularly, with the addition of world-class players like Alisson, Van Dijk and Keita.
Once Fabinho is fully up to speed he'll surely be in the conversation too. Particularly if he can replicate the form that saw him dominate Pep Guardiola's City team a couple of years ago.
Comparing the two teams based upon the summer transfer window, Liverpool have improved more than Man City. Rather than adding to our attacking prowess, Klopp has invested in players that can make the team more competitive and solid. Far harder to beat, and therefore, more dangerous when the balance of a game falls into Liverpool's advantage.
To be genuinely involved in the title challenge, this new incarnation of Klopp's vision must turn last season's frustrating draws into wins. The team must also be more competitive against fellow top 6 rivals.
A statto view
More goals from midfield will help in this area, to take some of the burden off the fab three at the top of the pitch. Encouragingly, last season's underlying performance (using expected goals analysis, xG, and the like) showed that the gap between Man City and Liverpool was not as big as the final season points totals suggested.
I delved into Understat.com to look into this further. Before we look at some graphics, some definitions to start with.
xGChain90: Total xG of every possession the player is involved in (per 90 mins);
xA90: Expected assists (per 90 mins);
NPxG90: Non-Penalty expected goals (per 90 mins).
Comparing Liverpool and Man City's midfields, season upon season, albeit based upon a small sample size for 2018 (i.e. season 2018-19), we see some interesting observations.
Expected Goals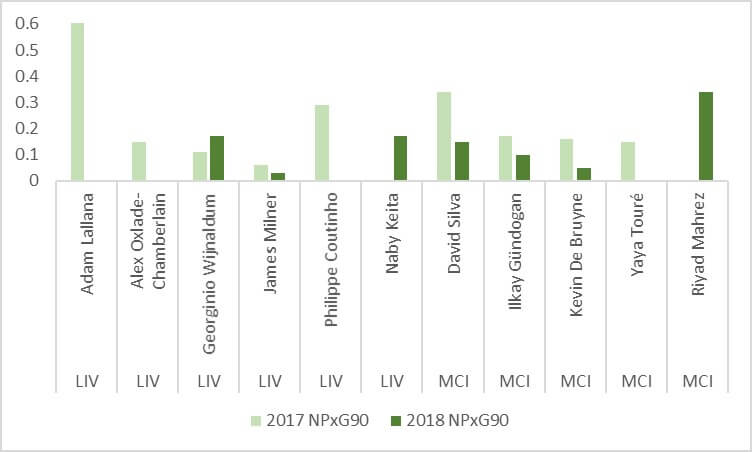 City had a far greater goal threat from midfield last season.
Based on a limited sample size, City are performing below last season's levels.
Gini Wijnaldum is showing an increased, and much-needed, goal threat this season which is encouraging.
Mahrez shows the financial advantage and strength in depth that City still have over Liverpool. They start from a strong base and only need to add incrementally to it.
Naby Keita will need to replace Coutinho's goal threat.
Losing Oxlade-Chamberlain to injury was a big blow, we need Lallana to stay fit to compensate as best he can.
Expected Assists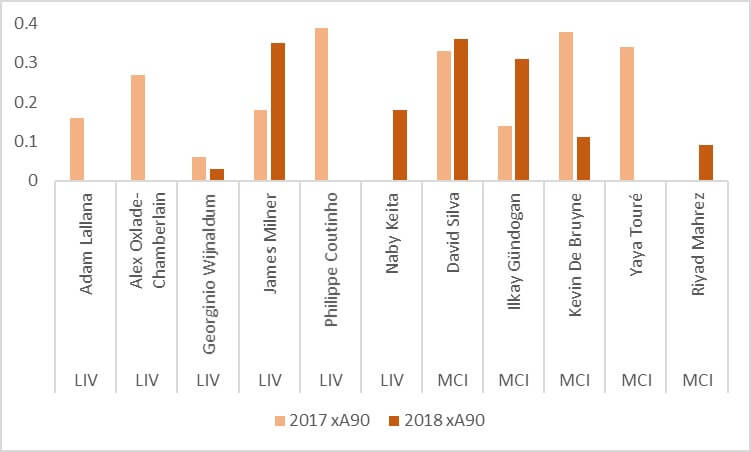 With the exception of Kevin De Bruyne, all players who have an xA in both seasons are seeing an up-turn in performance this season.
Phil Coutinho was hitting elite levels in terms of assist-making and he is a big loss in this area.
Failing to land Nabil Fekir, compounded with the Oxlade-Chamberlain injury, was a serious blow to Liverpool in terms of having a focal "creator".
A lot of pressure rests on the shoulders of Keita as

Wijnaldum is unlikely to hit the heights of Silva, De Bruyne and Coutinho;
Milner, despite a strong start, is unlikely to start the majority of games when everyone is fit.
Possession play and goal impact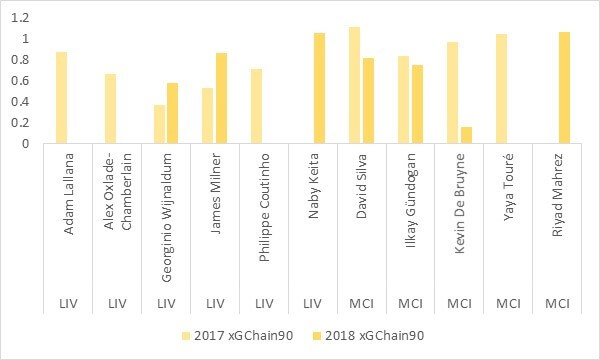 Liverpool's on-ball activity is encouraging season on season.
Naby Keita is a game changer for Liverpool on the ball; he is far more judicious in his use of the ball, compared with Coutinho.
City still edge it in terms of on-the-ball quality especially once De Bruyne comes back. But the gap is closing.
Based on the pre-season, Xherdan Shaqiri may be a big equaliser if he starts to get more minutes.
Adam Lallana could be a useful contributor if he can stay fit and add more of a cutting edge to his game, when he does get minutes.
Final thoughts     
Liverpool's midfield is improving, but we need bigger sample sizes to truly assess the impact of the midfield moving forward. The challenge remains for the midfielders to contribute goals more regularly, to lighten the load for our attackers. The more games that Alisson, Van Dijk and Fabinho can start, the better for the whole team. It will certainly take some of the pressure off Naby Keita, who is still finding his feet in a physically more demanding league.
Underlying performance, combined with a more solid defensive base, suggest that Liverpool have all the tools to challenge for the title. Much will come down to the ability to keep our best players fit for long enough intervals.
Liverpool can afford to score less goals than last season, albeit whilst winning more games. However, with a stronger foundation, our attacking midfielders and forwards should have more freedom to flourish.
With Klopp himself commenting after recent games that there is still room for improvement, it's fair to say that without doubt, the best is yet to come. It's going to be a fascinating journey and we should all try our best to enjoy it.