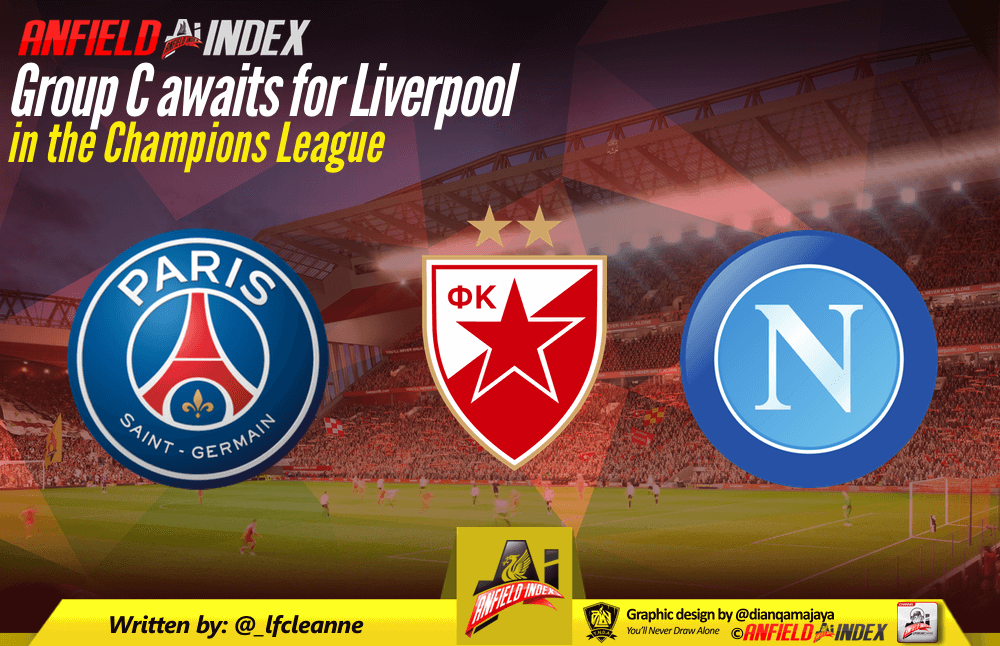 Group C awaits for Liverpool in the Champions League
The wait is finally over and Liverpool now know who they'll face in the group stages of the Champions League as they hope to reach another European final.
Drawn in Group C, Klopp's side find themselves alongside Paris Saint-Germain, Napoli and Red Star Belgrade in one of the toughest groups of the competition while Manchester City have a pretty straightforward looking run to the knockout stages.
Ask any Liverpool fan prior to the draw and most would have said they didn't fear anyone; a record-breaking run to Kiev last season saw the Reds play some of the best football in Europe with an attacking trio of Sadio Mane, Mohamed Salah and Roberto Firmino. No-one, not even Real Madrid, would be feared.

Of course, we could've got a kinder road to the latter stages but big European nights are what this club is all about and now, back in amongst the big boys, this is certainly a chance Liverpool should relish rather than one they should fret over.
Paris St Germain
PSG offer the toughest test for Liverpool, blessed with a surge of attacking riches including Neymar. A divisive figure due to his flair for the dramatic, there can be no doubting the Brazilian's quality. Add to that Kylian Mbappe and Ederson Cavani and they pose the ultimate test to whether Liverpool's defence has truly improved to title challenging levels.
The French outfit coasted to the domestic treble last season and currently have Thomas Tuchel in charge, with the former-Dortmund boss hoping to temper egos in the dressing room and garner them towards a team-orientated goal.
In terms of where Liverpool can hope to exploit the Champions, Dani Alves could be a potential avenue. The right-back is a bit like Marcelo; desperate to run forward and join the attack, he can leave gaping holes in behind for the opposition to exploit.
Given Salah and Mane possess a wealth of pace, the ability to quickly transition into attack could allow the Reds some room to manoeuvre down the right.
Likewise, PSG will be without two key players in Marco Veratti, who was sent off for two bookable offences against Madrid in the final game of last season, and Gianluigi Buffon, who picked up a red card for Juve in 2017/18. Despite suitable depth in all areas, a PSG team without those two is a weaker threat than a side with them in.
In terms of the record between the two sides, Liverpool have faced PSG previously in Europe back in 1996-97 in the semi-finals of the Cup Winners' Cup.
They lost 3-0 in France before goals from Robbie Fowler and Mark Wright left them narrowly short in the second-leg. However, when it comes to head-to-head between the two managers, Klopp comes out the clear favourite.
Playing 12 times against one another, Klopp has won eight, drawn three and lost just once. Here's to hoping that record continues.
Napoli
The two sides faced off in pre-season and albeit both fielding some players that wouldn't normally feature, Liverpool's 5-0 victory will give them plenty of optimism of a positive result, here.
Of course, the Italian outfit have a number of quality attacking players capable of inflicting damage on Klopp's side, but the manner of their football last season and what we've seen of this season puts them in good stead of advancing through the competition despite a tough group.
Likewise, with Atletico Madrid's Group A the other potential opponents for Liverpool, fans should be grateful its this way around. Simeone's side are perennially hard to break down, blessed with phenomenal defensive discipline and a helpful handful of 'know-how' while Napoli have shown themselves to be a more open outfit, giving Liverpool space to work their magic.
Goalkeeper David Ospina will be well-known to fans of the Premier League after a spell with Arsenal. He's not the best shot-stopper you'll ever come across, to say the least.
There has only ever been one competitive meeting between the two sides in Europe back in 2010. Meeting in the Europa League group stage under the dark days of Roy Hodgson, the fixture ended in a 0-0 draw in Italy before a 3-1 win at Anfield thanks to Stevie G's late hat-trick.
Red Star Belgrade
Red Star are definitely the underdogs of the group having navigated through the playoff rounds via a draw against RB Salzburg. While it is their first time in the Champions League group stages, be careful of underestimating them.
Crvena Zvezda won the Serbian league last season
However, they shouldn't be underestimated having won the Serbian league last season, with striker El Fardou Ben Nabouhane scoring eight goals in sixteen games last season. As an unknown entity in Europe, they'll likely look to frustrate the rest of Group C's teams, parking the bus and holding out for a goalless draw or a chance from a set piece.
Liverpool will have to work for results against them, but it's a battle they really should win. History would say otherwise though, with Red Star snatching a 2-1 win in both legs of the 1973-94 European Cup and therefore marking the only team Liverpool have previously faced and not beaten.
Although a tough group, Liverpool and Klopp will undoubtedly relish the challenge ahead as they look to face off against some of the big boys on their quest to reach another European final. At the end of the day, this is what it's all about; you want your side travelling the world facing the biggest and the best, giving you the exciting Anfield nights we've grown accustomed to.
The Reds have more than enough quality to advance to the latter stages of the competition at which point they'd do so knowing they've already tussled with some of the top teams. As Jurgen said, bring it on.