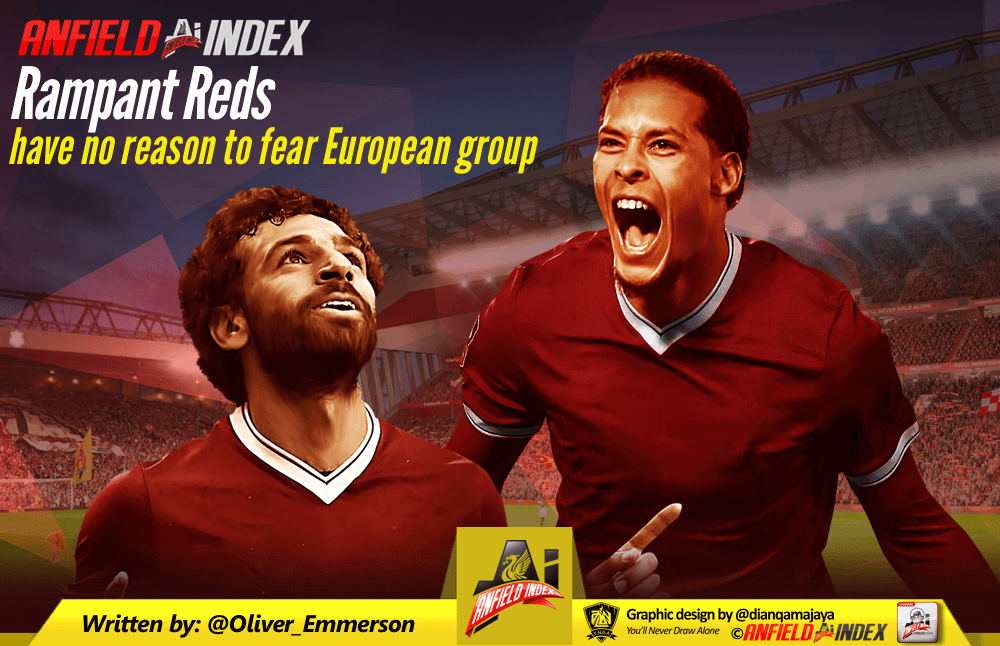 Rampant Reds have no reason to fear European group
7. The number of combined league games lost by Paris Saint-Germain, Napoli and Red Star Belgrade Crvena Zvezda last season.
91. The number of points Napoli picked up in Serie A last season.
108. The number of league goals scored by PSG last season.

0. The number of fucks you should give, I'm giving or Jurgen Klopp will give.
Liverpool are cruising through Group C of the 2017/18 UEFA Champions (and 2nd, 3rd, 4th placed) League.
You might be worried. I can't blame you. Two of Liverpool's group opponents are very good. Wonderful, in fact. But the Reds are better. The other side is a former great, with a scary atmosphere. Liverpool fans, are we not best placed to assure ourselves that having won some competition's in the 80's and having a good atmosphere at home doesn't equate to match wins or trophies?
I'm not going to give the Serbian side too much time in this piece. It's pleasing to play them on Matchday's 3&4 as it lets us guarantee six points very quickly, that's the extent of it. No cold trips to Serbia in early December. Nice one, fixture computer.
Moving on to the big guns.
In fairness to them, PSG and Napoli are big guns. Heavy material. My arms couldn't carry one, Virgil van Dijk's probably could. And there he is, one of Liverpool's big guns.
He joins Naby Keita, Mohamed Salah, Roberto Firmino, Sadio Mane and Alisson into an elite calibre of players that will have PSG's superstars quaking in their boots and Napoli wishing they could have bottled top four rather than the title last season.
This is a Liverpool team that radiates confidence against the top sides, especially on European nights. Liverpool dispatched of Manchester City in Europe last season. City, despite what the record books will show, were comfortably the best team in Europe last season.
Klopp's men, enjoying a winning start to the league season, have only improved since those crunch clashes against Pep Guardiola's men.
PSG do have superstars of their own. Neymar and Kylian Mbappe would arguably slot straight into any side in the world, with the maverick that is Edinson Cavani doing an often underappreciated job of facilitating their greatness. A BTEC version of Roberto Firmino, you might say.
I'll give you that Sadio Mane isn't quite on Neymar's level, but equally, you can't claim that Kylian Mbappe has reached Mohamed Salah's heights yet – despite staggering achievements for his age.
Liverpool's front three shades that of the Ligue 1 side. Marco Verratti, their best midfielder, is suspended for the first game. Naby Keita is better than him anyway. Fabinho will likely be up and running by the time the competition comes round. The midfield is Liverpool's.
At the back, PSG look impressive. However, are you taking Layvin Kurzawa over Andy Robertson? Thiago Silva over Virgil van Dijk? The youthful exuberance of Trent Alexander-Arnold over an ageing Dani Alves? You're not, don't try and convince yourself that you would. Be confident, be bold.
Whilst we're at it, there's no competition between Alisson and Kevin Trapp.
Don't get me wrong, PSG will test Liverpool. They may even sneak a win at home, but they're the best the group has to offer. The best the group has to offer aren't better than Liverpool, and the Reds don't even need to top the group anyway.
One team targeting second place will be Napoli. A Napoli side that, like the Reds, impressed against City last season. Unlike the Reds, managed to sustain a title challenge deep into the season.
A Napoli side that has lost their midfield wizard and inspirational manager. Carlo Ancelotti is back in the role for his managerial swansong, playing a pragmatic style that could restrict the likes of Lorenzo Insigne and Dries Mertens from doing what they do best. Scoring goals.
Are we really that sure that Ancelotti's defensive nous can be worked quickly enough to trigger an attack-happy Napoli side into keeping a clean sheet at Anfield? I'm not. Even if it doesn't come down to the last day (it won't), there's no need to panic.
We also twatted them 5-0 in pre-season for anyone that isn't 100% convinced. 1-0, 2-0 or 3-0 and I'm not taking it too lightly. 4-0 and I'm smiling. 5-0 basically confirmed that the Naples side shouldn't really bother turning up for the away leg.
Convinced yet? Good. See you for the last 16 draw, where I'll pleasantly inform you how, where and why Liverpool are putting 19 goals past Real Madrid over two legs.
ALLEZ ALLEZ ALLEZ!