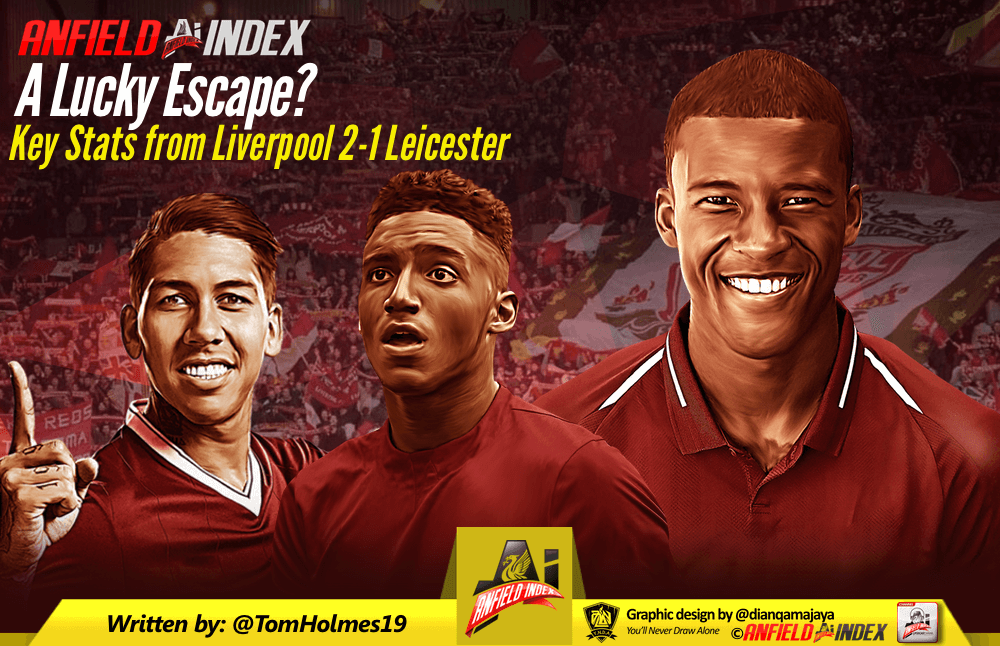 A Lucky Escape? - Key Stats from Liverpool 2-1 Leicester
Liverpool moved to four wins from four Premier League games as they just about did enough to see off Leicester City at the King Power Stadium. But what were the key stats from the Reds' 2-1 tricky away win?
Historic Reds Off To Special Start
After games like this one, it can help to look at the bigger picture, especially when the bigger picture is so rosy. This is the first time in the Premier League era that Liverpool have won all four of their opening games, a five-point improvement on their last three seasons and a two-point improvement on their best season when they had 10 points after 4 games in 2013/14. It's also the fourth time in history that LFC have won their opening four.
Timing Is Everything For LFC
In three of Liverpool's four PL games so far this season, they've scored in the final minute of the first half. Firmino added his first goal of the season in this game, following Mané's goal against West Ham and Milner's penalty against Palace. Interesting, the Reds have also scored twice at the very end of games, meaning that five of Liverpool's nine goals have come in the final three minutes of a half.

Defensive Solidity Still The Crucial Factor
Despite a huge howler from Alisson gifting Leicester a goal, Liverpool were overall solid once again in this game. Leicester had an expected goals of 0.83, of which half was down to their goal. They only had two other shots inside the box, one other shot of an xG higher than 0.1 and only had one shot at all after scoring, Ndidi from 40 yards with three minutes left.
Van Dijk made a few big errors, but equally made 11 clearances, wasn't dribbled (again and neither was Gomez), won five out of five of his aerial duels, and Gomez made three crucial interceptions as well as five clearances, a tackle and a blocked shot.
Firmino At The Heart of Stuttering Attack
It was a very strange day for Roberto Firmino that just about sums up how Liverpool's attack has performed. Liverpool created 1.20 xG, with 0.58 of that coming inside three minutes. The Reds had two big chances as first Firmino and then Salah missed, but after that double chance, didn't create another big chance, with just 0.62 xG for the rest of the ninety.
Firmino himself had an off-day but still made an impact. Off the ball, he went into twelve tackles, winning five, giving away five free-kicks and getting dribbled twice. On the ball, he successfully completed two dribbles, the joint-most in the team, but was also dispossessed five times, the joint-most in the team – and took eight poor touches, again the worst.
He made one key pass, worth just 0.03 xG, but had the second most xG in the team – 0.40. He missed a big chance, albeit a good save from Kasper Schmeichel, but then of course, despite all of that, he ended up scoring the winning goal. This was comfortably Liverpool's worst attacking performance of the season, and yet they came out with two goals – enough for the win.
Wijnaldum Goes Missing Again
As Gini Wijnaldum was pushed into the eight role instead of the six, we saw a return to the Ghost position for Wijnaldum. Zero key passes, zero dribbles, dispossessed five times, second least touches (39), third least passes (30), just one tackle. In a game in which Liverpool's midfield had absolutely zero control, the difference that Wijnaldum made in this one compared to previous ones was palatable.