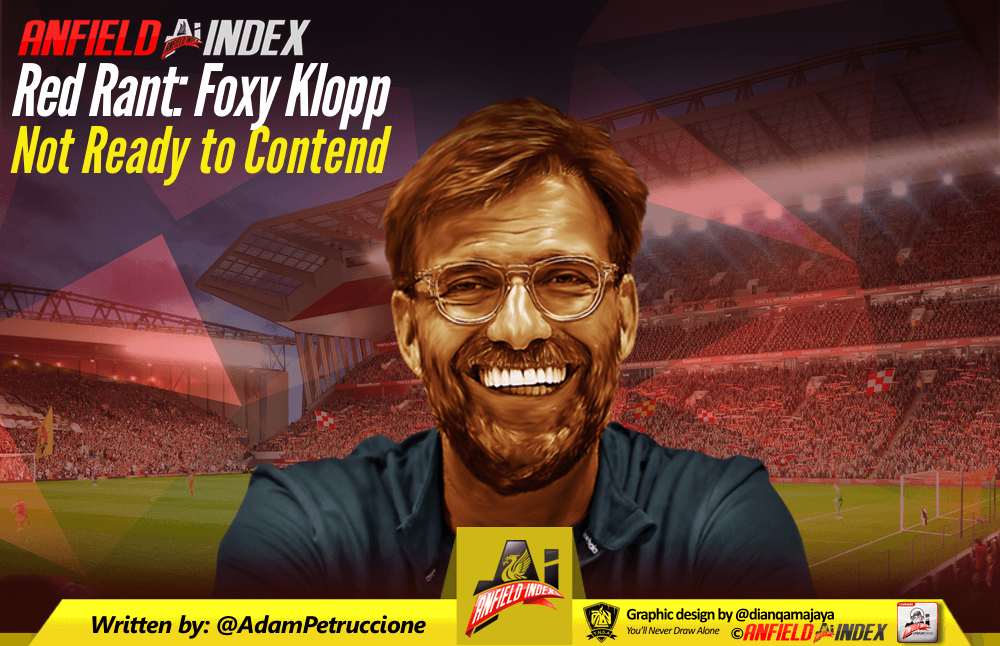 Red Rant: Foxy Klopp Not Ready to Contend

Ron Burgundy had three vulnerabilities in life… women, his dog Baxter, and the fact that he would read whatever was on the teleprompter. Our manager has a similar tick. If Jordan Henderson is available, he'll put him on the team sheet. It didn't matter that Emre Can was miles better. Hendo was in the team. It didn't matter that Gini Wijnaldum was man of the match against Brighton playing the 'six.' Move him out for the captain. A £40 million summer signing is left completely out of the squad but Klopp doesn't seem bothered as long as Henderson is manning the middle. As with Ron Burgundy, this habit of his might come back to bite our manager and leave both San Diegoans and Liverpoolans disappointed.
— Adam Petruccione (@AdamPetruccione) September 3, 2018
As the whistle blew on the first half at Leicester and Liverpool held a 2-0 advantage I would like to think that Jurgen Klopp was thinking he had gotten away with one. On top of The Foxes on the back of a couple moments of brilliance from Andy Robertson, Sadio Mané and a sneaky header from Bobby Firmino, the Reds were for once undeservedly ahead.
Under pressure from Leicester from the 20th minute on, there was something clearly wrong with Liverpool's set-up. It was obvious to all who watched where the problem was emanating from. The Reds' arm-band bearer was not up for this.
Is Jordan Henderson not yet fit? Is he having a World Cup hangover? Did his enforced summer holiday not suit him? I have no agenda against Henderson, and I don't really care what the reason is, but the obvious truth is that he belongs nowhere near the 'six' at this given moment: 2 tackles, 87.5% passing, 2/5 long balls, 0 interceptions, 0 key passes, 0 clearances… that is not the stat line from the captain of a title contender.
Jordan Henderson does what, sorry?

— bri (@Xhakaed) September 2, 2018
Jurgen Klopp left almost £100 million worth of midfielders out of the starting lineup for that performance and Fabinho was left totally out of the side. The fact that Henderson started is a problem, but maybe he looked better in training. Maybe Klopp expected Puel's side to set up deeper. Whatever the justification for having the former Sunderland man in the middle of the park, it must have become apparent at 25, 35 and 45 minutes that a change was needed.
But the wonderfully stubborn manager persisted through the restart with his captain. Things would only get worse, with Leicester holding a 64/36 possession advantage in the first 15 of the second half. Maybe the manager was waiting until the universally accepted, polite time to take off a player? Yet 60 minutes passed without a change.
On 62 minutes, Henderson played young Joe Gomez into a trap, but with three players around him, the ascendant centre-back found a way to get the ball back to the captain. Henderson, in a microcosm of Liverpool supporter nightmares, nervously played a short, backwards pass to Virgil Van Dijk who transmitted the ball and the emotion back to Alisson, who went full Mignolet… never go full Mignolet.
Just look at Henderson here. He asked for the ball twice.
1st: A normal footballer sees a pass to Trent there. Why he made a back pass i don't know.
2nd: He had a bit of space. Ball was coming toward his left side. his weaker side. That was a terrible pass to VVD.
Panics so much pic.twitter.com/1DOrlW2uDD

— Shadab Monjur (@Liverpool_World) September 2, 2018
As my eyes rolled back in my head I saw visions of Brendan Rodgers post-match pressers, Albie Moreno ninja kicks, Martin Skrtel own goals and Dejan Lovren mistimed lunges. As with his manager, Alisson had an opportunity to cover for his own error but was late getting back in goal and only arrived to see the ball sail past him.
Jurgen needed to see a full 8 more excruciating minutes before bringing on one of the best midfielders in the world. The combination of Naby Keita's mastery and Shaqiri's snarky time wasting saw out the match, but it would have been no surprise at all to see an equalizer in front of the hostile crowd.
We've won all four games and in May that might be all that matters. However, as Alisson took a massive risk largely for his own amusement, so did the manager in both putting Jordan Henderson in the line-up and persisting with him through 70 excruciating minutes.
Is Jurgen Klopp ready make a run at City and a Premier League trophy? On the evidence of this match, it appears, sadly, that he's not. If your intention is to win the league, why treat Leicester away as if it were a training match for one player who hasn't gotten himself fit, or worse, some kind of Henderson testimonial? If you want a Jordan Henderson type of performance and he isn't 100%, why isn't Fabinho getting those minutes? Isn't the Brazilian a bigger, faster, stronger Henderson? And then if there was some reason to start Henderson, why couldn't the manager recognize that a change was needed before the 70-minute mark?
To move Gini Wijnaldum out of the position where he had just put in a man of the match performance the week prior, not for your big summer signing, but for an unfit Henderson and then leaving him in until it put the match at risk is a performance by the manager that tells you he isn't serious about challenging City. Gini was made worse. Henderson was embarrassed. Van Dijk put in his worst performance of the season, and we couldn't get outlet balls to either Sadio Mané or Mo Salah all day long.
This was a massive roll of the dice, for what possible benefit, no-one has yet to venture a guess. Liverpool need to be near perfect as well as lucky in order to topple City this season. Thankfully they got the latter against Leicester. But, the fact that the manager left it down to luck tells you that while he's still the best manager for Liverpool, he's not ready to lead us to glory just yet.