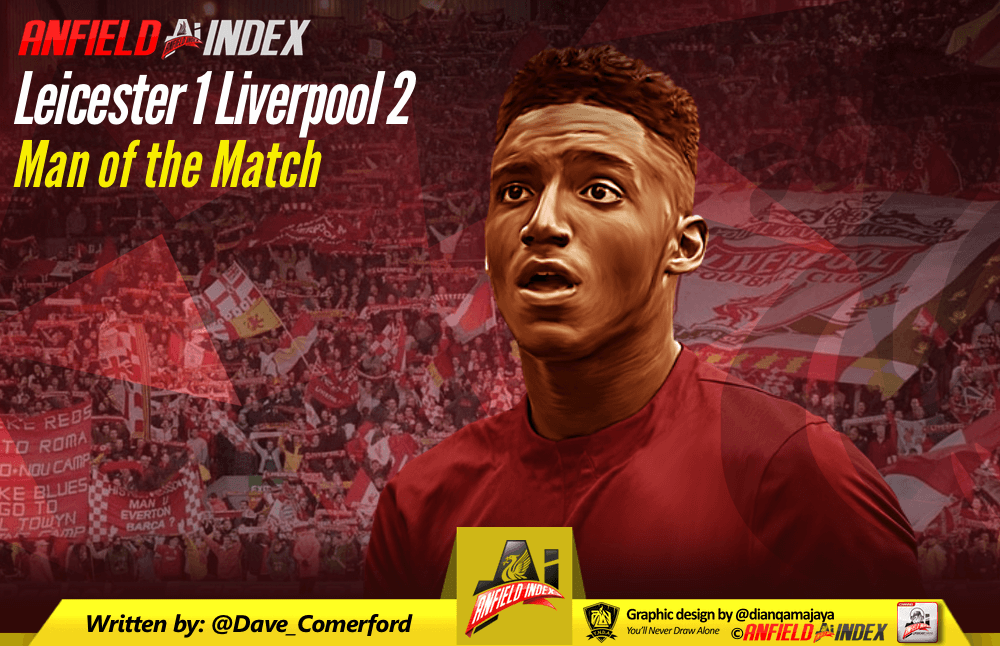 Leicester 1-2 Liverpool: Man of the Match
We're only four games into the season but already a familiar narrative has taken hold in the post-match reaction to Liverpool's victories.
Once again, the Reds were far from their best – the furthest from their best they have been, in fact – but they managed to pick up three points, to hold on under pressure, to find a way to win.
Liverpool's defence has started the season in encouragingly impressive fashion but it looked shaky at times against the Foxes. The usually imperious Virgil van Dijk was some way from his best, diving into a series of unsuccessful challenges with uncharacteristic recklessness as Leicester upped the ante in the second half.

Goalkeeper Alisson Becker dealt flawlessly with the shots and crosses which came his way but floundered inexplicably to plunge the result into doubt.
The midfield too had looked in fine fettle but today, after Sadio Mane's opener, it struggled to exert the expected degree of control. Skipper Jordan Henderson dictated things from the heart of midfield for England in the summer but on his first Premier League start of the season, he was ragged, while Georginio Wijnaldum saw his superb form dip.
Sadio Mane and Roberto Firmino both managed to get on the scoresheet but the front three lacked fluidity when openings presented themselves. Firmino's ambitious attempts to wriggle free of the bodies which surrounded him ended almost invariably in frustration, while main man Mohamed Salah struggled to redeem himself following a poor miss in the early stages.
The usual stars disappointed, but a rising star outshone them all. Joe Gomez was, without a doubt, the man of the match.
The highlight of Gomez's performance and the moment which really caught the eye was, of course, the magnificent block he produced to deny James Maddison after the attacking midfielder got the better of van Dijk and Andrew Robertson. It was a heroic, goal-saving, potentially victory-clinching challenge.
Indeed, this time it was van Dijk, as mentioned above, demonstrating the carelessness for which Gomez was so often criticised last season. After the Dutchman gloriously overpowered Crystal Palace last month, I wrote that his composure was surely playing a key role in Gomez's upturn in form, but on Saturday the master could only be thankful for the presence of his apprentice.
That seems significant – Gomez proved he isn't reliant on the guidance of his experienced partner to perform at the top of his game. He looked an excellent centre-back in his own right.
The opposition always seems to target Gomez, along with Trent Alexander-Arnold, but with each game, the 21-year-old grows in stature and assuredness.
Gomez has always been strong but now, as he proved again at Leicester, he knows how to use that strength. He no longer simply brings down attackers, he just outmuscles them.
These four performances have earned Gomez a deserved international call-up, widespread plaudits and, in all likelihood, a permanent starting role alongside van Dijk. Lovren too shone when paired with one of the world's best, but he has rather been forgotten as he watches from the sidelines, having angered the club by withholding information about his World Cup injury.
Gomez, then, has probably been his side's best performer during this nascent phase of the season. But perspective is important. Thus far, he has faced West Ham, Crystal Palace, Brighton and Leicester, but the fixture list now looks daunting.
The massive domestic clashes with Spurs and Chelsea will be a far greater test of his progress, and the blockbuster Champions League meeting with Paris Saint Germain under the lights at Anfield could prove the biggest game of his career so far.
There may be lingering question marks over his mentality- could the confidence he is presently oozing be shaken as he faces the likes of Harry Kane and Edinson Cavani? – but it is clear he has the qualities, and the presence, to cope on the biggest stage.
Gomez has been one of the best defenders in the division thus far, and if he can build on his brilliant start, his reputation will grow hugely. We could be witnessing something similar to Alexander-Arnold's stunning arrival on the scene last term.
Many considered Gomez a liability before the season kicked off, but as his rattled team-mates threatened to inadvertently jeopardise their side's perfect start, he kept his head and delivered his best performance yet.