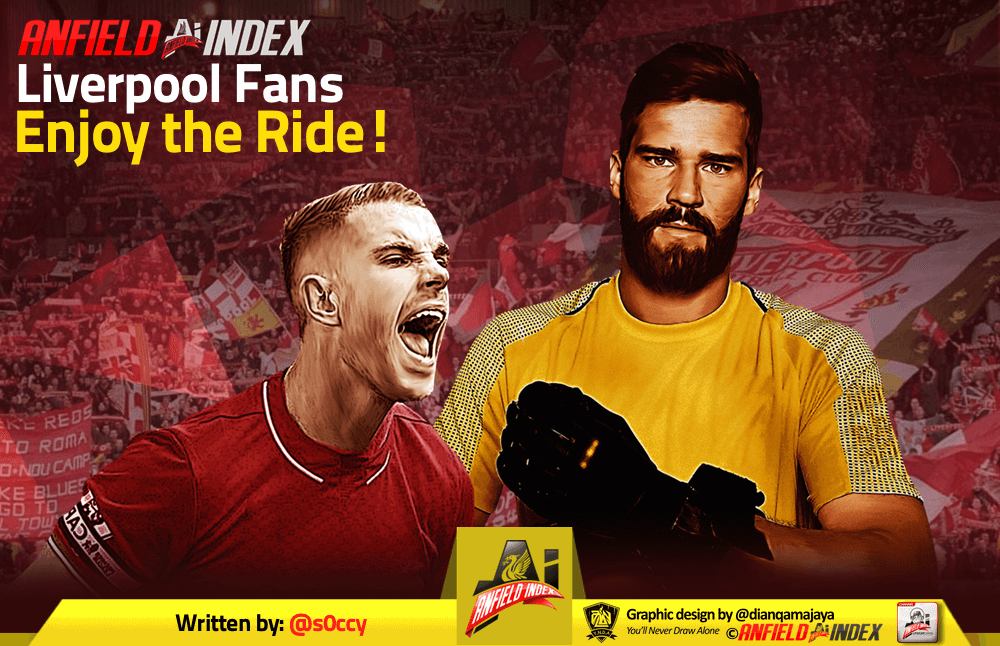 Liverpool Fans - Enjoy the Ride!
We are four games into the season and have accumulated 12 points from a possible 12 points, yet the doom and gloom merchants are out in force, criticising Jurgen Klopp's team selection, his use of substitutions, his timing of substitutions etc.
Liverpool had played their first three games of the season with the same starting eleven. In the third game of the season against Brighton Liverpool looked leggy during the game. It was perhaps understandable why Liverpool had started that game with an unchanged line-up having won the first two games of the season.
Fans opinions on why Liverpool looked leggy and tired differed. Some felt that this showed that Jurgen Klopp should have freshened up the starting line up, whilst others said that this was because coming off a World Cup players didn't have as long a preseason as in previous seasons and that they would look this way as they were playing their way into fitness and form.

What seems apparent is that fans will look at the same incidents in different ways and interpret them in different ways, sometimes influenced by preconceptions, confirmation bias or preference for one player over another.
There is also a difference between watching the game live and watching it on TV. You see different things depending on how you watch the game. When watching the game on TV you watch what the camera shows you, whilst when watching live you are dependent on your seating position at the ground and what you can actually see. The camera tends to follow the ball, so any off the ball movements can often be missed. This could be a defender organising the defence, a striker making an unselfish run, a midfielder closing down an opposition player or making a passing angle for the teammate for example.
The game itself is analysed more than it has ever been with fans getting in on the act themselves. Anfield Index, for one, has been a game-changer in how pressing stats are collected, and their data has been recognised and featured in national newspapers when examining how Liverpool are playing.
There has also been a lot more use of statistics in football when analysing player performance; what is important however in the use of statistics is the expertise of the people who are examining and interpreting them. Case in point a few years ago I remember listening to a player interview on BBC Radio Five Live and he said that every time he took a corner, he sprinted to the corner so that his sprinting stats would look more impressive after the game. Statistics and their analysis have hopefully become more sophisticated since then, but in certain cases, statistics are being used to support certain points of view, rather than looking at the statistics with an open mind and seeing what end result that they indicate.
If you can't enjoy Liverpool's great start to the season what is up with you? Every game, every season will have its ups and downs, not every player will play well every minute of every game, you won't agree with every choice the manager makes, and you won't always know why he has selected one player over another. He may have seen something in training, he may have a tactical plan, that plan might not work, or the opposing team might not play as anticipated.
This is football. I honestly despair with some fans. You need to experience the lows and the highs. You enjoy the highs more having experienced the lows. There is no such thing as a perfect team, a perfect game, a perfect season. Successful teams, who have been lauded have at some point played badly, dogged games, rode their luck, or had dubious referee decisions go in their favour. Those of you who are looking for perfection, maybe football isn't the game for you.
Which leads me on to a couple of points from Liverpool's game against Leicester which has led me to write this article.
Jordan Henderson and Alisson Becker.
Jordan Henderson came into the side against Leicester in the place of Naby Keita. Even before the game started some fans were outraged. They have already decided that Naby Keita, a player new to the league albeit one who has at times looked like a Rolls Royce in the red shirt is undroppable, or should never be rested. Now, these fans have not seen how Keita has looked in training, they haven't analysed his performance or fitness in the same detail as the club's Sports Science team but some think they know best. The fact that Keita was replaced by Jordan Henderson, a player who to say the least can divide opinion only seemed to inflame the situation more. Henderson haters who were unhappy with Keita being benched were outraged.
One of the features of the Premier League was the start of the game becoming more of a squad game with the influx of foreign managers. The realisation of the need to rest players at certain times to ensure they perform at their optimum level whilst at the same time reducing the chance or possibility of injury.
Do some fans think Liverpool should play the same starting eleven every single game of the season? Whilst this may have been possible years ago when the game was played at a slower pace, this just isn't possible in today's game of athleticism. So, you have the squad players; when do you play them? Do you bring them on when Liverpool are a few clear goals ahead, play them against lesser teams, or in the cup? These are the dilemmas that the Liverpool manager has to contend with.
Whilst not being the biggest fan of Jordan Henderson when he was announced in the starting line up yesterday my reaction was what I consider reasonable. The team had been unchanged for three games, the fringe players needed to play sometime, I assumed that the manager had looked to see which game would be best to bring Henderson in for, or it could be that he believed that Keita needed taking out of the starting line up for form or fitness reasons.
I don't know the reasons why. None of us knows apart from the manager. Why should we be second guessing Klopp when we don't have all of the information which is available for him?  Yes at the end of the game you can question whether the team performed well and if certain players had an effect on the team performance, but there may be reasons why certain player selections were made and why the team performed like they did.
Now watching the game on TV yesterday, it looked to me like the Liverpool midfield lacked dynamism and energy. At times Henderson came deep looking to take the ball from the centre-backs which is what he had been doing last season, however with Van Dijk and Gomez both being good passers of the ball, we had started the season off playing out from the back with different players in midfield moving to create various passing angles for the centre back's to pass to. Both players, especially Van Dijk are also capable to hitting accurate long passes as evidenced by Van Dijk's sweeping balls out to players out wide, or in the Leicester game, when Joe Gomez played a long pass along the ground to Salah who then got a shot off.
Henderson was involved with England in the World Cup and had come back to Liverpool later than other players who had not been involved. This was his first start of the season and yes he looked rusty, and at times slow. This is perhaps to be expected.
This is how I saw his performance watching the game on TV. I was not at the ground. I did not see what he did when the camera was not on him, but it appeared to me that moving Gini Wijnaldum from the number 6 role unsettled the team, or at least did not work brilliantly against Leicester. Leicester have been difficult opponents for Liverpool and Jurgen Klopp. They are a good team and can be compact when the opposition tries to break them down. It may be that part of Klopp's thinking was that Henderson's long passing might have stretched the play and ensured Liverpool would play with enough width to beat Leicester's low block, again we don't know, we will probably never know unless Jurgen shares his tactical thoughts about why he set up the way he did. My point, however, is that Henderson needs game time somewhere, what game do you choose? He has to play sometime otherwise you have a reserve player coming into a game cold. You cannot predict 100% when a player will be injured and need replacing. When that player is replaced you would hope that his replacement would have played some minutes, be match fit and again be familiar with the style of play that Liverpool play. You have to also remember that England play a different style of play to Liverpool.
I don't think that Jordan Henderson is the best midfielder I have ever seen in a Liverpool shirt, nor do I think he is the worst. Given the successful sides we have produced over the years he is inevitably going to be compared to the likes of former Liverpool midfield captains such as Graeme Souness and Steven Gerrard. He is not as good a player as either of them. They were true greats. Arguably some of the best central midfield players in the world at the time they were playing. Is Jordan Henderson one of the best English midfielders? Yes, I would say so. That isn't to say that I believe that the standard of English midfielders is excellent at the moment, but he is amongst the best of who is around. Do I believe that there are better midfielders at the club than him? Yes, I do, as I believe that since his best ever season of 2013-14 the player hasn't progressed as much as I would have liked. I have never been totally convinced with Jordan Henderson in the deep-lying midfield role either. Based on what I have seen this season Wijnaldum has played the role better in terms of being a better fit with the other players we have in the team. Caveat, I don't get to go the game much anymore. The majority of Liverpool games that I see are on TV. Henderson may be the type of player who does a lot of work off the ball, an organiser who is unappreciated. I remember watching Jamie Carragher live and you got to appreciate how he marshalled and controlled the Liverpool defence. I don't think you would have gotten the same appreciation for the player just watching him on TV. So when I give my opinion on Henderson, it is just that, an opinion. I don't dislike the player. He always gives 100% and seems to be a nice guy who in many ways is a good captain off the pitch.
For what it is worth I thought Henderson had a poor game yesterday. Different newspapers and fan groups rated him differently. The Liverpool Echo rated him as 6 out of 10. This is the same score given to Trent Alexander-Arnold, Andrew Robertson, Virgil van Dijk, Roberto Firmino and Naby Keita. Player ratings always spark debate (and outrage) but are often one of the more popular features read by fans. The problem with them is that they are often given straight after the game, and when two players are given the same score the inevitable questions are asked such as Robertson setting up Mane for the first goal, and Firmino scoring the second both only rate as highly as Henderson for example. Again, Ian Doyle, the Liverpool Echo reporter was at the game and I wasn't. He may have seen aspects of Henderson's positive play that I didn't. I disagree with him, but when we watch the game we all see a slightly different game.
Alisson also came in for criticism after the game (the game which we still won by the way). He was lauded last week for his cheeky chip over the opposing Brighton player, but this week he made a mistake which cost Liverpool a goal against. Some traditionalists would prefer their goalkeepers to just save shots and not attempt to recycle the play with their feet. I do wonder how many of these traditionalists watched Bruce Grobbelaar play for Liverpool back in the day mind.
Alisson did make a mistake and misjudgement which can happen to any player. He was put in trouble from a bad pass by Virgil van Dijk, and there is an argument to be made that Alisson was fouled by the Leicester player as well. A mistake from Alisson at some point was inevitable as no player is perfect. One just has to look at the recent bad run of form of David De Gea, a player lauded as the best goalkeeper in the world to see that.
Rather than the overreaction from fans (and Jamie Redknapp on Sky), a more reasonable response from Jurgen Klopp was good to hear. Yes, Alisson made a mistake, it was bound to happen at some point and hopefully, it's out of his system.
We bought Alisson because he was the best goalkeeper that was available who fitted our pressing style of play. Just as outfield players will take time to get up to speed with the play in the Premier League the same could be said for our new Brazilian goalkeeper. He made a mistake yes, took too much of a risk, but it was for a good motive, to try and keep recycling the ball and start off another Liverpool attack.
Liverpool have some of the most passionate and dedicated fans in the world, but passions can sometimes get in the way of reasonable thought when talking about Liverpool's performances.
This reason is going to be a rollercoaster ride, football always is. Fans need to try and be reasonable in their opinions and how they express them. Try and be open to alternative views and try and remain optimistic and positive. If you don't think that Liverpool can win the league maybe you are not cut out to be a Liverpool fan. You have to be able to dream, to believe in the impossible. You just have to look at last season, who would have thought that Liverpool would have come so close to winning another Champions League based on how we started the season. A united fair fan-base can be a platform for further success this season.