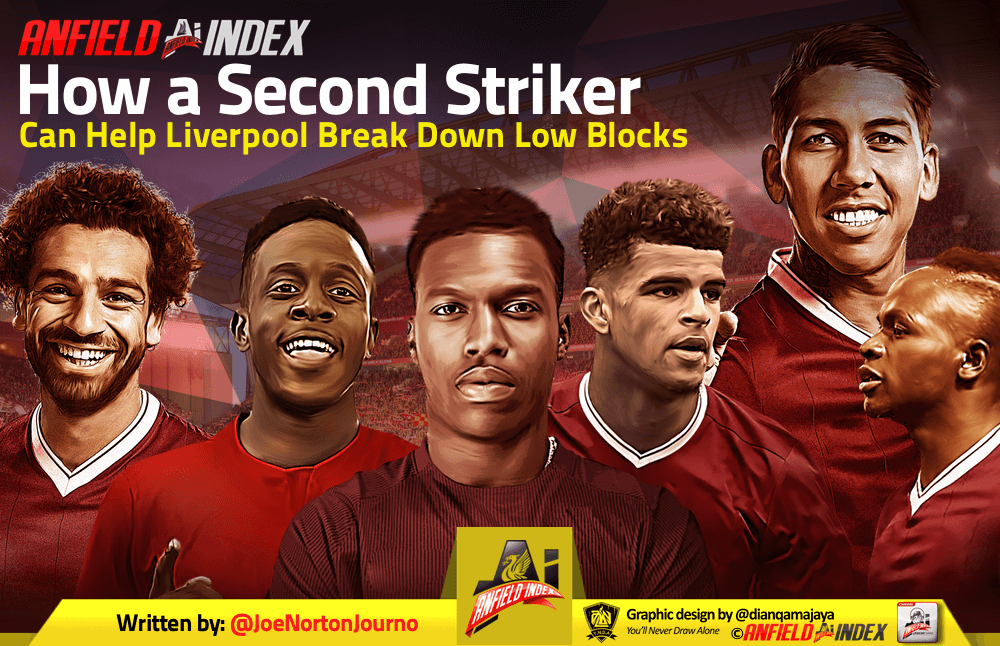 How a Second Striker Can Help Liverpool Break Down Low Blocks
With Liverpool having one of the most feared attacks in Europe for the past season, we are seeing more and more teams sit back and defend deep against us. Although the past season has seen us improve in the way we play against these type of sides there are still too many occasions when the team's patterns of play and types of attack become way too predictable. Games at home to Burnley and Manchester United and away to Newcastle and Swansea last season all immediately spring to mind.
It seemed as though Klopp had found another solution to breaking low blocks down when the club set its sights on creative midfielder Nabil Fekir this summer. As the Reds now have the personnel to play a two-man midfield without placing unnecessary pressure on our back four, I have no doubt had the Frenchman signed we would've seen Klopp evolve his 4-3-3 into more of a 4-2-2-2 against teams who sit back.
Although we don't necessarily have a specialist number 10 in our squad, the likes of Daniel Sturridge, Sadio Mane, Xherdan Shaqiri, Roberto Firmino and Mo Salah all possess many of the attributes required to be effective when playing as a second striker. No team in world football can live with our quick combination play and intricate movements when we're on form no matter how they try to stop it. However, deploying a second striker would make it easier for our frontline to attack in this way against teams who sit back so it's about time Klopp started to evolve his system.

Although our final home game last season was against a Brighton side that was half on the beach, it demonstrated the impact playing a second striker can have on opposition sides. Klopp played Firmino and Solanke up-front who both interchanged with one another brilliantly to cause the two Brighton centre-halves all sorts of problems. Coupled with the electrifying and penetrative movements of Salah and Mane, Chris Hughton's men had no answer and Liverpool won convincingly. Of course, we have to remember Brighton's defence was lacking it's usual intensity because of the nature of the game but our first goal is a perfect example of how playing a second striker aids quick combination play around the opposition's area.
You can see from the image below that Brighton are sitting very deep with a bank of four midfielders protecting their temporary five-man defence. The Seagulls don't engage with Trent until he's 25 yards from goal. This is a set up we're becoming very accustomed to when playing both home and away.
When we play a 4-3-3 it's usually only Salah, Firmino and Mane occupying the opposition's back line whereas in this game Solanke is playing up-front as well, meaning Brighton's defence is being put under more intensified pressure than usual. For those of you who don't remember our first goal that day, Alexander-Arnold plays the ball into Solanke who turns it around the corner to Salah to finish emphatically. Although the ball from Solanke to Salah wasn't brilliant, because our forwards are occupying the whole of their defence, Brighton become reactive rather than proactive meaning they can't effectively stop Solanke from laying the ball into Salah and the Egyptian from scoring. Of course, having a greater number of attackers around an opposition's box doesn't guarantee you goals but what it does do is force them into more 1v1 battles which over the course of 90 minutes is always going to benefit the Reds.
In this season's home game against the same opposition – albeit one with much more to play for – the Reds found it far more difficult to break them down. Klopp reverted back to his favoured 4-3-3 and Liverpool found it difficult to unlock Brighton's resolute defence. We can see from the picture below that Mane picks the ball up around 25 yards from goal. Hove Albion again have a four-man midfield but this time it's protecting a back four which is sitting deep. Unlike last season, Liverpool have just two other players occupying Brighton's defence in Firmino and Salah. This means they can defend much more comfortably and cut off angles rather than having to play 1v1 as they out-number the Reds in terms of bodies. This isn't completely down to the formation as Klopp would expect one of his number 8's to be closer to the front three but the reality is this often isn't the case making it easier for teams to defend against us when they sit deep.
The following screenshot is a great example of how you would want a 4-3-3 to operate. Virgil van Dijk has stepped into midfield allowing Milner and Keita to push on, therefore, we have five players who are operating in and around the opposition's back four. It forces Brighton to play 1v1 against our attackers which will only end well for us.
As we've seen over the past couple of years and the image above proves, it is possible for Liverpool to cause low blocks all sorts of problems when playing in a 4-3-3 if we get our patterns of play and movements right. However, there are plenty of times in a season when the team won't quite be at it and combinations aren't coming off. Playing a second striker makes it easier for our attackers to link up with each other though. One because we'll have more options around the box to play with and two because teams have to become more reactive rather than proactive because in more circumstances than not they're defending 1v1 against us.
It's time for Klopp to start trusting his defence and midfielders more and allow our attacking talent to dismantle teams who sit back and defend even more emphatically than we have been doing. Both Tottenham and PSG will play on the front foot, therefore, the home game against Southampton provides big Jurg with the ideal opportunity to deploy a second striker to blow the Saints away with quick and decisive combination play around their box. This Liverpool side has more gears to go through.