After a series of games in which one team opened themselves up to be spatially exploited, and two decided to sit tight and deep, Leicester offered a new and different challenge to those Liverpool have already faced this season. Leicester were far more aggressive than previous opponents, but the game was largely characterised by a brief and effective period of Liverpool dominance, followed by a resolute, controlled defensive display to cap the remainder of the first half, and then an uncharacteristically poorly controlled second-half in which Liverpool gave chances away, and saw Joe Gomez step up as the defensive leader on this occasion. Naby Keïta's introduction alongside Xherdan Shaqiri later in the second-half offered Liverpool some more control and composure but seeing Liverpool play as loosely as they did until their appearances in the second-half is concerning, especially with a seriously challenging set of fixtures facing Liverpool after the international break.
Indeed, we haven't had a look at xG charts so far this season, but the identical xG is telling of the game and in line with most other models which had a slim xG advantage to Liverpool.

xG map for Leicester – Liverpool. The Reds were oddly toothless after that first 10 minute barrage, but hung for the win. pic.twitter.com/3rmO3tPp7L

— Caley Graphics (@Caley_graphics) September 1, 2018
If we ignore those sizeable chances inside the Liverpool area, only one of which came in the first half, the shot map is as perfect as you could hope for, away from home in a competitive PL match – with Leicester shots restricted to well outside the area, i.e. largely harmless areas to shoot from. What is concerning though is how Liverpool gave away four chances in the penalty area, one courtesy of Alisson's error, but the other three ones which really should not have been allowed to happen. Indeed, Morgan's and Maddison's chances stand out as opportunities Liverpool are fortunate were not capitalised upon by Leicester.
Leicester's structure in some ways was a combination of the work of Palace and Brighton, in the way they used two players up top, but also looked to create a midfield block covering wide areas especially well. They had two central midfielders holding their positions, but when on-ball, they would look to maximise the space available to them on the field, and utilise their wingers by stretching the field as much as possible.
What Liverpool did for the first goal though was something we discussed in the Brighton breakdown: creating one on one situations and exploiting them – and Andy Robertson did this, as he broke past the right midfielder, into space in behind. Through attacking the space with his run, he draws across the Leicester defence, who move both laterally and backwards. In doing so, it creates space for Mané to drop his run very slightly, and free himself for the pass. Robertson finds him and from there, the touch and finish from Mané makes the goal.
Prior to this point, Liverpool were playing rather well. Leicester were open, leaving spaces between their three outfield lines and Salah and Firmino combined well for what could and probably should have been a goal.
Leicester's tight back four and two-man frontal press was slightly problematic, but Liverpool's players looked to work a solution. Milner was wary of the two men around Henderson, and dropped into the left-back channel, as Keïta did against Brighton, whilst Robertson looked to retain his high and wide position on the left side. Alexander-Arnold was afforded the same supporting luxury and occupied a parallel position to Milner when Liverpool looked to build from deep on the left, but Wijnaldum would drop in when Liverpool looked to build on the right, and Alexander-Arnold pushed on. This meant the onus was largely on Wijnaldum or Milner and the front three to make themselves available for long passes or dropping short to link up play.
The example below is a curious instance of Liverpool's fullbacks literally swapping positions with the CMs. It's a really strange image but illustrates the imbalance of the midfield without Keïta, who, when he came on, occupied positions between the midfield line and forward line, and demanded the ball, then moved it forwards.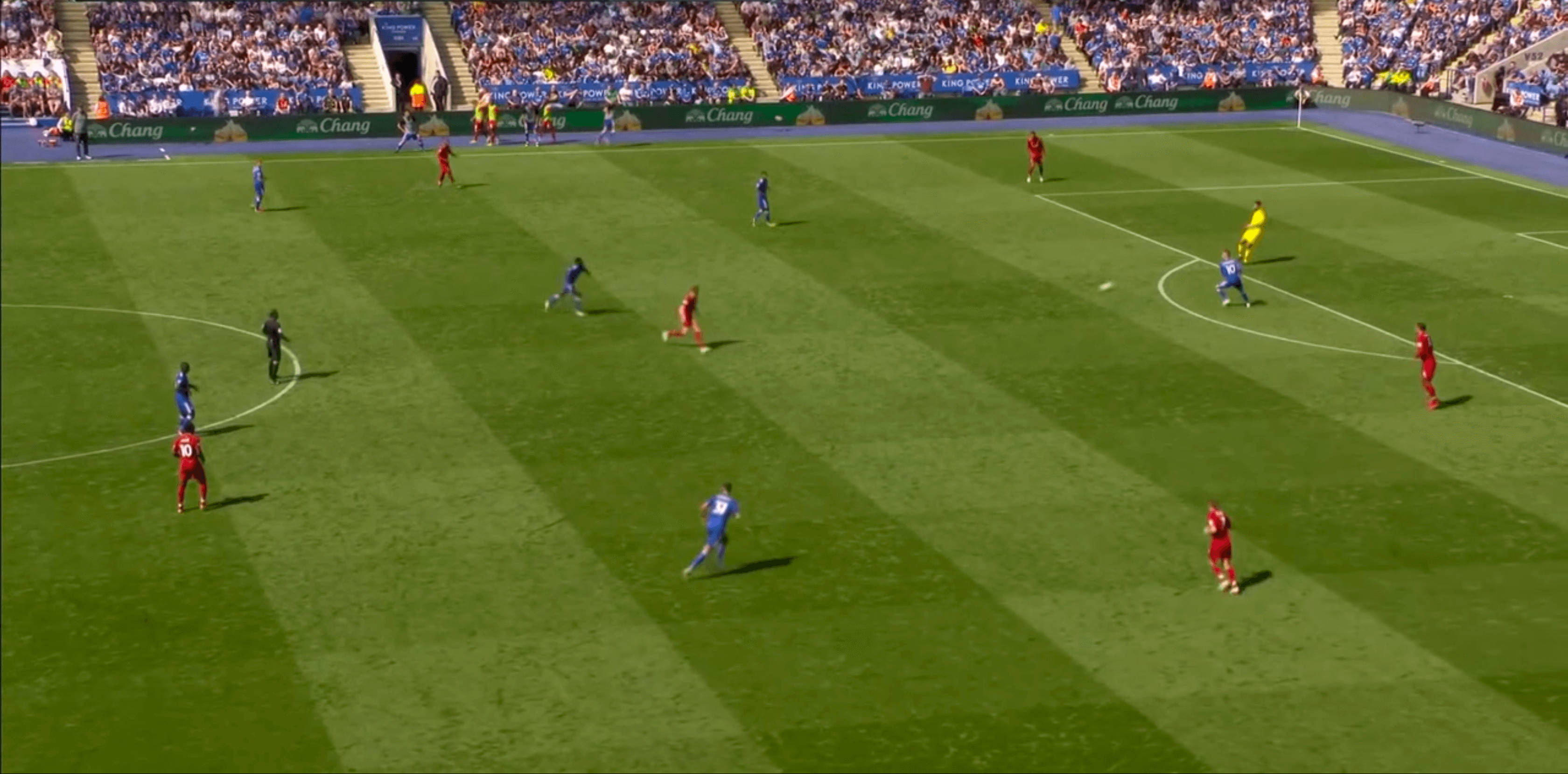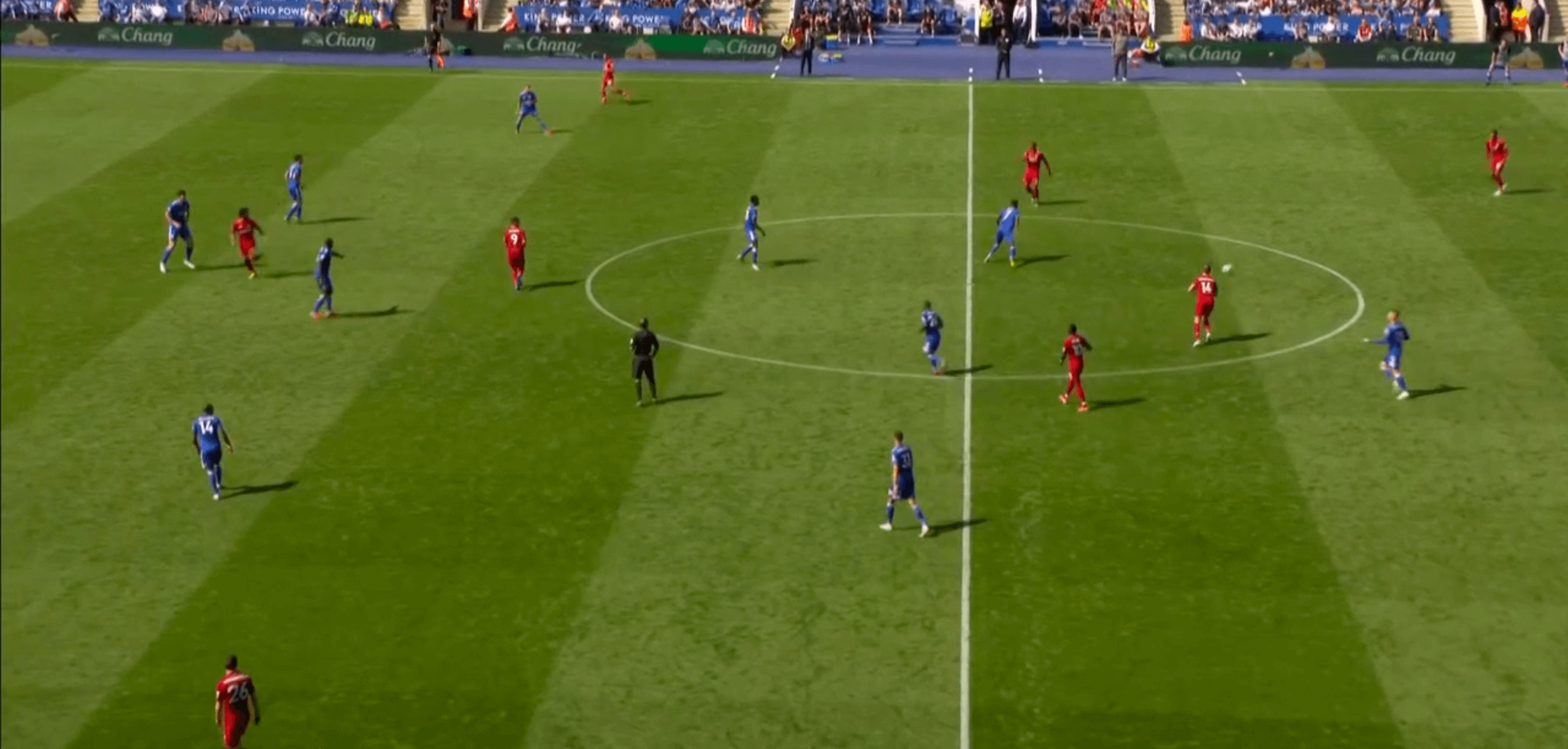 But for Liverpool, what we saw in the second period of the first half and the first period of the second half, was the team dropping really deep and inviting Leicester onto them.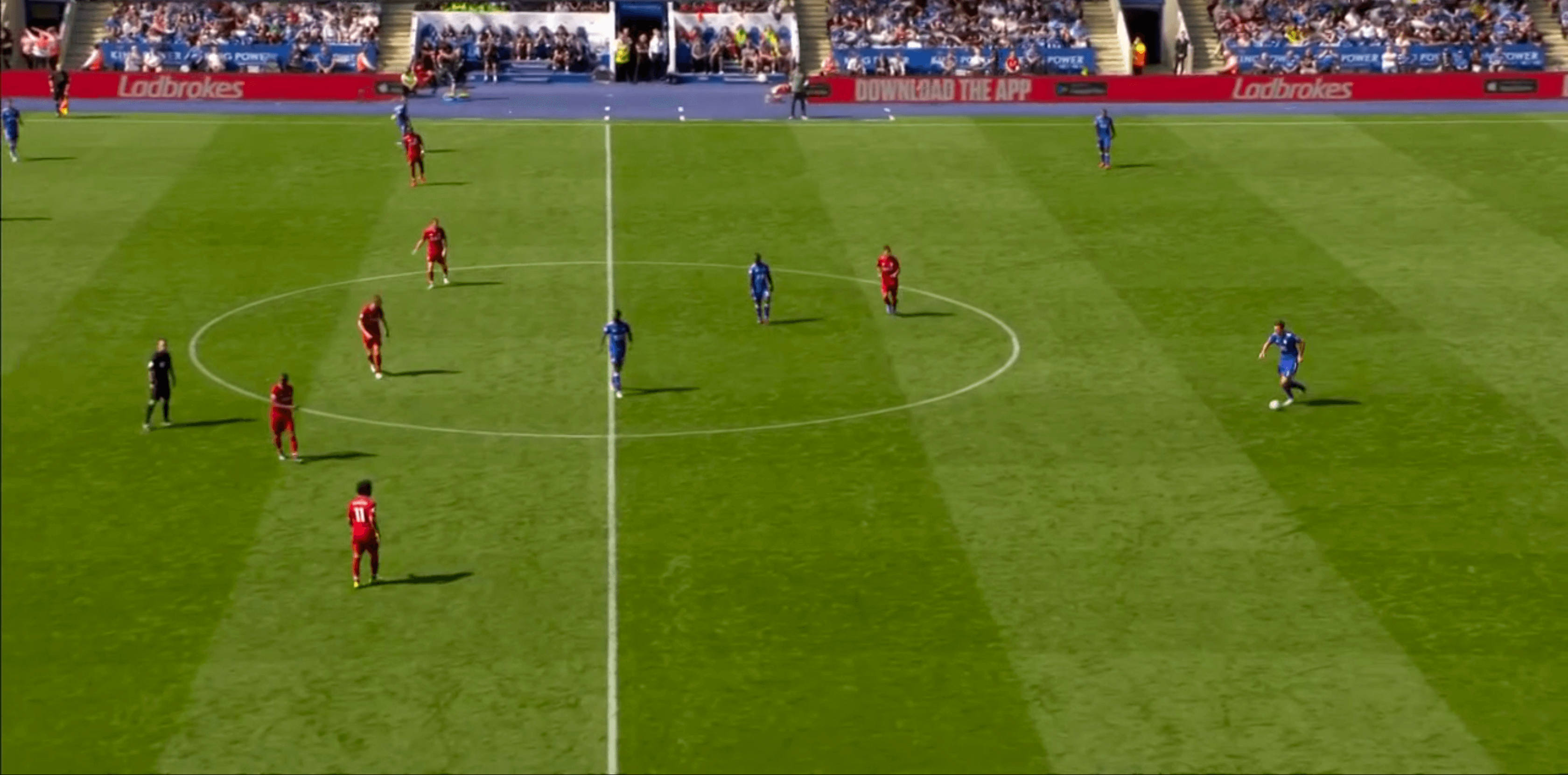 This was a typical image of Liverpool allowing Leicester to have possession in their own half, and the image below is akin to the sort of structure you'd see when trying to hold on against a rival in a big match.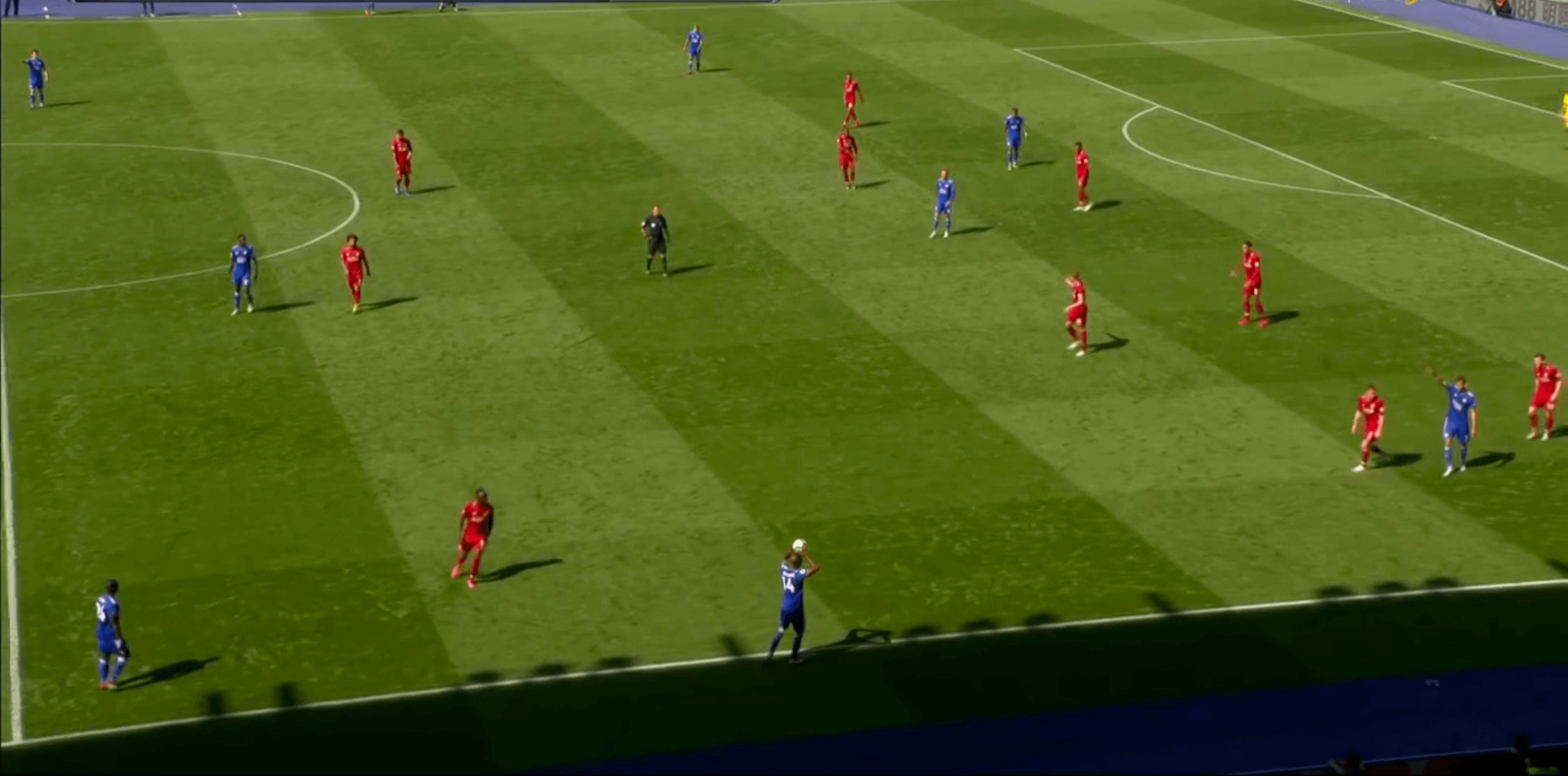 One thing mentioned in the past few breakdowns is passing laterally to move compact defences from side to side in order to create gaps. Moving the ball vertically i.e., back towards the goalkeeper can also entice the opposition forwards and leave space for the team to exploit, but this was not even that. The defensive and midfield lines were extremely deep and invited Leicester onto Liverpool, and allowed them to control the ball, and create a few opportunities in the second half.
Admittedly, these were largely contained with a number of important tackles, key interceptions and smart fouls, but the onus should be on Alisson, Van Dijk, and probably Henderson – as the main leaders and defensive organisers in the side – to demand the team push up. But whilst the off-ball positioning was poor, so too was the on-ball work from the midfield in particular. Simply put, it just was not present.
Liverpool's pass success rate was awful compared to the numbers in recent games, clocking in at 79.1pc. Milner made 49 (63) passes, Henderson 42 (48) and Wijnaldum 24 (29). For context, Alisson only made 3 fewer than Wijnaldum.
Liverpool's midfield passiveness also stemmed from the lack of impetus and control they exerted on the game: Wijnaldum made 7 (10) forward passes, and 14 (15) backwards ones, with 5 (6) in the final third; Henderson made 12 (18) forward passes, and 19 (19) backwards ones, with 5 (7) in the final third; Milner meanwhile made 20 (31) forward passes, 15 (16) backward passes and 14 (17) passes in the final third.
Moving the ball forward is key to putting the opponent on the back foot, but Wijnaldum and Henderson were not aggressive enough with the ball at their feet or with their positioning, in order to receive the ball in areas to drive forward, or at least push Leicester back.
Henderson and Wijnaldum didn't play poorly as individuals, but together they struggle to offer the balance and options going forward Liverpool need to exert control over a game. Admittedly, Keïta's sample size is far smaller, but in his brief cameo, he made 9 (10) passes, all in the middle (4 (5)) or final third (5 (5)), with only 2 passes going backwards, and 6 (7) forwards, with the remaining pass made square.
Players such as Keïta or Oxlade-Chamberlain force opposition sides onto the back foot when they receive the ball, and thus gain territory and relieve pressure on the Liverpool defensive line. Wijnaldum and Henderson when playing together though struggle to exert control and surrender territory too easily. Milner, however, looks to break lines either with his passing or his positioning, making him a useful offensive outlet. If Henderson and Wijnaldum are playing together though, the onus is on the centre-backs or fullbacks to play those offensive, line-breaking passes into the forwards to create opportunities going forward.
Firmino noticed this and attempted to react by dropping deep, but when the midfield and defence are too deep, with the midfield especially compact, it's especially hard to really control the game, as so much space is surrendered:

(Leicester left, Liverpool right)
If we take a look at the midfield three and compare it to the positions taken against WHU (below), we can see a far greater spread, allowing them to take up positions between the opposition defence and midfield, and attack the halfspace channels too. Against Leicester though, the midfielders were far more reserved, and as a result, Mané, Salah and Firmino had to drop much deeper and were far less able to break into the space that Leicester left available.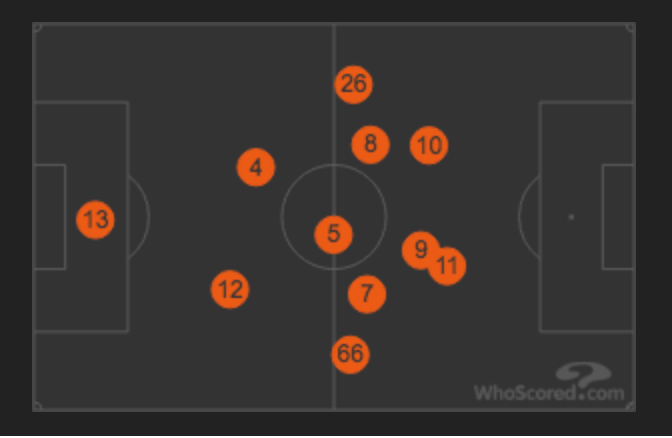 Leicester were really there for Liverpool to spring upon and counter-attack, but Liverpool did not seize their chance, and in the few instances where they did break, poor decision making spoiled the chances to score: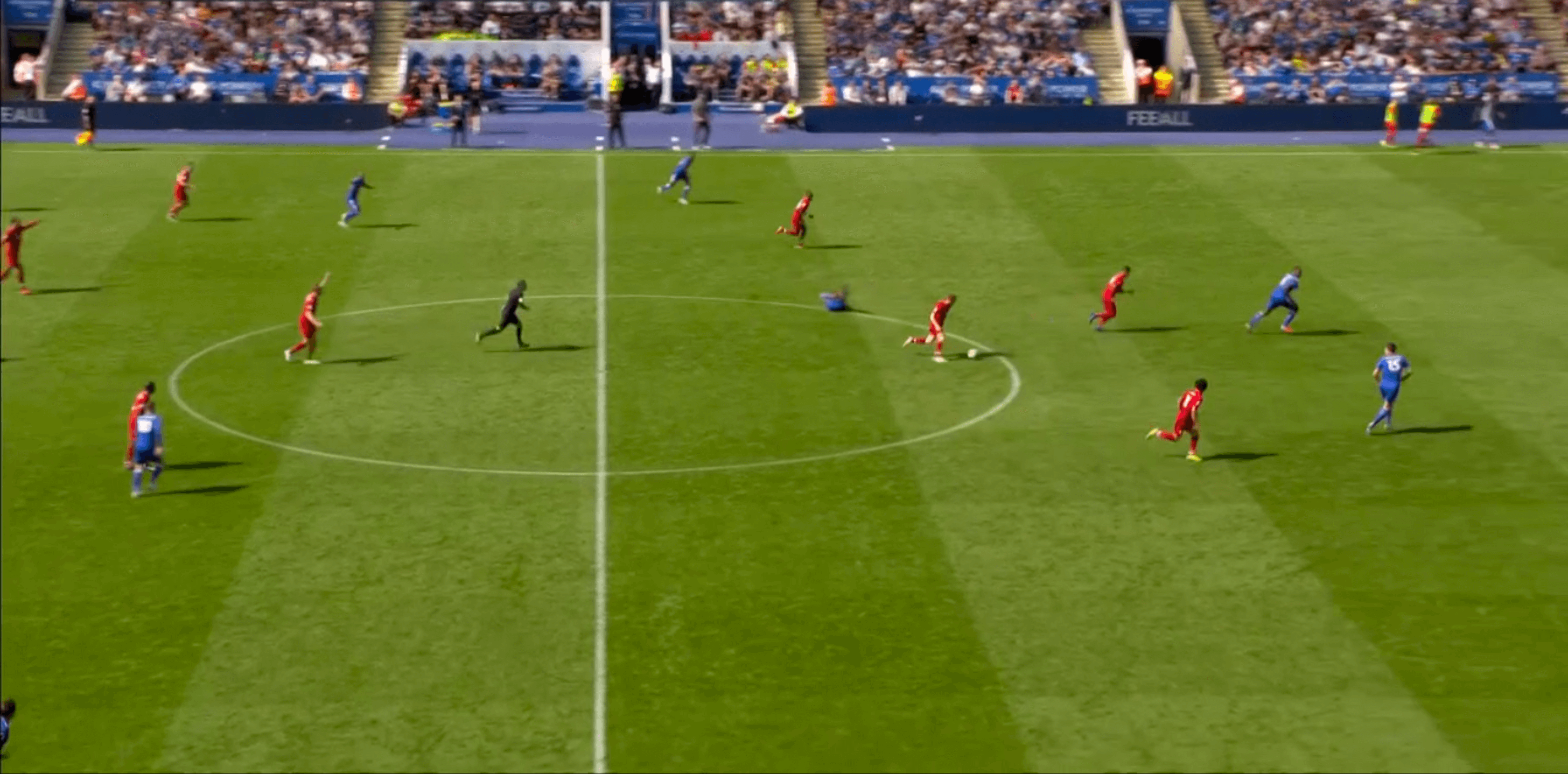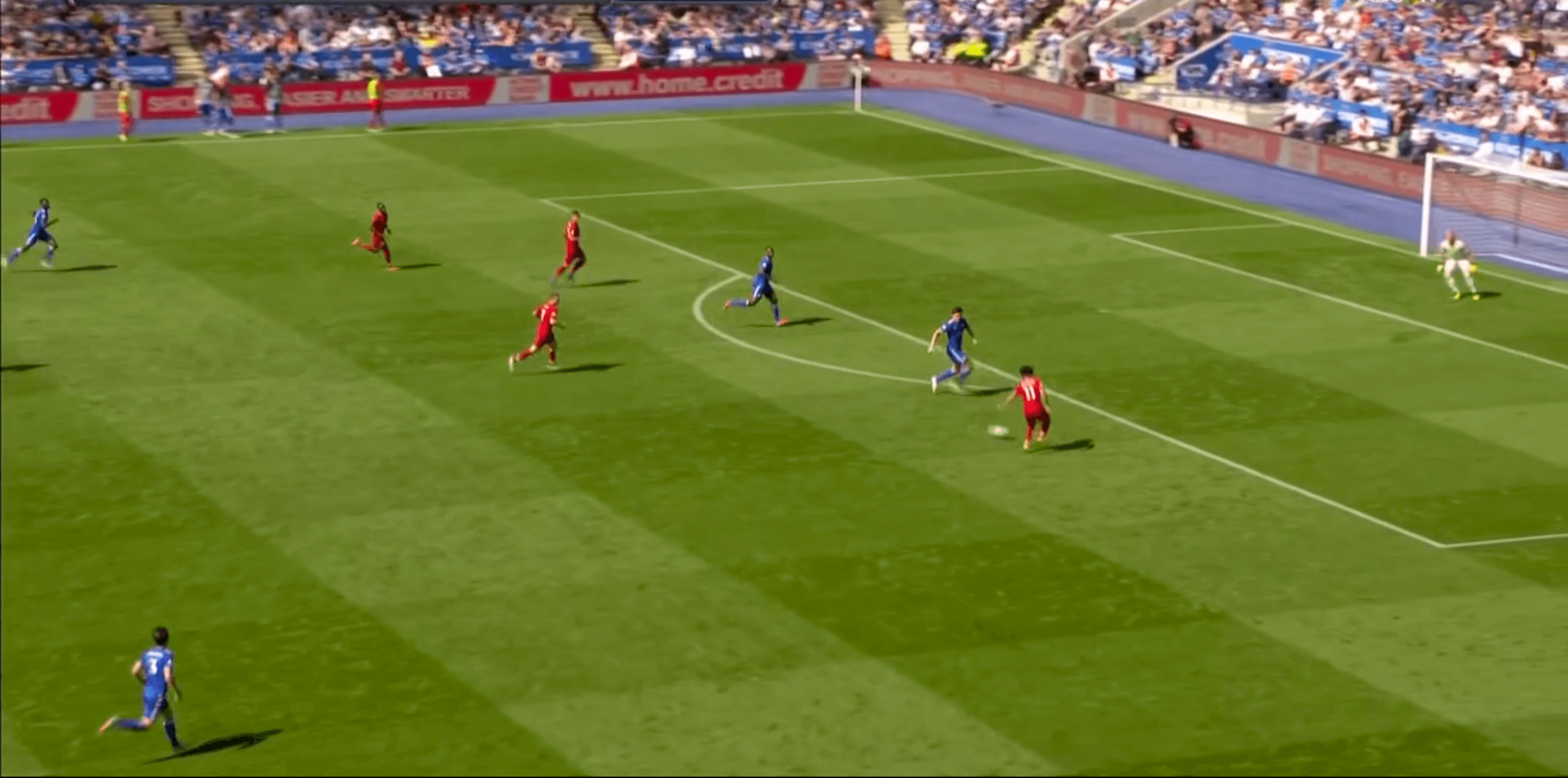 Without Naby Keïta, Liverpool really struggled to impress offensively apart from the opening 20 minutes of the game. Between those first twenty minutes and the final twenty of the game, Liverpool lacked control, and for a short period in the second half lost their defensive discipline too. Apart from that, Liverpool put in a competent display, but was far below the lofty heights we have come to expect. Whilst Brighton deserved a great deal of credit for the way they played, this performance was very much dependent upon the poor work of the Liverpool midfield. These issues may not be so prevalent in big games, but against sides in the middle of the table, Liverpool will need to find a means to manage these games more effectively, and learn to do so without Naby Keïta, because such a reliance will only spell trouble should he get injured.