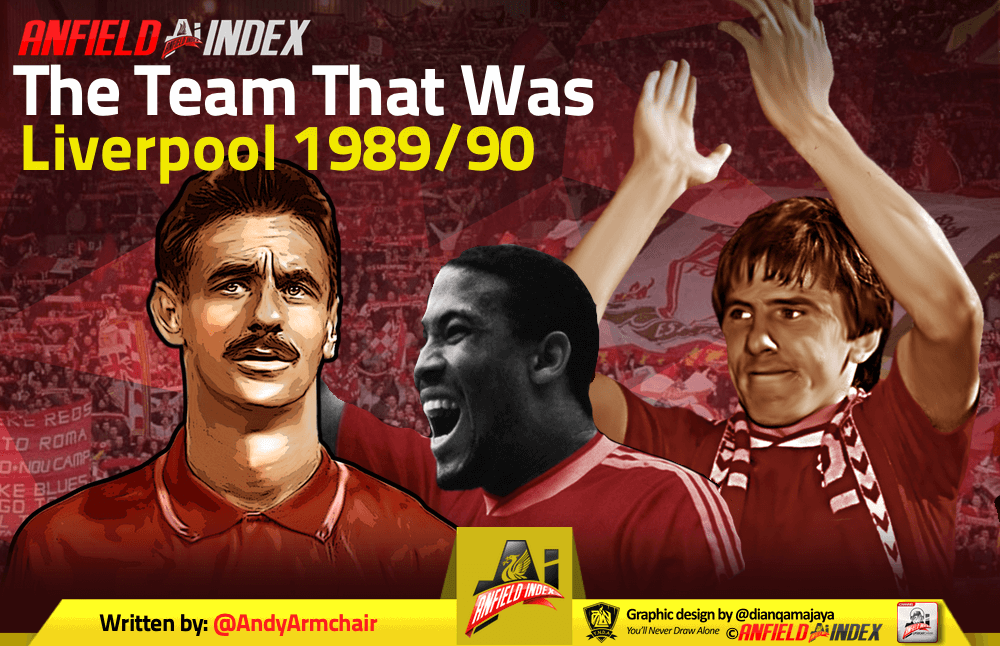 The Team That Was - Liverpool 1989/90
I was lucky enough to grow up in an era where Liverpool won an array of trophies on a regular basis. If we didn't win the league one season, you could bank on us winning it the next; such was our dominance.
Sadly, these trophies dried up to largely become few and far between. In the case of the league title, it completely evaporated. As rival fans like to shove down our throats, Liverpool have never won the Premier League or the league title in any of its guises since 1990.
Could this current side be the one to finally end the drought? We'll have to wait and see on that. What we can say is that they're exciting to watch and seemingly going places under the guidance of Jürgen Klopp.
But what of that 1990 title-winning Liverpool team – who were they? Here's a look back:
Goalkeeper
Bruce Grobbelaar was the man between the sticks, widely known for being a maverick. Don't let the iconic 'wobbly legs' penalty shoot-out moment or the handstand celebration fool you into thinking he was the clown that some tried to portray. The fact is, you don't get signed by the great Bob Paisley and be first choice goalkeeper for an all-conquering Liverpool side unless you are very good, and Grobbelaar was most certainly that.
It could be argued that he was decades ahead of his time. Before Alisson Becker and Pepe Reina were showing unshakeable confidence with the ball at their feet, Grobbelaar was doing it in an era when it was unheard of. There'd be the odd mistake, but there were far more acrobatic saves, including one in the 1986 FA Cup final that was arguably a turning point in the game. Grobbelaar was still the undisputed number one, commanding the defence in front of him during the 1989/90 season.
Defence
At the heart of the backline was still club captain and legend, Alan Hansen. The elegant Scot was coming towards the end of his career but was still a key component in a successful rear-guard that now also had a new signing from Fiorentina, the stylish Swedish centre-back Glenn Hysen, alongside him. The dependable Gary Gillespie was still around and could always be relied upon to deputise when required, although injuries hampered him being involved more.
There were a number of different players in the full-back positions; the versatile and somewhat underrated Steve Nicol had long been the first choice under Kenny Dalglish and always contributed more than his fair share of goals. Barry Venison was a regular starter in the 1989/90 season and enjoyed a solid campaign. Local lad Gary Ablett was another versatile option, who could cover any of the defensive positions, but did not feature prominently. David Burrows and Steve Staunton usually shared the left-back slot; both were still young, but rarely let anyone down. Burrows was never a spectacular player, however, he contributed well to his team. Staunton was the more revered of the pair and was popular with fans.
Midfield
The successive central midfield pairing of Steve McMahon and Ronnie Whelan were still the heartbeat of this Liverpool team. The energy, tenacity and aggression of McMahon was a vital ingredient to the team, as was his ability to pick a pass and propensity to score important goals. His audacious twenty-yard chip in the 9-0 demolition of Crystal Palace from this season remains one of my favourite Liverpool goals. Whilst Bryan Robson was the darling of the press, I wouldn't have traded McMahon for Robson back then, such was his importance.
Whelan was the extra layer of class, with a left foot to die for. He started his Liverpool career out wide but showed his ability to orchestrate play in the middle of the park. He should probably feature higher in conversations about great Liverpool players and his cool playmaking ability was prominent throughout the 1989/90 campaign.
The wide positions also contained plenty of quality; Ray Houghton was not an orthodox winger, but his technique, movement, vision, intelligence and goals made him an automatic starter when fit. Unfortunately, his 89/90 season was disrupted by injuries and perhaps indicative of his influence that the right side of Liverpool's midfield didn't look quite the same without him.
On the left was one of the greatest ever players to pull on a red jersey, John Barnes. His swashbuckling skills, grace and power made him an instant hero with the Kop after he signed in 1987 and during this title-winning season he often played a more advanced role that saw him bag 22 league goals and finish up as the club's leading goal scorer for 1989/90.
Attack
Striker Ian Rush wasn't far behind Barnes in the goal stakes as he continued to add to his club record tally. His mixture of pace, work rate, movement and lethal finishing ensured he was still one of the best in the business after nearly a decade at Anfield. John Aldridge had been Rush's replacement and, after Rush's return from Juventus, sometimes been his strike partner, but this season saw Aldo's departure, but not until he dispatched a penalty in typical fashion in that mauling of Crystal Palace in his swansong to the Kop.
Peter Beardsley was another amongst the goals, often vital ones, as his mixture of skill, tenacious effort, technique, vision and creativity benefited those around him to great effect. Ronny Rosenthal joined the club in March 1990 and contributed much-needed goals during the title run-in. His remaining time at Liverpool was not so successful and will sadly be remembered for an awful miss against Villa, but he played his part in this title-winning season.
Manager
Of course, the boss was none other than the King himself, Kenny Dalglish. He was still registered as a player and did make one appearance, but he was undoubtedly manager, rather than player-manager by this point. This was the third league title of his successful reign as Liverpool boss, in what sadly turned out to be his final full season in charge. Dalglish is loved as much today as he ever was, not only for the success he brought as a player and manager but also because he gave everything for the club and always put the club first.
This wasn't the 'perfect' season, there were bumps in the road, but this Liverpool side demonstrated that as well as tremendous football, they could be resolute and were worthy champions.