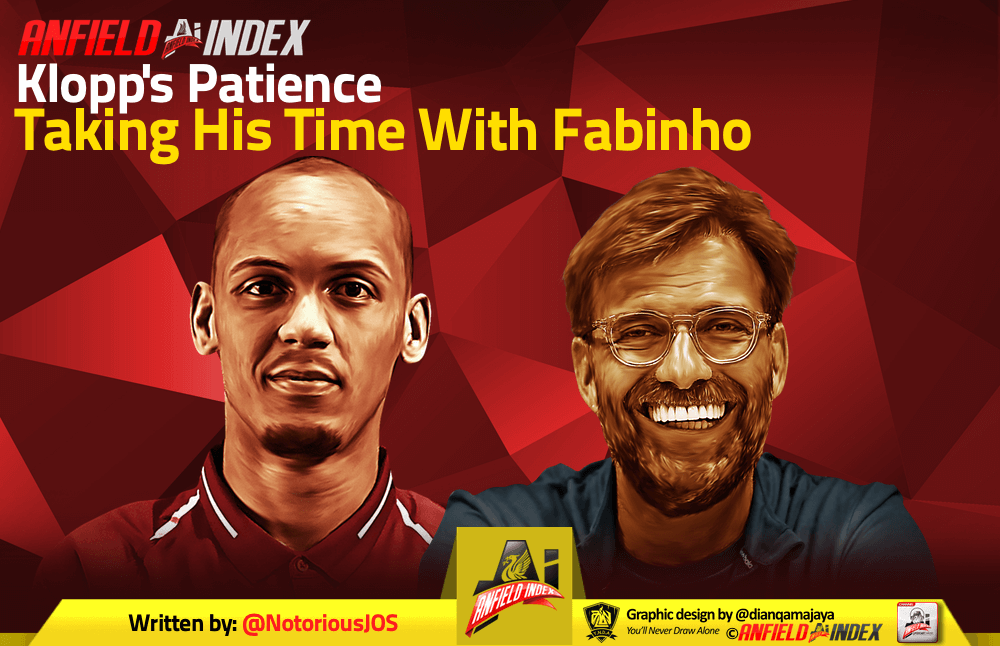 Klopp's Patience: Taking His Time With Fabinho
Of all the coaching and man management attributes that see Jurgen Klopp rightly ranked amongst the elite managers in world football, patience is perhaps the German's greatest virtue. A striking example of diligence is in the handling of his second most expensive Brazilian purchase of the summer, Fabinho.
Arriving from French club Monaco for the princely sum of £39M, it was assumed that Fabinho, 24, would instantly become a fixture in Klopp's side. However, a feature of Liverpool's' perfect start to their Premier League campaign has been the omission of Fabinho from three of the clubs first four matchday squads. Despite showing signs of adapting well during pre-season, Klopp has resisted the temptation to blood the former Real Madrid youth team player and has instead largely stuck to the tried and tested, Wijnaldum, Milner and Henderson. Even the mercurial Naby Keita found himself confined the bench in the Reds' weekend victory over Leicester City and was, much to the chagrin to Liverpool fans on Twitter, replaced by club captain Jordan Henderson.
A school of thought has since emerged that Fabinho may not be quite as good as the club anticipated when signing him, but anyone familiar with his work in Ligue 1 would dismiss this narrative. A good way to gauge Fabinho's effectiveness is the form of current A.C. Milan loanee, Tiémoué Bakayoko. Midfield partners as Monaco won the 2017 Ligue 1 title ahead of the mega-rich PSG, Fabinho's clever positioning and understanding of defensive nuance, no doubt well-honed during his stint as a right back earlier in his career, gave Bakayoko a platform to express himself to the extent that he earned a big money move to Chelsea. Despite arriving at Chelsea with a big reputation, Bakayoko's showings with the Blues led to much ridicule and, after only a season in England, the French international was soon on the move; joining A.C. Milan on loan. Whether or not Bakayoko would have maintained his form if he had stayed at Monaco and in tandem with the Brazilian is arguable, but what cannot be disputed is the former Rennes midfielder enjoyed the best football of his career alongside Fabinho.

Undoubtedly, Liverpool will have envisioned Fabinho providing a midfield armchair ride to Naby Keita and releasing the Guinean from much of his defensive responsibilities which would allow him to weave his magic further up the pitch. However, a key difference between Liverpool and Monaco is Monaco invariably played with a two-man midfield; whereas Liverpool, for the vast majority of the time, have played a three-man midfield under Klopp. These subtle differences can be key and former Borussia Dortmund coach allowing Fabinho to develop into a single pivot on the training paddock, away from the glaring and judgemental eyes of the world, may well prove to be another astute piece of man management from the German.
Liverpool's run to last season's Champions League final, as well as their heavy summer spending, has swelled expectations and many expect the Merseysiders to this season challenge Champions Manchester City for the title. This heightened hopes amongst the Reds' supporters have seen standards rise and patience wear thinner and clearly, Klopp feels that such an environment is not conducive for a player to not only learn a new tactical role but also adapt to new teammates', a new country and a new culture. Hypothetically, had Fabinho been used from the beginning of the season and performed poorly than his confidence may have been irreparably damaged. By refraining from using the former Monaco man in games, Klopp has had ample training ground time to prepare Fabinho, without the pressure of having to win games. The upcoming international break means that there will be less training ground time. Fabinho, who was listed in the Selecao's squad list as a defender, will most likely play as a right back for his nation. This means that every training session with Liverpool is money in the bank for Fabinho as he learns the intricacies of the number six role at the base of the Premier League's top teams midfield. Similar examples of Klopp's patience can be seen in his handling of Alex Oxlade-Chamberlain and Andrew Robertson, who both started last season primarily on the bench but, after keeping their heads down and clearly adapting well in training, ended the season as key components as Liverpool scorched through Europe's defences on way to the Champion League final. Klopp's patience is a virtue and in the case of Fabinho, it will assuredly prove hugely beneficial in the long term.