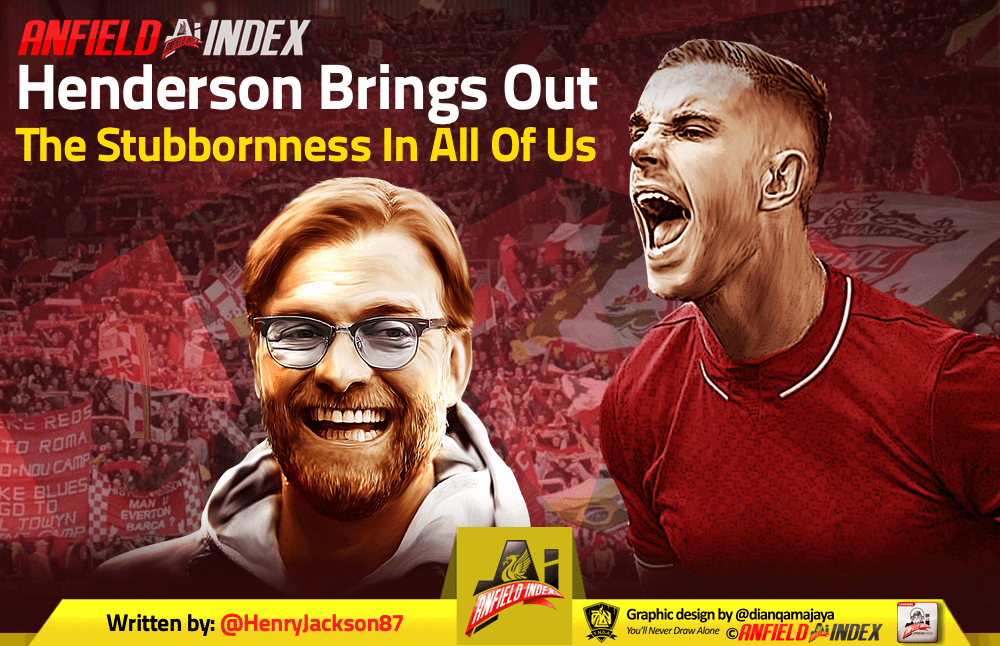 Henderson Brings Out The Stubbornness In All Of Us
What better way to liven up the start of a tedious international break than to announce Jordan Henderson's new five-year deal at Liverpool?
That certainly fired us all back into life, didn't it?
The obsession and division that the Liverpool skipper causes among the fanbase is unlike any player in recent memory, with so many holding such an emphatic opinion of him either way.

It has become both weirdly fascinating and utterly tedious in equal measure.
We all have individuals we either rate highly or have no time for whatsoever – it would be dull if we all agreed on everything – but the divide when it comes to Henderson is on another level.
On one hand, you have the devotees, of which I am more than happy to admit to being one of, as anyone who follows me on social media will be able to attest to.
This section of the supporters believes the 28-year-old is a good footballer and a great leader – someone who remains criminally undervalued by many, and who cannot shrug off the fact that he used to be a weak link.
He has been made the captain of every team he's ever played for and consistently earns huge praise from a man we worship in Jurgen Klopp.
Those who rate him believe a level of snobbery surrounds the criticism that comes his way, and an inability to take the blinkers off and appreciate what he offers, rather than conveniently ignoring it.
Then there are the fans who have little time for Henderson, who will do their utmost to never give him even a single ounce of credit, with any misplaced pass, wayward shot or below-par performance treated like the end of the world.
They believe he is not good enough for Liverpool, is holding them back as a team and should be sent away to pastures new, with others far more likely to take the Reds to the next level.
In their eyes, he is an over-hyped English player who is protected by sections of the media, and who will earn unwarranted praise for doing simple things efficiently.
There are absolute elements of truth in both sides of these arguments, but the problem is, the more intense the Henderson debate has become, the more extreme the views from either end are.
It is now the ultimate show of stubbornness from everyone as a collective, with a one-upmanship, particularly on social media, bordering on childish.
Those who rate Henderson will now go overboard about a good display, sticking the knife into those who dislike him and ensuring the whole world realises he's not 'useless'.
His impressive World Cup performances were lauded by the masses, but his greatest admirers would let his critics know that little bit more, just to get their point across further.
On the flip side, his detractors will overly tear him to shreds even if he produces an adequate six-out-of-10 showing, often looking to find any minuscule flaw as a way of ridiculing him.
Both sides are riling each other, trying to stand firmer in their views than the other, and it is helping nobody.
In reality, there is a middle ground that is continually being missed with regards to Henderson's credentials, with the thought of being wrong making us stick to our guns and lose credibility.
Henderson is a good player, as he has displayed plenty of times during a Liverpool career that now sees him as the club's longest-serving squad member.
His naturally awkward style has forever worked against him, with too many incapable of looking closer at the impact he has, and he is an established international footballer who possesses quality on the ball, intelligence, leadership and a relentless work ethic.
The England vice-captain is also limited, though, especially in the No.6 role, which is precisely why Fabinho has been brought in as a superior long-term option.
There are times when Henderson looks panicked under pressure, can lose the ball cheaply and not be positionally-sound, and it can hurt Liverpool.
That was most recently shown in Saturday's 2-1 win over Leicester City, when he, more than anyone, failed to boss the midfield battle in the second half.
Is Henderson a guaranteed starter moving forward, and somebody who can be the catalyst to Liverpool finally winning the Premier League title? Absolutely not.
He is a more than handy individual to have around, however, not least because he is a superb captain, and someone of whom Klopp recently said:
"Jordan embodies entirely what it means to be a Liverpool player in this modern era of football.

"The best thing is he will get even better in these coming years.
"Jordan is so important to us and we are very fortunate as a club to have this person commit to us as he has. You can tell through his actions on and off the pitch he treats representing our badge and our shirt as a privilege.

"He carries a lot on his shoulders that people on the outside won't see, but he embraces that responsibility and that leadership. He is our 'General' and I trust him completely."
Henderson's footballing ability remains integral, too, as he showed during the magnificent run to the Champions League final, and he will continue to feature prominently, albeit in rotated fashion.
He is what Darren Fletcher was to Alex Ferguson's Man United in their prime and what Edu was to Arsenal's 'Invincibles' – an effective figure who will prove his worth consistently, albeit not as an undisputed key man.
Injuries are certainly a worry and are a more than understandable gripe that some people have with Henderson signing a new long-term contract, but if he stays fit he will be important.
It would be nice if this middle ground could mutually be met with the Henderson lovers and haters, rather than the constant bickering that surrounds the captain of one of the world's biggest clubs.
He is a fantastic person, a model professional and an underrated player, but also someone who will never set the world alight and who merits criticism for certain elements of his game not being up to scratch.
There could be five more years of Henderson at Liverpool – let's all make our lives easier and meet somewhere in between, shall we?