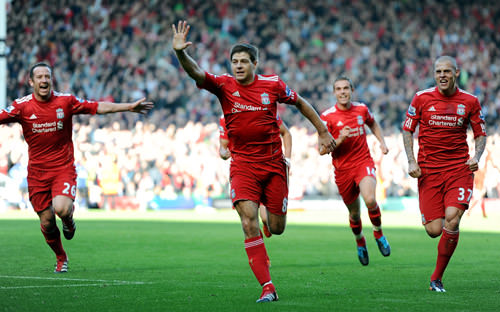 Steven Gerrard | Effectiveness vs. MUFC

It was strange to see Steven Gerrard scoring after such a long absence. Strange but excellent.
He returned to the starting line-up against Manchester United on Saturday afternoon after sitting on the sidelines for seven months. Funnily enough, his last start was against United where he excelled in a deeper midfield role. This time, Gerrard was given an attacking freedom that suits him so well.
For the most part of the first-half, Steven was out on the right for protect Martin Kelly from Ashley Young and Patrice Evra. He had a similar job in the second-half as well, but was given more of a free role. He drifted around the pitch, dropping into holes between United's defence and midfield, causing problems throughout.
A typical Steven Gerrard performance is always topped off with a goal, and what a way to return to the starting line-up than to score the opener at the Kop end. Stevie had one shot on target all game but he made it count.
His passing was excellent as well. He attempted 47 passes from open play. Of the 47 attempted, 38 found a red shirt – a pass completion rate of 81%. Any player that passes at 80% or over has had a good game. Even if some passes are five yards, or to the side – they all count. Every pass that your team completes keeps the game flowing,  keeps the ball moving and gives the fans and neutrals something to admire and be entertained.
Although his crossing statistics weren't great – 2 successful out of 12 – it was where his crosses went that was important. Five were caught by United's goalkeeper, De Gea, which showed Gerrard was putting the young keeper under pressure. A lot has been spoken of the Spaniard's weaknesses and collecting crosses certainly is one of them so it's clear to see what Gerrard was trying. It surprised me to see Andy Carroll sat on the bench for the full 90 minutes when its obvious David De Gea is weak collecting crosses. Throwing the ball into Carroll and De Gea could've opened a few goalscoring opportunities for Liverpool.
Gerrard's tackling statistics are terribly low, which has really surprised me. According to the stats, he attempted three tackles and won just one. Trust me, I've checked them over and over again and they still have the same, low numbers. Surprising.
He did make two interceptions, though, and won six of his nine possession duels (which in itself could be classed as a tackle).
His shooting statistics are also quite low with just one shot – the goal. Seeing as his only shot was our only goal, we can let him off on that one! Liverpool's captain also created one chance in the match.
You may be reading this and thinking, 'why are his statistics so low?' Well here's your answer: there weren't that many clear-cut chances or shots on target. Stewart Downing was out on the left-wing and only created two chances. Liverpool dominated possession but the game was a scrappy midfield battle until the final ten minutes, when it became a free-for-all to grab the three points. The Reds completed nearly 100 more passes than the men from down the East Lancs road, also.
Chances were few and far between but Steven Gerrard shone in the middle of the park. What made his performance even better was the fact he has only just returned from several months on the sidelines. Before Saturday's game, he had played around 12 minutes of football since March.
His statistics suggest he played badly, or didn't do much but that is definitely not the case. Stats aren't everything when it comes to player's performances, although they do give a good indication of how they played. His passing stats show just how much he was in possession.
He's a legend and proved it in Saturday's game. There have been some whispers that Gerrard is 'finished' but he's far from it. We can always rely on Stevie no matter his age.
Follow me on twitter: JackWatsonLFC