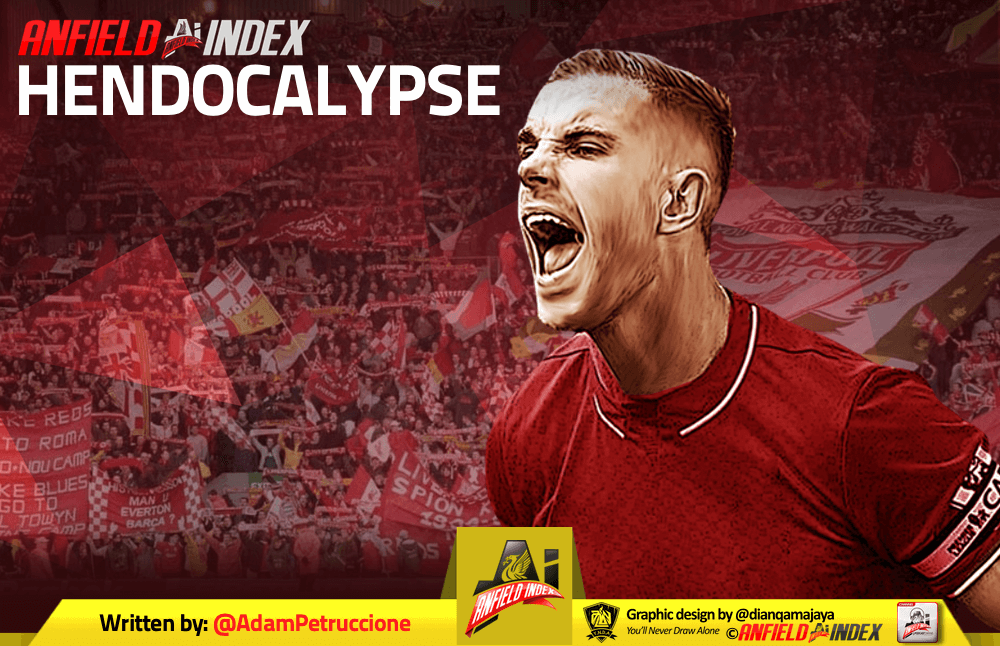 Hendocalypse
On the back of a lacklustre performance off of the bench against Brighton, and a poor start against Leicester, the usually PR conscious back office staff at Liverpool Football Club decided to announce a contract extension for Jordan Henderson.
Okay, okay…
For most clubs, a contract extension for the team captain in the prime of his career, coming off of a Champions League final run would not be controversial in the least. Liverpool are not most clubs.

Jordan Henderson is a holdover from the Brendan Rodgers era, one that was vital to anything positive the club achieved at the time, but who has been impacted by serious injuries in the years since. A mainstay in the starting eleven whenever he is available for Jurgen Klopp, Henderson is a conservative player meant to hold together an otherwise explosive line-up.
Like a big red box of chocolates, you never know what you're going to get from most Liverpool players, but with the Gumpian Henderson, we have a pretty good idea. He runs. He prefers boring passes, recycling the ball through the defenders and the goalkeeper. The occasional out-ball to either of the fullbacks is as close as you'll get to fireworks from the captain.
Jordan Henderson does not dribble. He does not fly forward with the ball. He's not going to make a surprise run into the box. He won't take a shot even if the entire Kop is imploring him to do so.
The captain is, however, a safe pair of hands, err feet, who the manager trusts. Supporters expecting more out of the DM or 'six' goes with the territory to some extent. The position usually is not highlighted unless something goes terribly wrong. On the other hand, there are numbers that we can compare. Henderson's contemporaries, even in lower scoring clubs outperform him across the board. Granit Xhaka, Fernandinho, Kovacic, Jorginho, Emre Can, Fabinho, all of them dwarf Jordan Henderson's goal involvement and creative metrics.
Aside from attacking numbers, Henderson's ability to stay on the pitch is a concern to many, especially as he is now contracted into his 30's. The former Sunderland man made 25 starts last season, 24 the season prior and 15 in 2015/16. Hardly talismanic figures. Klopp has an answer for that.
Jürgen Klopp on Jordan Henderson: "Even a captain can't play all the time. I knew people would say 'good result, Jordan didn't play' and make shit stories out of this. He's a really important player for us."

— Melissa Reddy (@MelissaReddy_) December 8, 2017
The injury concerns of Henderson seem to parallel his England midfield mate, Adam Lallana, who is awaiting news on a groin problem that surfaced, inexplicably, during training with the Three Lions. Liverpool players with injury histories should not be anywhere near England training. Lallana's injury is a reminder of how delicate we have to be with Henderson, Gomez and Sturridge. What are they putting in the fish and chips? Whatever it is, it's making English players grow up as sturdy as tissue paper in a rainstorm.
Beyond the lack of production and injury concerns, there are several parties in the Liverpool squad who will have raised an eyebrow or two at Henderson's extension. The ink has barely dried on Fabinho's summer deal. What does his immediate future now look like? Gini Wijnaldum has been putting work in to learn the six, for what? For a couple of spot starts? Marko Grujic is off in Germany, trying to show the manager what he can do, but how high is that bar if he needs to now jump over three senior players?
One had to wonder if other clubs were sniffing around Henderson for Liverpool to feel the need to extend his deal at this time. Because at some point, during this five-year deal Michael Edwards or whoever is in charge at that time is going to be looking to offload Henderson's contract. As Edwards found out, even his magical laptop is not enough to levitate the contracts of certain players from the Liverpool books.
The oft-injured, the under-performers and the overpaid are difficult to move no matter what Edwards tries, and Henderson may check all three boxes before his contract reaches the half-way mark.
Jürgen Klopp on Jordan Henderson: "Jordan embodies entirely what it means to be an #LFC player… He carries a lot on his shoulders that people on the outside won't see, but he embraces that responsibility and that leadership. He is our 'General' and I trust him completely"

— LFC KNOWLEDGE (@LFCknowledge) September 3, 2018
So, while it feels nice to have the captain of a successful club tied down to a long-term deal, this one comes with quite a few asterisks. As much as we sing "you'll never walk alone," Liverpool supporters aren't the best at lifting the spirits of struggling players. One hopes that he can find a way to reinvent himself and be an impactful part of the squad as James Milner has in his 30's.
Liverpool captains should go out as heroes, not as pariahs. There is now ample time for Henderson to hang up his Reds kit as the former, but is time on his side?
Dear Captain, we're sceptical, but we're cheering for you.
The missing man, red-carded from what should have been a league championship run-in back in 2014 raises the trophy as club captain in 2019? What a story that would be.
Up the Reds.