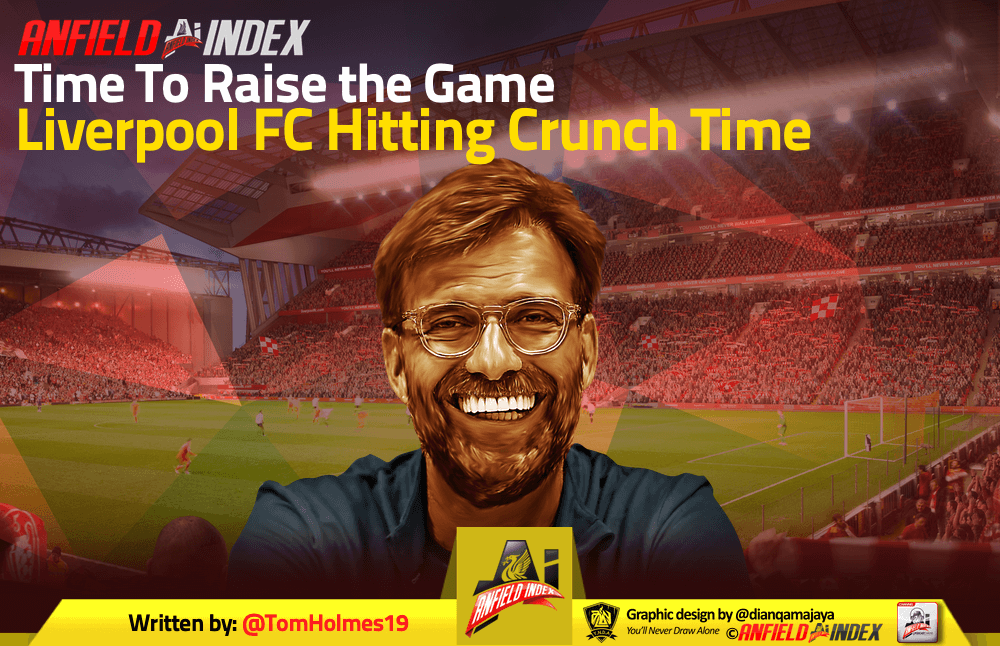 Time To Raise the Game - Liverpool FC Hitting Crunch Time
Liverpool have made an excellent start. That's something that cannot be understated. The Reds have never made four wins out of four at the start of a Premier League campaign before, and have in fact won four league games in a row under Klopp just three times. This is the first time if you include the Reds' 4-0 win over Brighton on the final day of the 17-18 season that they've notched more than four wins in a row in the league under Klopp.
That's all just a preface because I want to make it clear that this article doesn't want to diminish the achievements that the Reds have made so far this season. But a higher calibre of expectation is needed if we're considering the Reds to be serious title challengers, given that Man City dropped points in just one of their opening twenty games last season, and they're the opposition that the Reds face.
The four opponents that Liverpool have faced this season are mostly decent teams. Palace, Brighton and Leicester all gave the Reds good games and all of them will have relatively decent seasons on the whole. There's no denying that the West Ham side that we faced on an opening day were and remain an absolute dumpster fire, but I don't want to belittle the other three.

Nevertheless, these are games that Liverpool absolutely should be winning, and more importantly have been getting better at winning. Last season's results against the same opponents were as follows: West Ham (H) 4-1 win, Palace (A) 2-1 win, Leicester (A) 3-2 win, Brighton (H) 4-0 win. So Liverpool picked up the same number of points from the same opposition last season, and Brighton game aside, with a relatively similar scoreline – Brighton were on the beach when Liverpool thrashed them on the final day last season.
The average final position of the Reds' last four opponents last season was 12th, with all of them in the cluster of teams that picked up 40 points and were safe but failed to rise above mid-table, with Leicester's 47 points and 9th place finish the best of the lot.
In comparison, in Liverpool's next four league games, they face the sides who finished 5th and 3rd in the PL away from home, both of whom beat Liverpool in the respective fixture last season, with the 4-1 hammering at Wembley last year one of the worst defeats of Klopp's regime. Moreover, whilst Klopp and Liverpool have an excellent record against Pep's City, particularly at Anfield, you'd nevertheless never bank on a game against the defending Champions to bolster your form, particularly given that the Reds have a gruelling trip to Napoli just four days previously. Throwing in home games against Southampton in the league, PSG in the UCL and Chelsea in the Carabao Cup, and the simple fact is that Liverpool's season is about to absolutely ramp up.
Whilst pointing out that trips to Spurs, Chelsea and playing City at home is a completely different kettle of fish to Leicester, Palace and Brighton is hardly rocket-science the fact remains that Liverpool need to find another gear. Defensively, Klopp's men have been absolutely brilliant so far, and comfortably the best defensive side in the division, but question marks will continue over their back-line unless they can come out of the seven games between the international breaks with a solid defensive record.
This Liverpool defence has already shown that it's capable of dealing with the likes of Man City, but equally, there have been stutters over the last year, despite their excellent defensive record since the thrashing at Wembley. And a return to England's home to face a Spurs side who haven't moved forward in the last twelve months represents an excellent opportunity for a Liverpool defence containing four new faces from that game – Robertson, Trent, Alisson and VVD with Gomez moving to CB – to show how far they've come in a year.
But it's in attack where Liverpool really need to find another gear. Their stuttering attacking displays in recent weeks have been far from terrible, and indeed have been good enough to see off Palace, Brighton and Leicester, but the fact remains that the attack isn't quite flowing, and since the opening day against West Ham, the front three have not played particularly well, and certainly not played well together.
This article isn't intending to come across as negative, and nor is it to suggest that this Liverpool side aren't capable of hitting the heights that we know that they're capable of. It's merely to point out that so far what we've seen has been good enough, and put together as a collective whole more than good enough, but we still need to see more.
There are two reactions to Liverpool's next set of fixtures – which as mentioned see them face six top sides (well five but Chelsea twice) in just three weeks. The first reaction is understandable – fear and concern. Is this Liverpool side good enough and deep enough to sustain a challenge on three fronts when good opposition are in front of them in every competition? It's the question that has been plaguing us all summer, and we're finally going to get the answer.
The other reaction is, of course, sheer excitement. This Liverpool side is about to get the chance to show England and Europe's elite sides exactly how good they are. Whilst our start hasn't been explosive, it's laid brilliant foundations, and if we can keep the defensive solidity that has been the cornerstone of our performances so far and combine it with brilliant attacking play that this side has more than demonstrated that they're capable of, then the likes of PSG and Man City could be blown away.
Looking specifically at the games ahead, I think the biggest tests will be at Wembley and in Naples. The ability to rest players between the PSG and Chelsea league home games, with the Carabao Cup and Southampton at home means that we can throw our all into those games, and as mentioned, we have a phenomenal record against Pep's City. But whilst Spurs haven't yet fired this season, the international break could affect the likes of Firmino with a late return, and it may be that the rust is in the system when we travel to one of the trickiest trips in the country.
Moreover, with the City and Chelsea games sandwiching the trip to Naples, and a famously hostile Italian atmosphere, it's going to be an absolutely huge test for the Reds, and a point would undoubtedly be a good result in that game, although we'll naturally want to win every single match in this run.
And that brings me to my final key point. Even if the Reds play at their best for three weeks running, picking up maximum points in this run will probably be beyond them. What we have to do is find a way to consistently play well, and keep ourselves alive in every competition (except maybe the Carabao because honestly, it's the Carabao Cup). That means that if we have to find a way to just take a point in some of those nasty away fixtures, whilst saving our full strength for the likes of City and PSG, then that's what it means. Here, I'm not necessarily talking tactically, or with regards to rotation – I expect Klopp already has a vigorous rotation plan in place that hopefully won't be blown wide open in the next week of internationals – but in terms of mentality, both of the club and of the fan-base. Of course, we go in with the mentality to win every game, but we also have to keep an eye on the perspective of the bigger picture.
Either way, I'm extremely excited to see how Liverpool come out of this period. But the standard has been raised. What we've seen so far has been extremely positive, but even though we're still in the early part of the season, the Reds are about to face an absolutely crunch period, which means that every player is going to have to find a way to raise their levels. And I don't believe for a second that they won't.
Up The Reds.