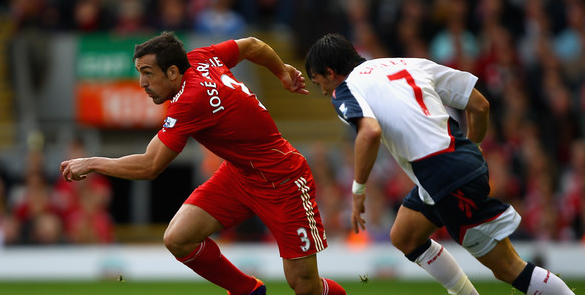 Statistical Player Profile: José Enrique

Liverpool has long had a problem with the left-back position ever since John Arne Riise left for Roma in 2008. Yes we had Fabio Aurelio and Emiliano Insua but neither succeeded in stamping their mark on the position, with injuries plaguing the one and the other just simply failing to live up to expectations. Queue the signing of José Enrique in the summer transfer window for around £6million.
It would seem, from his performances so far, that this could be the bargain of the season. He is known for his incredible recovery pace and calm nature on the ball, he is also admired for his ability to pick out his team mates with inch-perfect long balls. He has been magnificent for Liverpool so far, but let's look at the start of his footballing career before we go into his stats.
A Fork in the Road
José Enrique Sánchez Díaz was born on the 23rd of January 1986 in Valencia, Spain. From early on José was blessed with an incredible turn of speed and at the age of 7 was already a keen athlete. José was a member of the Valencia based Benimaclet running club and he became highly rated early on. After his 16th birthday José had to make a choice between a sprinting career, and possibly representing Spain in the Olympics etc, or signing a youth scholarship with local club Levante UD. Lucky for us he chose the right path.
Football Beginnings
José graduated from the Levante youth team in 2004 to join Levante B, where he made 19 appearances and scored 1 goal. He spent only a year with Levante B before he was snapped up by Valencia CF. Valencia decided to immediately send José on a season-long loan to Celta Vigo. While on loan José made 15 appearances and failed to score any goals.
After several eye-catching appearances though, Villarreal signed him in 2006. José became very highly rated at Villarreal and enjoyed a very successful season. This didn't go unnoticed in England and several clubs including Liverpool and Manchester City fought for his signature, in the end though it was Newcastle United who signed José on a five-year deal for a price of £6.3m.
A New Home
José made his debut for Newcastle United on the 29th of August 2007 against Barnsley. José lasted the whole 90 minutes and Newcastle won 2-0. On the 23rd of September that same year he made his Premier League debut as a substitute against West Ham United. His appearances in the 2007/08 season were very few and far between and Sam Allardyce, then manager of Newcastle, said that José was still young and was still settling in to the Premier League. Despite all this he helped Newcastle to seven clean sheets in his 28 appearances that season.
After Newcastle were relegated in May of 2009, the club's board decided to have a sale of some of their best players. Several key defenders were sold including Beye and Bassong, which alerted several clubs of the possible availability of José. He stuck around though and was awarded for his exceptional performances the next season with the Newcastle United player of the season award. He was also voted into the PFA Championship Team of the Year alongside team mate Andy Carroll, Kevin Nolan and Fabricio Coloccini.
On March the 29th 2010 José scored his first goal for Newcastle in a 2-0 win over Nottingham Forest. Newcastle won promotion to the Premier League at the end of the 2009/10 season. José made 36 Premier League appearances for Newcastle in the 2010/11 season, speaking volumes for his consistency and reliability.
The Bull comes to Merseyside
The 11th of August 2011 the was announced the Newcastle had agreed a £6m fee with Liverpool for El Toro (The Bull) and that he had been allowed to discuss personal terms with the Merseyside club. The following day it was announced that José had signed a long-term contract after agreeing terms and passing a medical. José chose the number 3 that had recently been vacated by unwanted Paul Koncheskey.
José made his league debut for Liverpool on the opening day of the 2011/12 Premier League season, only 2 days after joining the club, against Sunderland. Seven days later José played the full 90 minutes against Arsenal in a 2-0 win at the Emirates and was named man of the match on only his second appearance. On the 1st of October José made his Merseyside Derby debut for Liverpool, marking up an assist for former Newcastle team mate Andy Carroll.
The Stats
Let's look at José's stats from his final season at Newcastle
In terms of reliability José is right up there with the best, in a 38 game season he started 36 of them and was never used as a substitute. José attempted a total of 132 crosses and managed to get 31 of those crosses to their intended targets, earning him an accuracy rating of 23%. During this season he only notched up one assist but he created 31 goal scoring chances. He also managed to get a pass completion rating of 77% with 1,281 from a total of 1.663 passes reaching their destination. He attempted 19 shots and got 12 of them on target including blocked shots (assuming they would've been on target). It is clear that José likes to get forward a lot and he knows what to do when he gets there.
Now let's look at the most important part; the defending.
During the 2010/11 season José made 61 tackles and won 51 of those, giving him a success rating of 83%, which is astonishing for 36 games played. He also made a staggering 70 interceptions and won 175 of his 346 possession duels. He was dribbled past only nine times during a whole season; this shows really how solid José is defensively. Newcastle also kept nine clean sheets with José in the starting line-up. During this season José only made one defensive error that led to a shot; this again shows his calmness on the ball. The Newcastle defensive unit (back four) conceded 5 penalties and 50 goals while José was on the pitch.
Now let's see just how big an impact José has had in his first few games for Liverpool.
José has started all eight games for Liverpool so far this season. He attempted 29 crosses and got nine of them on target. Already in a fraction of the games he doubled his assist tally from the previous season; on top of that he already has half the number of chances created last season, which goes to show that he has made that step up from being a Newcastle player, to being a Liverpool player. His pass completion percentage is also the same as last season at 77%. Up until now José has yet to take a shot in anger, but if he continues in this vein I'm sure it won't take long.
Already this season José has a tackle success percentage of 86% with him winning 12 out of the 14 he attempted. He has intercepted the ball nine times this season and has only been dribbled past 3 times. So far he has zero defensive errors and has lost possession only nine times. The Liverpool defensive unit has kept only two clean sheets, conceded 9 goals and one penalty thus far.
It may still be too early to tell but José Enrique might just be Liverpool's signing of the season and looks a steal at £6m. If he continues in the same form as he is currently and makes 30+ appearances this season then he will soon be one of the best left backs we've seen at the club in a long time and the problems of the last 2/3 seasons seem a long way away.