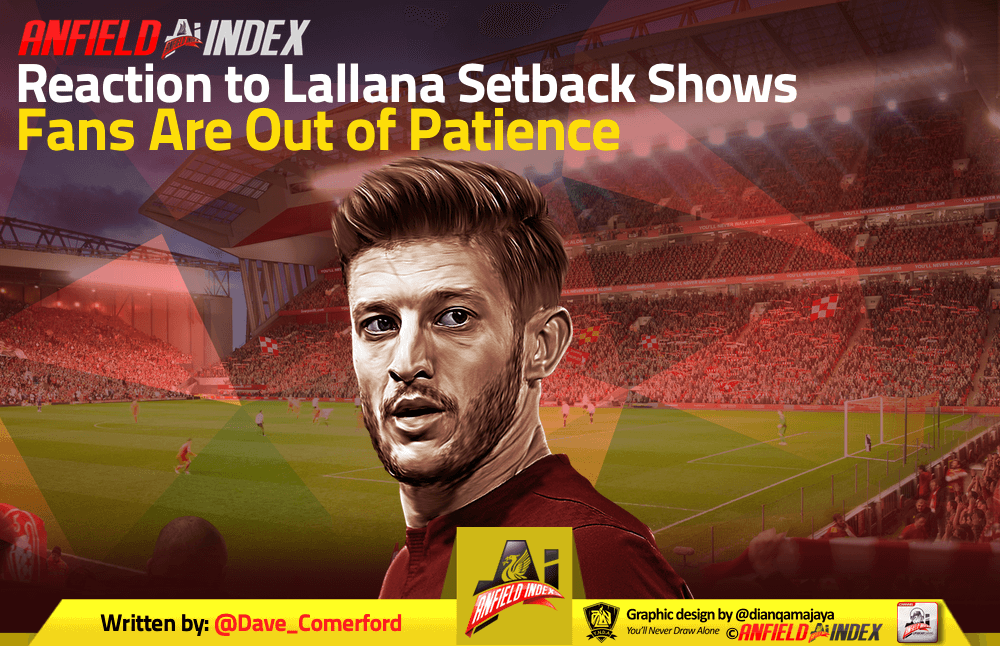 Reaction to Lallana Setback Shows Fans Are Out of Patience
Adam Lallana's latest injury – a groin strain he picked up in England training – is only minor. It will be a cause of great frustration for the midfielder, who would have hoped to force his way back into starting contention for the Three Lions, but he should be back in action very soon.
It is, then, a setback of very little significance for Liverpool, even as they prepare for three huge games in September. Even when fit, Lallana's prospects of game-time are limited, with virtually every experienced midfielder ahead of him in the present pecking order.
Lallana is a very likeable player, much like Danny Ings for example, and yet as he hit another bump on this prolonged road to recovery there was little sympathy amongst the Liverpool fanbase. Instead, apathy, or in some quarters irritation, had taken precedence.

The fans who are loudest on social media certainly cannot speak for the majority, but their reaction to news of Lallana's injury was telling nonetheless.
Many responded with a customary 'water is wet' or something along those lines, pointing to a sense of inevitability.
Others went further, declaring him 'finished' and urging the club to sell him at the next opportunity without hesitation and in the process trim their wage bill.
For some, the focus should be on allowing promising young midfielder Curtis Jones to unlock his full potential by handing him the place on the substitutes' bench traditionally occupied by Lallana. It is time, they say, to think about the future rather than look to extract what little is left from a supposedly over-the-hill 30-year-old.
This injury will, in all likelihood, have little impact on Lallana's season, and no impact on Liverpool's fortunes, but still it was seen a sufficient opportunity to air complaints.
This is because, contrary to what Gareth Southgate said, many believe it has not come 'out of the blue'. Indeed, it is difficult to paint this groin strain as an isolated incident when you look at Lallana's recent succession of muscular injuries.
According to Transfermarkt, Lallana has suffered 10 injuries whilst at Liverpool. It is important to note that his first eight injuries were all minor setbacks – not one kept him out for more than five games – but the two hamstring injuries he sustained last season sidelined him for a combined 32 games. Lallana has always been injury-prone, but while the frequency remains the same, the severity has markedly increased, and the ramifications for his career are potentially huge.
Either Lallana's body is 'giving up on him' after years of relentlessly running himself into the ground, or this top-level athlete is simply the victim of some bitter misfortune. Lallana's comeback that never was at Crystal Palace last season had the air of a cruel, cruel blow dealt by Lady Luck.
The last time we saw a genuinely fit Adam Lallana – during the 2016/17 season – he was brilliant. The trouble is, we don't actually know whether his level has significantly dropped because last season was far from representative, and he has only had about five minutes on the pitch so far this year.
Predictably, then, many have come to view his performances in Jurgen Klopp's first full season at the helm as his peak and labelled his present struggles as the beginning of a sharp decline.
I'm not ready to dismiss Lallana yet, though. We ought to wait to see if he can brush off this particular setback and rebuild his fitness then, most importantly, deliver something tangible on the field.
Realistically, he needs games to recover 100% match fitness, but Klopp certainly won't go out of his way to accommodate him outside of the cup competitions, late substitutions and perhaps occasional rotation. The vast majority of his work will have to be done on the training ground.
It is conceivable that, in good physical condition, Lallana could play the Oxlade-Chamberlain role, draining his tank in midfield, showing some real ambition and looking to carve out opportunities.
You often hear pundits identifying him as the kind of player his national team lack – that creative presence behind the frontline. Indeed, not too long ago, early in Southgate's tenure, he was showcasing those abilities as a playmaker.
However, it's a case of 'if' not 'when' Lallana returns to that level. It might already be too late. Only an almighty turnaround will see Lallana regain his starting role, and Liverpool might well be back in the market for a new attacking midfielder in the foreseeable future after looking to rectify what they considered a weakness early in the window by targeting Nabil Fekir.
The injury on the eve of the 17/18 campaign was, as many feared, terribly-timed. Before it, Lallana was a key player; now, he is close to becoming a forgotten man.
Despite all of this, I still hold out hope of a revival similar in some ways to that of Daniel Sturridge, who has highlighted recently that his quality remains even after a far more brutal sequence of injuries.
Liverpool justifiably looked to sell Sturridge, but offloading Lallana makes very little sense, at least while Oxlade-Chamberlain is sidelined. If his body allows it, he will prove himself to be an important asset, even just in the short-term.
Increasingly, though, it is becoming a case of hope, which grows frailer with each blow, rather than expectation.
Some will focus on the various notes of optimism in this article, but I suspect far more will dismiss them.