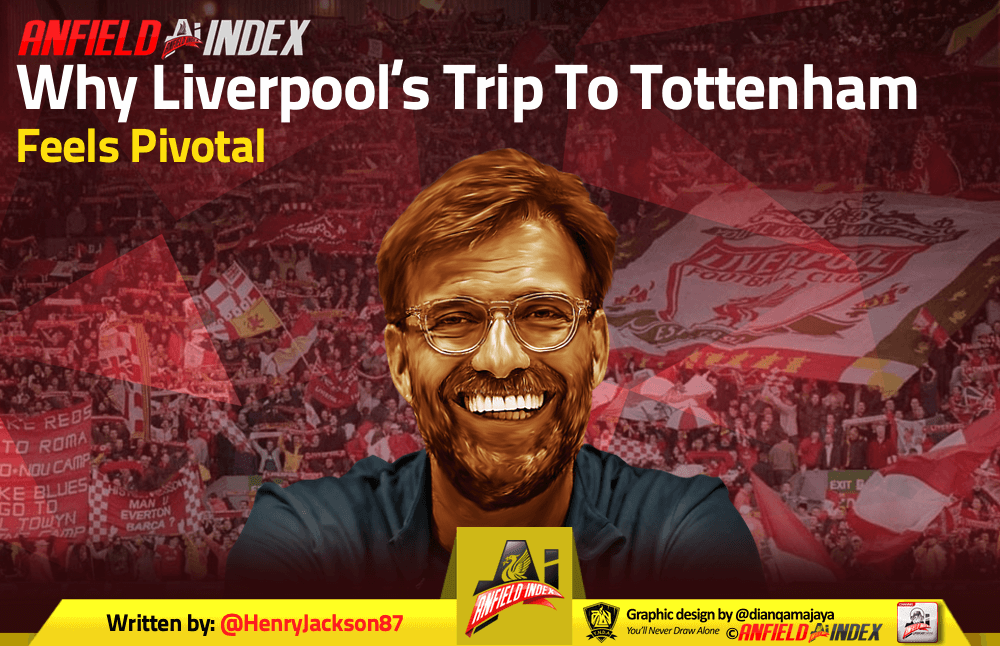 Why Liverpool's Trip To Tottenham Feels Pivotal
Liverpool head to Wembley to face Tottenham on Saturday lunchtime top of the Premier League and with maximum points on the board.

Just one goal has been conceded, nine have been scored and Jurgen Klopp's likeable bunch of merry men are on an early title march.
It may only be the middle of September, and Saturday's outcome will not end up defining the entire season, but it feels pivotal, nonetheless.

The eventual result is clearly the most important thing, but there is more to it than that. Liverpool are due a performance of genuine note and could do with one.
Finding negativity in being top of the league is not something that should be overly encouraged, but the Reds haven't actually played particularly well yet in 2018/19.
In the four matches they have taken part in, how long have they genuinely been at their swashbuckling best for?
The 4-0 win over West Ham was as routine as opening weekend victories come, with the Hammers bordering on lifeless and Liverpool rarely getting out of third gear.
Any triumph away to Crystal Palace has to be deemed impressive, given Selhurst Park's warranted reputation as a nasty ground to visit, but Klopp's men struggled to find their rhythm at any point.
It took some outstanding defending, most notably from an inspired Virgil van Dijk, to eventually get the visitors over the finish line, rather than vibrant attacking flair and control in the middle of the park.
Many expected the Merseysiders to respond with a comfortable destruction of Brighton at Anfield the following weekend, but it didn't pan out that way.
Liverpool were always in command against their limited opponents, barring one late scare, but the 1-0 win was lacking a spark and it all felt a little on the uneventful side.
Perhaps we just expect too much these days.
Last but not least came the trip to Leicester prior to the international break, in what is admittedly one of the toughest non-top-six fixtures of the season.
Again, the Reds got the job done and ground their way to a well-earned 2-1 victory, but it was arguably undeserved and the display became more and more leggy as the minutes ticked by.
We should not be decrying Liverpool's new-found ability to win ugly whatsoever – it is one of the key elements in clinching any title – but they need to find another gear if they are to remain at the summit.
They won't keep winning playing the way they are.
The meeting with Spurs is one that is tough to predict, but another sub-standard performance would cause a few minor alarm bells to start ringing, especially if points are dropped.
Liverpool have only struggled in a midfield and attacking sense, of course, with Van Dijk and Joe Gomez immaculate at centre-back, Alisson dominant barring his terrible mistake at Leicester and both Trent Alexander-Arnold and Andy Robertson and shining.
Mo Salah and Roberto Firmino are still yet to ignite, Naby Keita has another level to find and the midfield has not been convincingly dominant, though.
A huge performance in those departments, resulting in all three points at Wembley, would feel enormous, keeping up Liverpool's 100 per cent record and suggesting the cobwebs have been dusted off.
It would be a major statement of intent against one of the country's best sides – one who have been as consistent as anyone over the past three or four seasons.
On the flip side, however, a deserved defeat, in which the attackers fail to shine and the midfield gets overrun, would raise question marks about Liverpool's freshness and general cohesion at this minute.
Suddenly, the narrative would be all about how lucky The Reds were to be top in the first place, and that a defeat always felt around the corner after squeezing past Palace, Brighton and Leicester.
Football fans are a fickle bunch, with one result potentially making such a difference to how form and progress are perceived, but if Liverpool are defeated without playing well, some of the inevitable worry would feel justified.
Spurs themselves haven't yet set the world alight either, with wins against Newcastle, Fulham and Man United not all full of expansive football and dominance of possession, before losing at Watford in their last outing.
Matches between Liverpool and Spurs have become must-watch clashes and we are going to learn a lot more about this Reds team over the 90 minutes that take place in north-west London.
A victory would feel massive, a draw would be fine and a defeat in a tightly-contested contest wouldn't be a disaster. It is Spurs away, at the end of the day.
A limp loss, much like the one that occurred at Wembley last October, would suddenly make it five matches without catching the eye, though.
That would be worrying, regardless of Liverpool's healthy standing in the table.