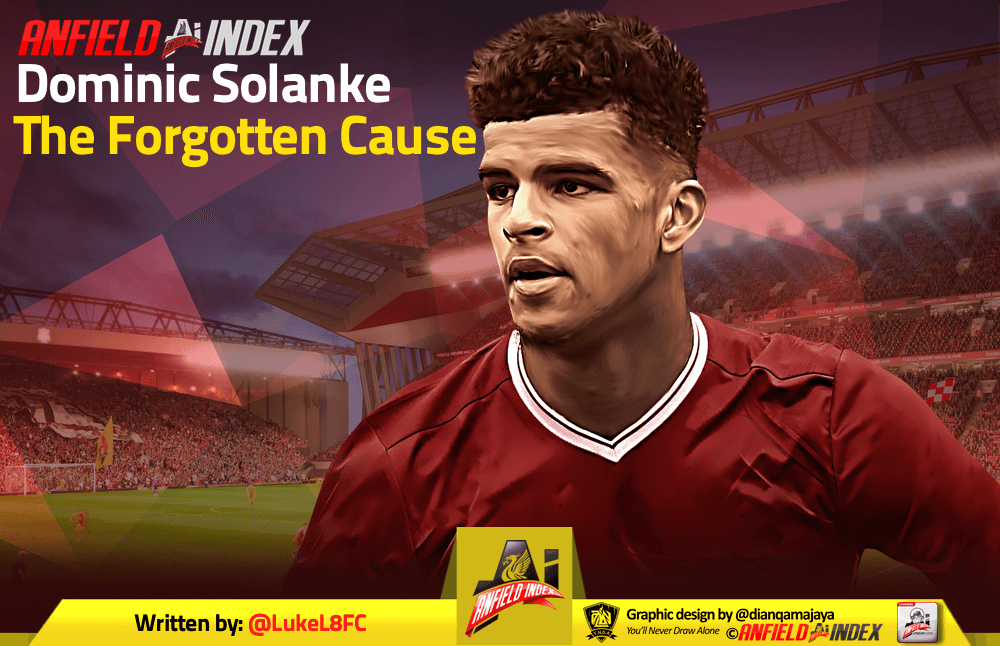 Dominic Solanke - The Forgotten Cause

Dom Solanke is yet to even be named in the matchday squad this season.
Having not played a game of football since pre-season, in which he did not particularly impress, this is only going to hinder the progress of the former Chelsea player.
In his debut season he managed to score one goal in 21 appearances, albeit most of them were coming on from the bench. In a way, the expectations placed on his head to come into games late on in the match and make an impact seem harsh for someone lacking in experience, especially playing at such a high level. That being said, this is Liverpool and if you are to make it here then you need to take your chances when they arise and quite frankly he did not. He found himself snatching away at chances and falling over his own feet at times on many occasions.
With the likes of Ryan Kent and Ovie Ejaria going up to Glasgow to join Steven Gerrard's Rangers, many speculated the 21-year-old would follow suit in order to get regular game time at a lower level of football and score goals which would breed confidence into him for his return to Anfield the following season. After all, that seems to be the conventional way of how big Premier League clubs try to enhance the progress of youngsters at the club who are not good enough at that moment in time to get sufficient game time. A fine example is Ben Woodburn, who has gone to Sheffield United on loan.
Instead, Solanke now finds himself down the pecking order behind Daniel Sturridge, who has revived his career at Anfield following an impressive pre-season, when he seemed set to move following a loan spell at West Brom, where he did not even score a goal in the league.
Solanke joined off the back of winning the U20 World Cup Golden Ball in 2017.
The assumption was he could kick on from that and be a useful tool in the box by coming on off the bench as an impact player.
At his age, the best way to reach your full potential is to play regular football getting minutes under your belt. This is something he did not obtain until the back end of last season with the run in Europe reaching the latter stages, the rotation was much needed for the weekend games against the likes of West Brom, Everton and Brighton. The proof was in the pudding regarding Solanke getting regular game time as he finished the season on a personal high having scored in the last league game against Brighton.
Maybe Klopp is going to turn to Solanke when the cup competitions call for rotation but whether it be playing in the Premier League, up in Scotland, in league two, or for the U23s, kids need to be playing football. Looking in from the outside, the words that sums up the way he has been managed since pre-season is negligence. I cannot fathom as to why if he is not even going to be included in the matchday squad why he has not been playing for the U23s.
Whenever and wherever his next game of football comes he is going to have at least five weeks' worth of rust to shake off. Simply, training drills are not the equivalent to real match experience, which is invaluable to young players. You only have to look at the English golden boy, Harry Kane, to see that. He had loan spells at four different clubs in the lower leagues before returning to White Hart Lane to fight for his place in the team.
Clubs know when they sign a player who is not yet the finished article, especially young players who have to come on leaps and bounds, they have to invest time, energy and faith into the players. This has been non-existent in the case of Dominic Solanke.