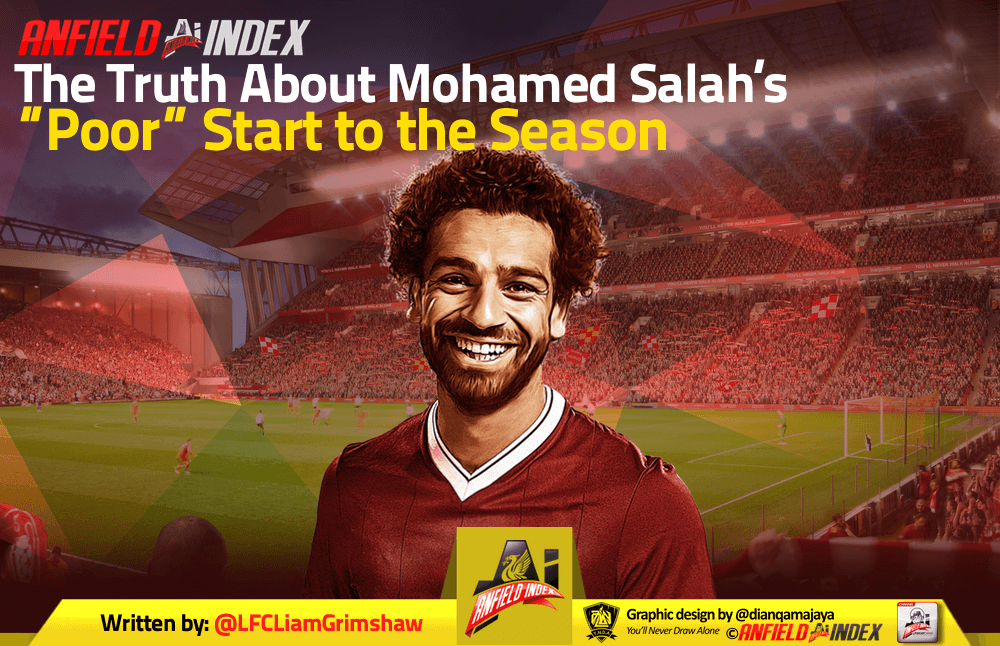 The Truth About Mohamed Salah's "Poor" Start to the Season
After a long and drawn out transfer saga last summer, Mo Salah joined the Reds with much optimism surrounding the Egyptian's arrival, but no one could predict what would happen as the season unfolded.
He managed a record-breaking 32 goals in the Premier League alone, unsurprisingly winning the Golden Boot, as well as claiming the PFA player of the year award. After such a fantastic debut season, the spotlight is well and truly on the forward.
As a whole, the Reds are yet to reach their devastating best, and particularly in their away games against Crystal Palace and Leicester, it was the defence that earned them the three points.
Of the fabled front three, only Sadio Mane has started the season as he ended the last, the dynamic, fluid play we are used to seeing hasn't been all there this season – but that's just another reason to be excited about the rest of the season.
Without getting anywhere near his best, Salah has managed to pick up two goals, an assist, and won a penalty. But the Egyptian forward continues to find himself in dangerous areas, just as he did last season, and it's only a matter of time before he finds his shooting boots again.
In fact, the Egyptian King has started this campaign much like the last. He has matched his return of two goals and an assist, to see any slight difference; you have to look beyond the basic stats. Salah's xG for the first four games of the season in 2018/19 was 0.77, just 0.01 lower than his debut season (0.78).
The figures so far show that even though opposing teams are aware of his brilliance, he is just as difficult to stop. His runs and movement are so difficult to track, even in the second half of last season, opponents knew what Salah offered, and how he played – but they still couldn't stop him.
Furthermore, over the first four games of the season, Salah has taken more shots than the first four of last (13 last season compared to 19 this). When you look back on the opening quartet of matches he has also missed some half decent chances, particularly from Keita's lobbed through ball against Crystal Palace, and early in the Leicester game.
As well as taking more shots, he has managed more key passes per game, which might indicate a slight change in his game – but rest assured, the goals will keep coming, perhaps not as frequently as before, but they will come.
Next up for Salah and co is Tottenham at Wembley. Last season he scored all three of the Reds goals against Spurs, and he will be keen to keep that run of form going.