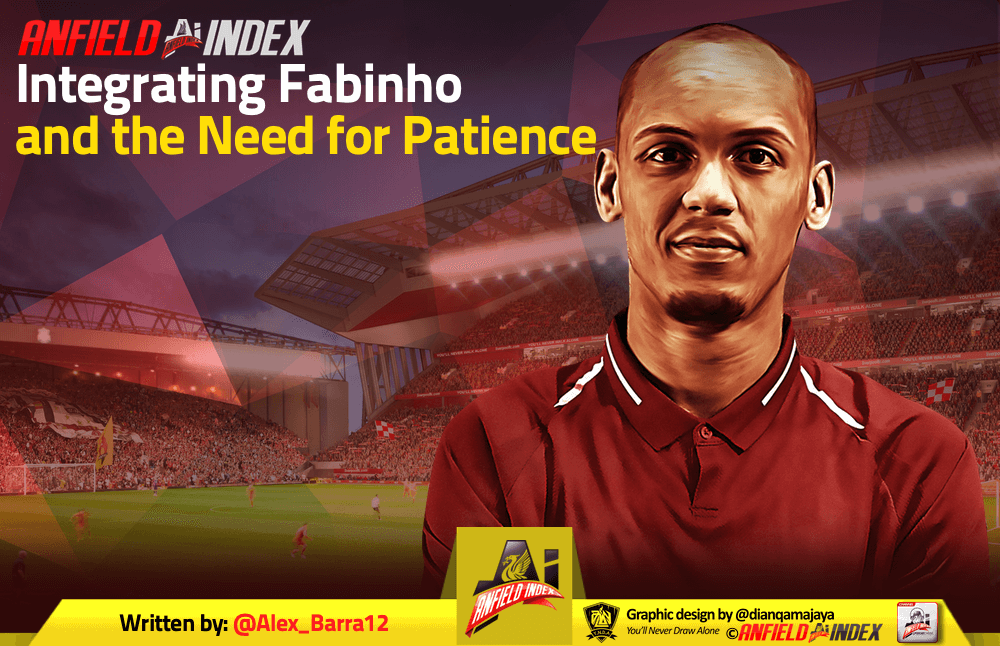 Integrating Fabinho and the Need for Patience
Patience isn't a word that gets heeded much in the modern era of football.
Instant gratification has been normalised and expected, and signings are often cast aside as "flops" in as short a space as six months. And that's fine because some signings don't work. But, if one casts their mind back to the final season of Brendan Rodgers' tenure, you'll notice that Liverpool's current number nine was far from the maniacal presser and vital fulcrum that he would become under Jürgen Klopp.
Mohamed Salah, too, was cast aside at Chelsea having not been given much of a chance under Jose Mourinho at Chelsea. His notable moments were sparse and included a goal in an 8-0 thrashing of Arsenal and not much else. Who would've predicted, then, that he would be on track to become the fastest Liverpool player to fifty goals in the club's history? The Egyptian is currently on a tally of 46 goals from 56 games, bearing down on Albert Stubbins' record of 77 games to reach the half-century.

So too, was Joe Gomez forced out into the role of fullback amidst an unfortunate series of injuries. Now, he looks assured and combative in the role of centre-half alongside Virgil van Dijk – so much so that he was many fans' man of the match in Liverpool's 2-1 win against Leicester.
So, with that being said, the insistence on Klopp taking his time to get Fabinho integrated into the first team setup at Liverpool is more than understandable.
"It is different football to what he is used to but he is improving already with big steps. I can see that in the sessions and that is cool."
Jürgen Klopp told Liverpoolfc.com; a similar tactic he used with the currently-flying Andy Robertson last season. It took the Scot all of three months to adapt properly to the marauding, press-heavy, up-and-down role that his manager wanted for him, and the wait paid off. Alberto Moreno's start to last season was impressive, but by November he'd lost his place to the then 23-year old, who hasn't looked back since.
It's not unreasonable to suggest Fabinho will do similar.
Perhaps three months is a stretch, given his pedigree upon arriving from Monaco, but the deepest midfield role is a difficult one in the modified version of gegenpressing that Klopp's most renowned for. Fabinho will need to fill in the space between the defence and midfield, as well as begin counter-attacks for his side and be aware of the intricate movements required in a coordinated press. It's not all that dissimilar from the task he performed at Monaco – obviously the reason Liverpool spent £40 million on the Brazilian.
He also impressed for Brazil during the international break, alongside another Brazilian who required some patience upon his arrival at Liverpool.
Roberto Firmino started life slowly under Brendan Rodgers, being stuck out on the right flank, a position that was unnatural. By the time Jürgen Klopp's half a season introduction to Liverpool had finished up, the Northern Irishman now long gone, Firmino had 10 goals and 7 assists in his first Premier League season.
Recent reports suggest Fabinho will make his full debut for the Reds against Paris St. Germain, the club who he was nearly sold to the summer before his move to Liverpool. Given his past experience playing against the French Champions, and the different tactical nature of the Champions League, it makes total sense for the Brazilian to debut in a more comfortable setting.
If he weren't, he may well have suffered from one the pitfalls of modern football: one bad game in his first five, and he's branded a flop. Klopp has been clever in the past in not rushing important signings into his first team, and Fabinho could well be another case of that being the best way forward. Liverpool are a big club, now far beyond the need for desperation.
Klopp lives outside of the bubble of instant gratification and "plug and play", and it should well pay off in the long-term.