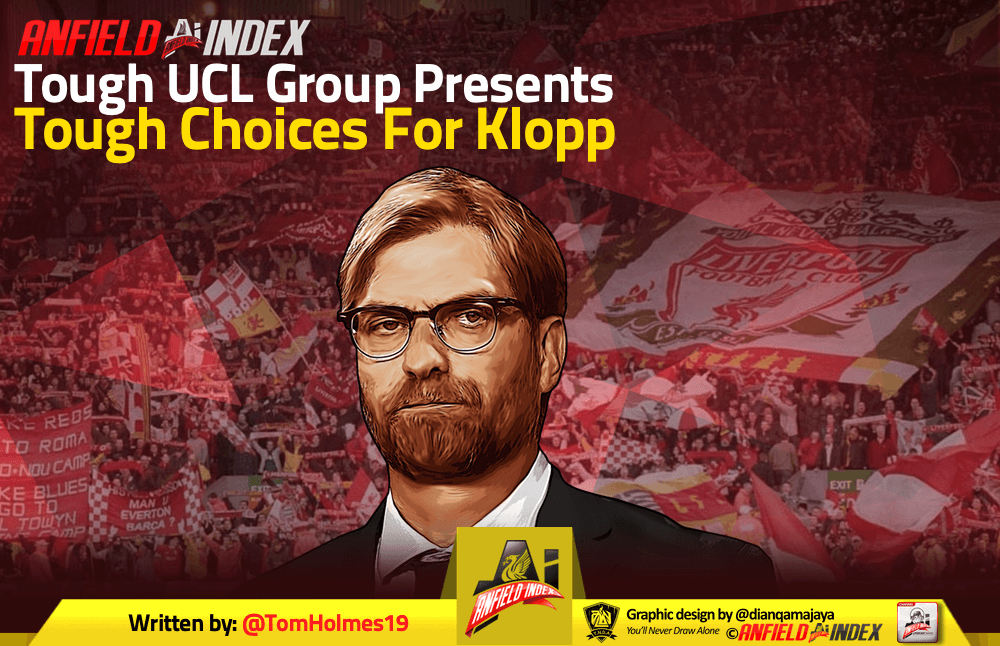 Tough UCL Group Presents Tough Choices For Klopp
Liverpool's Champions League campaign kicks off on Tuesday, with the automatic qualification to the group stage giving the Reds some breathing room in the opening few weeks of the season to focus on the Premier League.
The Group Stage draw didn't do Liverpool's Champions League odds any favours. In addition to an overmatched Red Star Belgrade, the Reds were placed with fellow title contender PSG and a dangerous Napoli side now led by Carlo Ancelotti. One of those three teams will be sorely disappointed to miss out on the knockout stage. That being said it's valuable to know that there's tons of betting info available out there before deciding who will progress from Group C. The Reds are now 12/1 to win the tournament and around 6/1 to reach the final, nearly three times as long as favourite Man City, which got arguably the easiest draw (Lyon, Shakhtar Donetsk, Hoffenheim). That said, if Liverpool carries its early Premier League form into the UCL, there's a good chance they qualify first in the group and earn a slightly easier Round of 16 matchups.
However, qualifying top of the group might not necessarily be Liverpool's number one priority, for a multitude of reasons. There's no doubt that the best chance for the Reds to sustain a long Champions League run comes from topping their group. But with the Premier League to factor in, and expectations higher this season, the real question is which competition Liverpool should be looking to prioritise.

Liverpool face a number of big games in the next few weeks, and that won't be the last time that that occurs this season either. And as we've seen, for the Reds to sustain form both domestically and in Europe will be a significant challenge and one that they have to consider when looking at their Champions League fixtures.
Last season, Liverpool faced Man United, Chelsea and Spurs away after Champions League mid-week fixtures and lost all three games, turning in three of their worst games of the season. If we see a repeat of that against the likes of Man City next month or Man United further down the line, it could seriously set back Liverpool's Premier League ambitions.
This article isn't necessarily suggesting that we should try and throw the Champions League, which would be ridiculous, nor is it suggesting we should give up trying to win the league title after five or six games, especially after the positive start that we've made. I'm not even suggesting it would be beneficial to our season for us to crash out of the UCL at the group stage, although that would probably end up being the case.
The point here is that a tough group stage merely compounds the question of priorities. With Napoli away and City away just four days apart, on top of the Chelsea, Spurs and PSG games, we are going to have a lot of rotation or risk a burnout, and similar performances to last season in certain big away games. The issue is that rotating players has also cost Liverpool points, as our league form fell away dramatically in the latter stages of last season, winning just two of our last six league games was the cost of reaching the Champions League final.
Having a stronger squad will undoubtedly help – both in the sense of having a stronger starting eleven and a deeper squad – with a crucial upgrade up front and having Fabinho and Keita added to the midfield makes rotating that area easier. But with Can gone and Ox injured, and the centre-back area already looking threadbare, Klopp may find himself in situations where he has to choose which game, and which trophy, he is going to prioritise or risk losing out on both. Last season we were able to secure top four and reach the Champions League final, but sustaining similar Champions League form when our draw is already significantly harder AND significantly improving our Premier League form requires more than just a stronger team, it will require something truly special, and something that may well be beyond this Liverpool team at this stage.
So Klopp faces some tough decisions ahead, and that begins this week, with his team selection against PSG, knowing what is around the corner. Hopefully, he finds the balance, we get a bit of luck, and this team can indeed produce something special. YNWA.