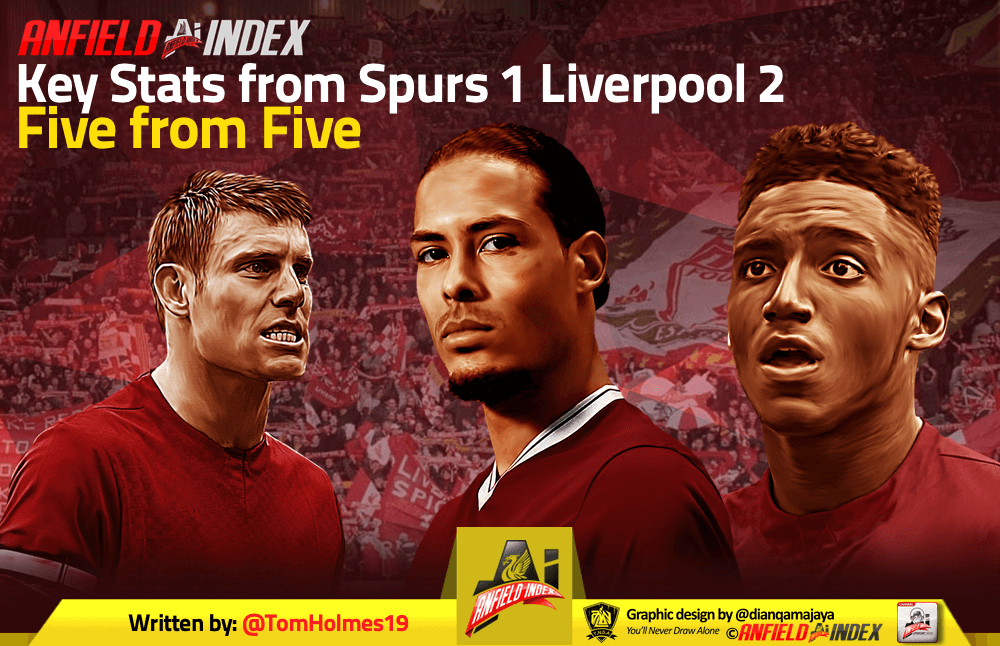 Key Stats from Spurs 1 Liverpool 2 - Five from Five
Liverpool did enough to see off Spurs 2-1 in an exciting game at Wembley. But what were the key stats from Liverpool's fifth win in five league games?
Spurs' Defence Falls Apart
Liverpool ended up scoring twice, with both goals contributed to by shocking goalkeeping errors. But it could and should have been more for the Reds but for poor play in the final third. Their expected goals was 2.98, with three big chances. Admittedly this is skewed by Bobby's goal, which had a 0.93 xG, but both Keita and Salah had big chances to kill the game.
Mané was key to it, with five shots worth 0.52 xG and two key passes worth 0.57 xA, as well as winning six free-kicks but Salah once again had a strange game, missing 0.79 xG and accruing 0.27 xA from three key passes. Overall, this was another solid but unspectacular attacking performance from the Reds, and once again it was good enough for the three points.

Milner Runs The Midfield
Liverpool's midfield turned in a strong performance, with Wijnaldum scoring his first away goal in the Premier League on top of a solid defensive performance. But once again the main man was James Milner. With three key passes, five tackles, and the second most passes in the team (46 behind Robbo's 47), he was critical to turnovers and to the press.
Defensive Solidity The Order Of The Day
There's something extremely satisfying about getting to write about Liverpool being strong defensively for the fifth game in a row. This is getting repetitive, as for the fifth game in succession, the Reds conceded less than one expected goal (0.79xGA), with the Reds now conceding just twice in their five games and allowing just 2.94xA, the bedrock of their side and the best defence in the division.
Spurs didn't create a single big chance, limited to eleven shots, three on target, and seven shots in the box. Liverpool defended very well, even Spurs' chances inside the box were not clean efforts at goal because of their defending, with Joe Gomez statistically good with three tackles, four out of five aerial wins and three clearances and the back four only dribbled twice collectively.
Away Wins Step Things Up
Liverpool clocked their third away win in a row, something that they achieved just once last season. Whilst their away form was pretty solid in 16-17, winning tough away games was difficult for them in 17-18, as they picked up just one point against the top six away from home last season, a tally that they have already tripled this. With five wins out of five now, the Reds are starting to break records for their own PL form, and hopefully, this will keep on going.