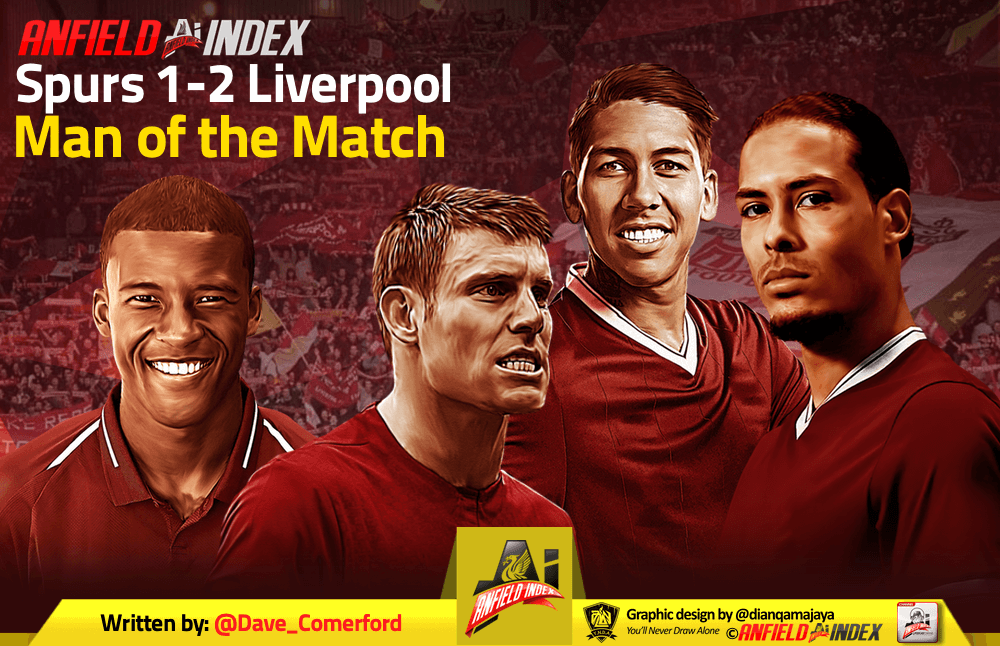 Spurs 1-2 Liverpool: Man of the Match
A late Tottenham Hotspur goal made for an unnecessarily nervy finish at Wembley, but the eventual 2-1 scoreline certainly belied Liverpool's dominance.
The Reds were, for the most part, in control against one of the best teams in the Premier League. They were able to repel Spurs' relatively rare attacks and sliced open an oft-revered defence repeatedly. At 2-0, there was a period of superb game-management which saw the match very nearly grind to a halt.
Only a combination of wastefulness and selfishness (Mohamed Salah and Sadio Mane, the culprits) prevented the kind of rout which would have sent shivers down the spine of the Reds' rivals.

It was a much better team performance after they scraped past Leicester before the international break, but only four players stood out.
The first was, unsurprisingly, defensive colossus Virgil van Dijk. In a dominant display, he rose highest to clear the danger relentlessly and exuded a calmness nobody, either on the field, in the stands or on the sofa, could match.
Again, he left fans considering whether he possesses any weaknesses. Not even the most ardent Red Devil could come up with a legitimate one.
The Dutchman was uncharacteristically rash at times when Leicester applied the pressure, but this was a swift return to immaculate form.
Nearly a year on from a gut-wrenching defensive meltdown at Wembley, Liverpool were able to effectively shackle the likes of Harry Kane, Christian Eriksen and, aside from one or two lapses, Lucas Moura. Van Dijk can take a huge amount of credit for that renewed solidity.
Another star performer was Georginio Wijnaldum, the headline, of course, being his (very) long-awaited first ever away goal in the Premier League.
However, that powerful header is of secondary importance. What matters is how well he has grown into that no.6 role, and how he passed his first real test in the position with flying colours.
Wijnaldum has served a variety of different functions in the Liverpool midfield, but he looks at home at its base. Club captain Jordan Henderson and £40million signing Fabinho were both among the substitutes, kept out of the side once again by an unlikely usurper.
In attack, Roberto Firmino was excellent. He will never score an easier goal, even when he produces his next 'no-look' finish, but it was a reward for yet another tireless display.
It was a fine all-around performance – one goal, one chance created, two clearances and three tackles – and the kind of display which makes you realise just how fortunate Liverpool are to have one of the most complete forwards in the game.
Firmino has needed time to build his fitness after a World Cup-disrupted pre-season, but he now looks to be nearing his best. And as he improves, Liverpool's output will increase markedly.
Man of the match, though, goes to James Milner – always a contender, today a clear victor.
Milner has so much enthusiasm for the battle in the heart of the midfield, and he was warlike at Wembley, overpowering his opponents.
He's been playing first-team football for close to 20 years now, and that vast amount of experience is abundantly clear. His knowledge of the game is impeccable, as is his decision-making. He is a model of maturity and understands the art of game-management better than any of his team-mates. That steeliness could be absolutely critical.
There should no longer be an air of incredulity when baffled pundits suggest he is getting better with age. The improvement is obvious. In the last six months, he has reached another level, both in terms of his ability and his performance.
Criticism has always been rare, but praise has never been quite this widespread. Milner is more now than the reliable, understated midfielder we knew he was when he arrived.
His job in the midfield is complex and multifaceted, but he carried out it perfectly against Spurs.
He both fuelled Liverpool's attacking threat, making three key passes and delivering four crosses, and shored them up defensively by executing five tackles and producing two clearances.
And, inevitably, he covered more ground than anybody else.
In sum, then, Milner's levels of consistency are robotic, and his performance levels are scarcely believable, given that many players are well into their decline at his ripe old age.
The superlatives are running out. But let's end on a few more. Milner is the most elite professional in the Premier League, he is up there with the biggest bargains in recent history, and this season, he has just about been the best of Klopp's five-for-five bunch.