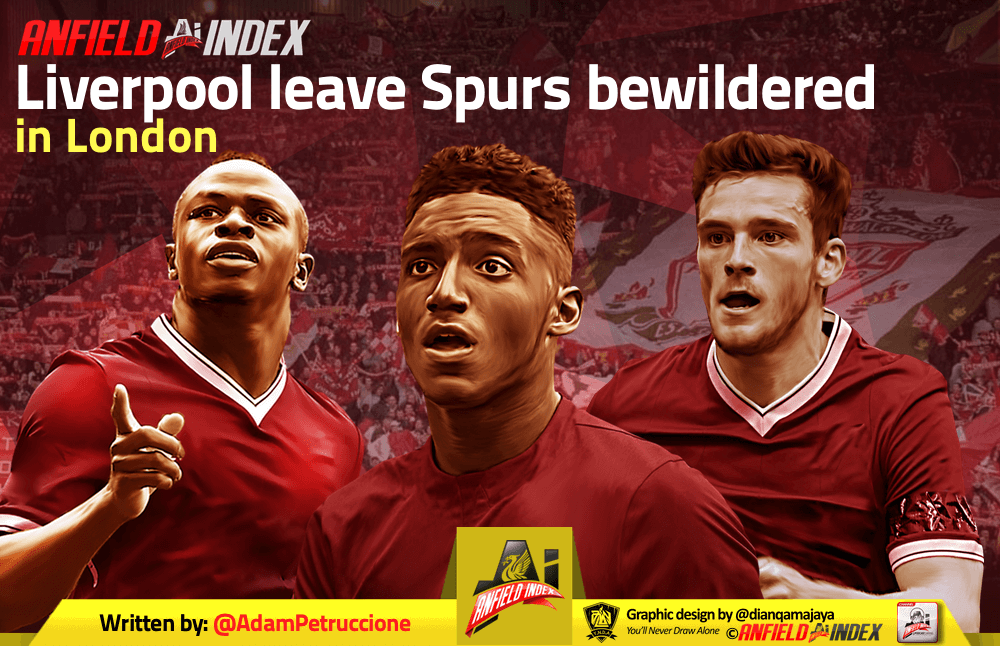 Liverpool leave Spurs bewildered in London
Liverpool aren't technically top of the table, surpassed by Chelsea on goal difference as the sun goes down on this Premier League Saturday. The Reds are, however, undefeated, having only allowed two goals in five and eased past Spurs in London. Liverpool now have more away points against top-six opponents than they amassed in all of 2017/18.
IN A NEW YORK MINUTE…
OK, a London minute, but just a few seconds in we got a very good idea that everything had changed since the last time Liverpool faced Tottenham at Wembley. An inch-perfect Milner cross from the right touchline found the back of the net, but Mané was ruled offside. It was immediately apparent, that Vorm was vulnerable, Milner was dialled in, and Mané was bitten by the inconsistency bug.
LUCK FAVOURS LIVERPOOL
At the 8′ mark, Eriksen whipped in a free-kick that Alderweireld had a free run at, but his header went wide. Had he hit the mark there, this would have been a much different match. Liverpool dominated the proceedings, but in the critical moments, things went the Reds' way.

Liverpool's first came from a relatively unremarkable Gini Wijnaldum header. We all know that if there is one rule for Liverpool away days, it is that Gini Wijnaldum is not allowed to score. Michel Vorm didn't get the memo and the ref's special watch did buzz, judging the keeper to have been well inside his own net when he made the save.
Without even a celebration, play resumed and moments later Mo Salah had put Gini through on another promising sequence. As Wijnaldum started doing step-overs on the edge of Spurs' box, the entire universe of Liverpool supporters thought in unison, don't get greedy son. (Gini did not score.)
A final bit of luck hit before the final whistle as Sadio Mané tripped Son from behind. Replays showed what looked like a missed penalty call from the refs. Let's not even contemplate what Twitter would have looked like had that gone the other way.
JOMEZ FLASHBACK
After another supremely dominant half from Gomez, the ball is angled out towards Lucas on the Spurs left. Joe Gomez got on his bike and gave chase out past the edge of the 18-yard box. The phenom hadn't even slowed himself down before he was looking over his shoulder at Moura. The Brazilian wasn't satisfied with one scalp as he sauntered past Trent Alexander-Arnold and fortunately pulled a shot just wide of the post.
Had Lucas been a hair more accurate, it would have been 1-1 there. The move was reminiscent of some of the worst moments for Gomez last season when similar diagonal balls to tricky wingers were his undoing. The silver lining is that Gomez immediately got his head back in the game, returning to his recent run of incredible form. Gomez' recovery pace in the closing minutes left Spurs attackers frustrated on possession after possession.
ROBBO TO SADIO
Aside from Michel Vorm again making a mess of things, the key to Liverpool's second goal was a sublime chip from Andy Robertson to send Sadio Mané streaking down the left. The ensuing scramble on the left side of the Spurs' 6 yard-box gifted a goal to the waiting Bobby Firmino.
Robertson played a more conservative role than we're growing accustomed to, but still managed the most touches on the team, and the hockey-assist for the winner. What a player. What a club. Bring on PSG.