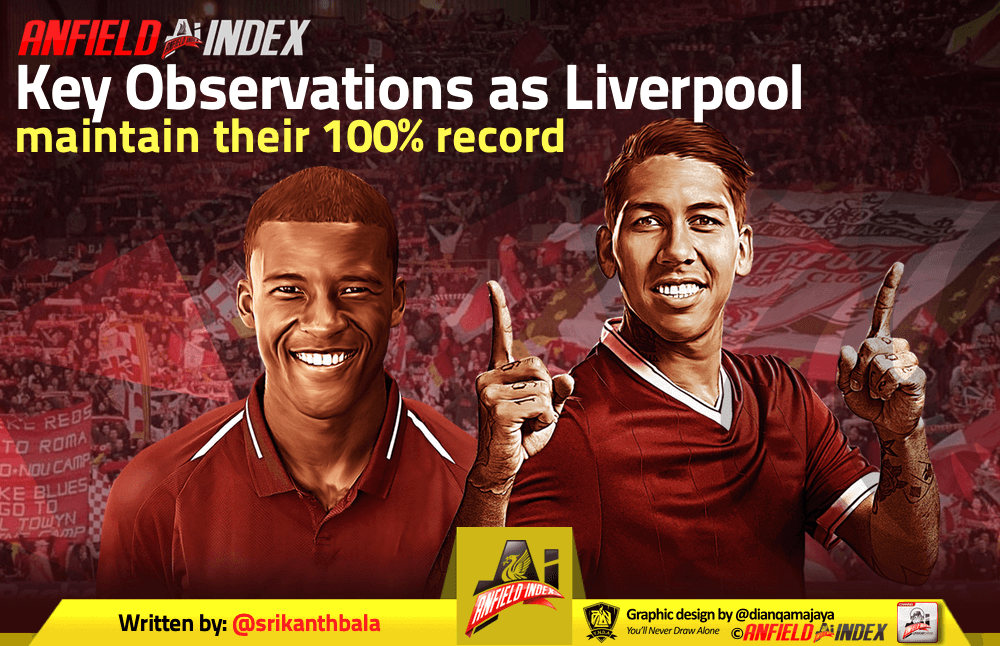 Key Observations as Liverpool maintain their 100% record
Liverpool continued their winning record as they won the 5th game in a row to join Chelsea at the top of the table. This start is their best start in the league in over 25 years.
The key observations are as follows:
Liverpool pass their biggest test yet
Liverpool came into the game with 100% record but more importantly looking to redeem themselves against Spurs at Wembley. This was the game last season where Liverpool were soundly beaten, yet kick-started their renaissance which led to the Champions League final last season. Liverpool were deserved winners as they continued setting the benchmark at the top of the table. Liverpool enters a clustered fixture phase now, hence the start becomes even more important.

The tactical battle
The midfield battle from either side was more or less cancelled out with how the teams lined up, but it was interesting to see how the teams tried to exploit each other.
Spurs tried to beat the high line of Liverpool with them repeatedly trying to hit balls over the top of the defenders and hoping for the pacy Moura to capitalise.
Liverpool on the other hand repeatedly tried to expose the space left behind by the full-backs from Spurs. Liverpool with their pressing often won the ball high and immediately passed it to Salah or Mane who occupied the spaces behind the full-backs often leading to a 2v2 battle.
Gini's day away
Wijnaldum finally broke his away game hoodoo, scoring his first premier league away goal on his 58th appearance. His big goal, coupled with another solid performance in midfield capped off a solid performance from the midfielder. Wijnaldum's last 2 goals have now been away goals. Sounds unbelievable.
The misfiring forwards
Yet another game, yet another struggle for Salah and Mane. Lots of adjectives like composed, gritty, and professional have been associated with Liverpool. What is missing is words like 'deadly','flair'. Salah and Mane flattered to deceive yet again with their poor decision making. Salah often shot when he could have passed, while Mane dilly-dallied on the ball when a quicker pass could have caused more trouble. Liverpool could have easily won at a canter if they were on the money.
The Liverpool front line were redeemed by Firmino though, with an outstanding performance as the false 9. Firmino repeatedly dropped deeper to win the ball and often initiated counter attacks with his excellent control and decision making under pressure. A deserved goal capped off a performance which was unfortunately cut short by an eye gouge. Luckily he often does not need to look to score (No Look Bobby!)