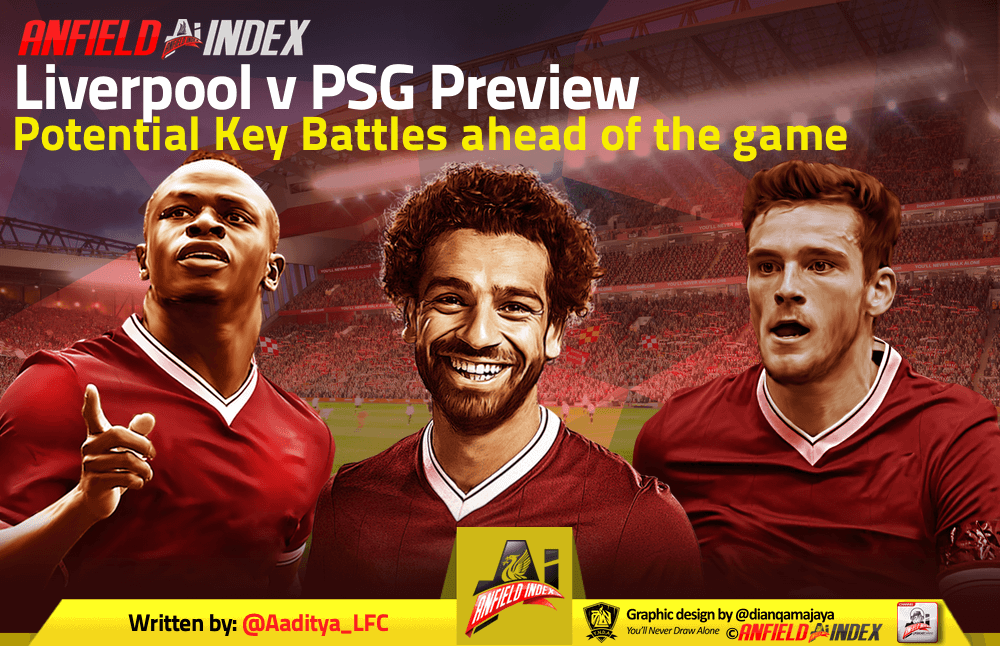 Liverpool v PSG Preview - Potential Key Battles

After a perfect start to the Premier League season, a confident Liverpool will get their UEFA Champions League campaign up and running, with a mouthwatering clash against French Champions Paris St. Germain at Anfield on Tuesday night.
Liverpool are in what is perceived as one of the groups of death, so it is imperative that they get their campaign off to a positive start, in front of what will be a typically raucous European night crowd at Anfield.
Jurgen Klopp will not have too many concerns heading into the game, but the Reds will need to get out of the second gear that they've coasted along in, in their opening five Premier League games. There are concerns though, over the availability of Roberto Firmino, who picked up an abrasion in the eye in a tussle with Jan Vertonghen on Saturday at Wembley.
For the French side, there are concerns of their own, with both Gianluigi Buffon and Marco Verrati suspended, having carried forward suspensions from last season's knockout round.
Thomas Tuchel, the new PSG manager, will not have happy memories of his only trip to Anfield when his Borussia Dortmund side were spectacularly knocked out of the Europa League in 2016.
Here are the key individual duels to watch out for during the game.
SADIO MANE v THOMAS MEUNIER
Against Spurs at Wembley, Mane had an off-day, with respect to his decision-making in the final third. In a game that was uncharacteristic of him, he dwelt on the ball for a little too long in the final third and several presentable opportunities were spurned.
On the flip-side of the argument is that he was always in the right positions to cause a presentable threat to the Spurs defence, so there is little to worry, apart from the fact that he had an off-day.
Last season, Mane made it a point to have his best games on European nights, so the Reds faithful will be hoping that he can put the blemish of Saturday behind him, and restart doing what he does best.
In the absence of long-term absentee Dani Alves, Meunier will be the right-back for PSG, and his task will be cut out, as he looks to defend the threat of what has been the Reds' stronger attacking side this season.
Andy Robertson is a willing runner who will always be available on the overlap, and Naby Keita has shown the tendency to get forward on the left flank as well.
Mane has shown a fabulous understanding with both those players, so Meunier will definitely need help from those around him, especially young Kylian Mbappe who is touted to start on the right wing for the French side.
If Firmino is absent as well, there will be an extra pressure of responsibility on Mane, and it is something the Senegalese does thrive on. After an indifferent day in London, Tuesday presents an ideal opportunity for Mane to shut down the detractors.
ANDREW ROBERTSON v KYLIAN MBAPPE
The Scot has made himself a presentable case of being called the best left-back in the Premier League right now. So, on Tuesday, he will relish the opportunity to go up against the hottest young property in world football.
Ever since bursting onto the scene with Monaco in the 2016-17 season, Mbappe's stock has only kept rising, and he will play in one of the biggest games of his club career at Anfield.
Along with Neymar and Edinson Cavani, Mbappe forms an attacking triumvirate as fearsome and potent as the Reds' own, so the Liverpool defence will have to be watchful all evening.
Maybe a little bit of his attacking intent might have to be shelved for a more pragmatic approach against the deadly pace and power of the young Frenchman, who terrorised full-backs throughout the World Cup.
There is also the interesting dynamic of rest. Robertson played only three days ago against Tottenham, while Mbappe was suspended for PSG's 4-0 thrashing of St. Etienne at the weekend.
But if there's one thing Robertson has shown, it is his willingness to take challenges head-on. One can rest assured there won't be a backward step from the Scot, and it will be up to Mbappe to use all his skill and trickery to get the better of one of world football's most improved players over the last one year.
MOHAMED SALAH v THE PSG LEFT-BACK
Indifferent might be an appropriate term to describe the start that Salah has had to this season. With Layvin Kurzawa out for the French side, it is the perfect opportunity for Salah to strike peak form again.
PSG will start either Stanley Nsoki or Juan Bernat at left-back, and either of them will not be having a peaceful sleep ahead of the game. During his time at Bayern Munich, it was well-documented that Bernat was not a very good defender, with his strengths as a full-back lying further up the pitch.
If Tuchel decides to play Nsoki ahead of Bernat, that is another risk, given the 19-year-old has not played in a match anywhere near this magnitude before.
Like Mane, Salah's biggest drawback this season has been holding on to the ball for too long, instead of the conviction and clarity of his decision-making that we saw last season.
But again, there will be no concerns from any one of a Liverpool persuasion just yet. When things fall into place for this Liverpool attack, they can terrorise any defence in the world. PSG and Thomas Tuchel will hope Tuesday night is not the time and Anfield is not the place for it all to come together again.