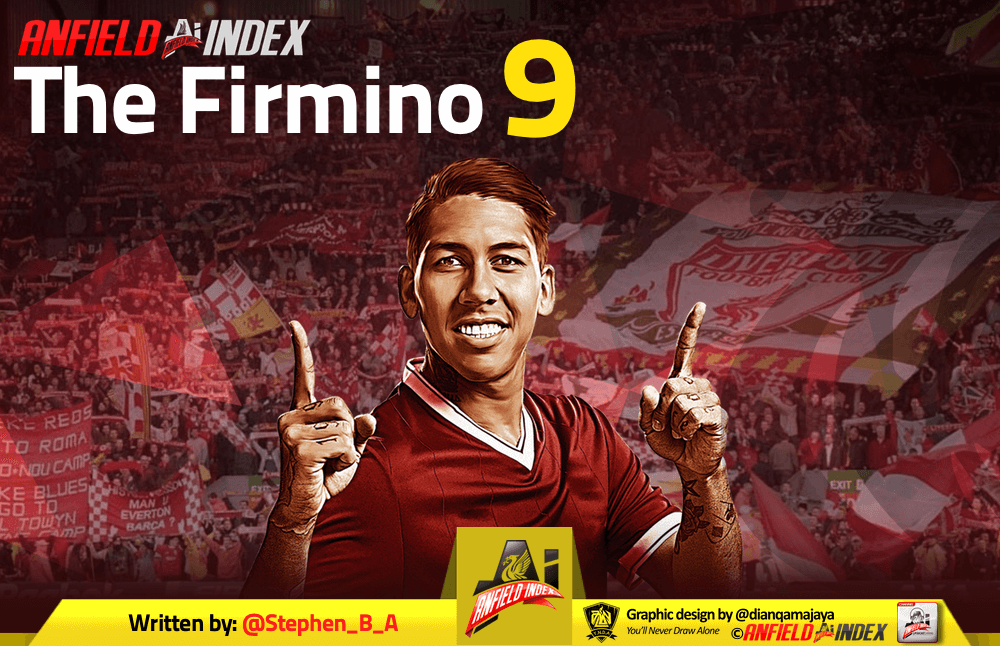 The Firmino 9
Roberto Firmino was the perfect the false 9, then Klopp's number 9 and now the Firmino 9.
Has Bobby redefined the centre-forward position for Liverpool during Klopp's tenure?
When Liverpool signed Firmino from Hoffenheim, he was known as a goal scoring attacking midfield. Under Rodgers, he played as a wide forward and didn't appear to be favoured by the manager, but the arrival of Klopp bought a clear and defined role for the Brazilian.

Jurgen Klopp was a fan of our talisman, from day one he took to Bobby's insane work rate and unpredictable talent and put him straight into the thick of the action. Though he wore the number 11, he was very much a false 9. Dropping deep into the number 10 pocket, where off the ball he harassed defensive midfielders and centre-backs for his amusement. It was quickly clear what his role was going to be.
Firmino didn't set the goal scoring charts alight in first 18 months under Klopp, picking up 11 and 12 goals in his first two seasons at the club. His tenacity, ability to understand when and where to trigger the press and his ability on the ball once the position was won was key. Firmino was so deadly in winning the ball or putting opposition defenders under pressure, AI's Simon Brundish often referred to him as Liverpool's DM — it was just that he defended our centre backs from just outside the opposition box.
On top of his defensive contributions, Firmino added more than goals to the forward line. Though 11 and 12 goals were nothing to write home about, he ability to pull defenders out of position helped LFC's other forwards excel. It's not surprising that Phil Coutinho's most consistent period for the team came during the little over two years he played alongside Bobby and under Klopp. Culminating in 14 goals in the 2016/17 season and a return of 12 goals in 20 games in the first half of the 2017/18 season.
Roberto Firmino's transition to a false nine also helped the integration of Sadio Mane in 2017. Signed as a goalscoring winger, who had a reputation for being inconsistent and lazy, Mane bagged 13 goals from the right of the new front three and looked an astute signing. He benefitted from Bobby's ability to win the ball high and play passes to get the speedster in behind opposition defences, along with his unpredictability which would leave defenders out of position.
Firmino was very quickly becoming a cult hero for Liverpool fans around the globe.
Last summer it was announced that Roberto Firmino would be giving up his number 11 shirt for new signing Mo Salah, and would take up the iconic number 9 shirt. Fans and pundits alike had been calling for Liverpool to sign a new centre-forward to score the allusive 25+ goals a season Liverpool needed to kick on. Little did they know that the introduction of Mo Salah and the next evolution of Bobby's role would see him become that player.
The Brazilian was given a new role. He would not only wear the number 9, but he would now lead the line. With Sadio Mane and Mo Salah playing as inside forwards or inverted wingers, Firmino became the glue of a front three that scored a combined 91 goals.
Firmino's new role still involved him dropping into the hole between the defensive and midfield, but more the evolution also lead to him being involved in and around the box more than ever. His link-up play with Salah was almost telepathic at times, and by playing further up the field, he finished the season on 27 goals. Yes, he still dropped deep and created space for the immense pace of Mo and Mane, but there was no debate now whether he was a striker or not.
Where does he go from here?
Coming into the 2018/19 season, Firmino was back in the starting XI quicker then many of us expected following the World Cup. And as the season has begun to develop, so has Firmino's role once again.
Against Brighton, Palace and Westham the front three took on a new shape again. At times Firmino was so deep, and Mo and Mane were so narrow that it looked like Klopp was trying a diamond midfield on the break. Out of position, the Brazilian would be back to his old tricks pressing from the front with the other two reverting into their wide roles.
Against Leicester and their more physical centre-halves, and Tottenham Bobby reverted to his role last season. He played as the higher and more central forward when on the ball, and off the ball he chased and challenged the opposition DMs, including helping Eric Dier capitulate at the weekend. If Salah had his shooting boots on Liverpool would have scored another 2 or 3 against Spurs. Firmino's positioning also leads to him being exactly where he was needed twice in the game. The first time barely 90 seconds in, where he flicked the ball into the bottom corner – only for Mane's offside run to mean a disallowed goal. Then, when we started to feel like our forward line was a little blunt, he popped up exactly where you would want him for a tap in — the quintessential strikers' goal.
Roberto Firmino with his tattoos, haircuts and dress sense, isn't one to conform off the pitch. On the pitch he's no different, where he's neither a false 9, a complete forward or a poacher — he's Bobby Firmino's number 9.