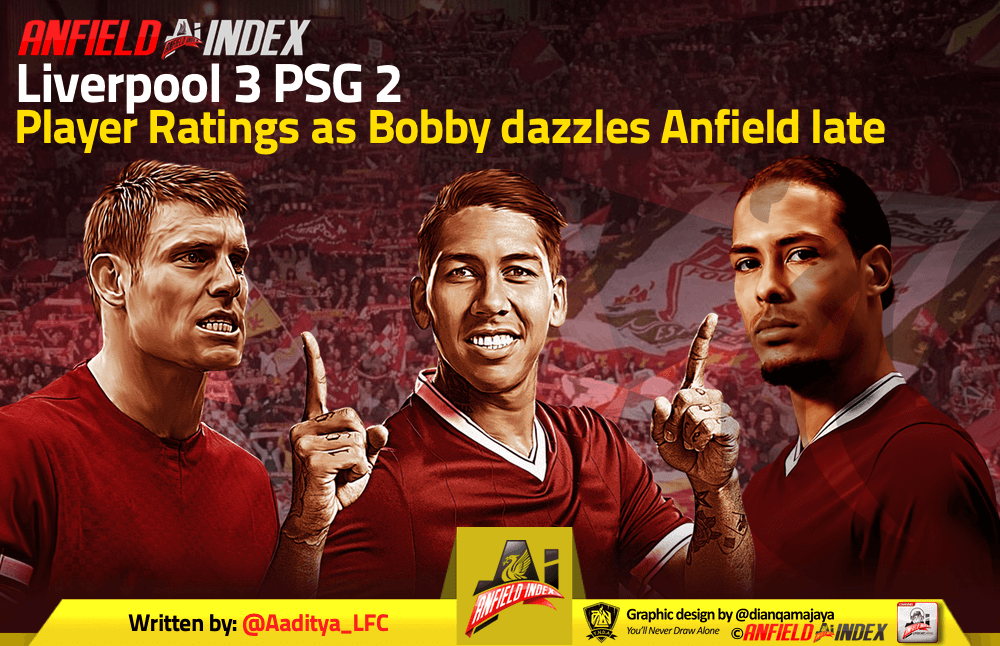 Liverpool 3-2 PSG: Player Ratings as Bobby dazzles Anfield late
Liverpool made Anfield fret, but Liverpool had more late European drama at Anfield, as an injury time winner from Roberto Firmino gave the Reds a 3-2 win over Paris St. Germain and a winning start to their Champions League campaign.
Daniel Sturridge's header and James Milner's penalty put the Reds on course, but Thomas Meunier pulled one back for the French champions before half-time. Kylian Mbappe looked to have recovered a point for PSG when he scored in the 83rd minute, but Firmino, with the eye abrasion and all, had the last laugh.
Here's how each player fared for the Reds.

Alisson Becker – 6/10
He made a fantastic early save off a Neymar shot. But he did have a couple of nervy moments with his distribution. Nothing he could have done about either PSG goal.
Trent Alexander-Arnold – 6/10
He was given the freedom of the right flank all evening, by Neymar's adamance to not track back. He didn't make the most of it, as his final ball was largely found wanting. Defensively, he was strong against Neymar.
Joe Gomez – 7/10
Once again, he didn't put a foot wrong. He was strong in the air against Cavani, and read the movement of Cavani and Neymar brilliantly. His strong start to the season continues.
Virgil van Dijk – 8/10
An absolute colossus for all apart from one moment, when he was a little timid in challenging Neymar and the ball broke for Mbappe to score. That aside, he was absolutely magnificent.
Andrew Robertson – 7/10
Against the explosiveness of Mbappe, the Scot held his own. As fellow AI Contributor Henry Jackson said, Andy Robertson does not do less than a 7/10.
Jordan Henderson – 8/10
The skipper's place in the starting XI was questioned by all and sundry, but he was magnificent. From the first minute, he was eager in the tackle, pressed brilliantly, and snuffed out PSG's attacking threat beautifully.
James Milner – 9/10
What is he made of? No really, what on earth is this man made of? An absolute machine buzzing all over the pitch, and using his experience brilliantly. Calmly dispatched his penalty too.
Georginio Wijnaldum – 8/10
Wijnaldum was also brilliant in a Liverpool midfield that, to a man, did their jobs to perfection. He drove forward a lot more in this game and used the ball very intelligently. Won the penalty for Milner to score as well.
Sadio Mane – 6/10
He started off really brightly, then waned for about 70 minutes, and then did brilliantly in the last ten minutes. He was unlucky to see a brilliant solo run not end in the back of the net, as Areola saved his shot.
Mohamed Salah – 4/10
Poor. He was lacklustre in possession, didn't look sharp in the final third, and in the second half, began to needlessly give the ball away. It was one such aimless square ball that PSG pounced on to score their second.
Daniel Sturridge – 7/10
Welcome back, Daniel! Anfield has missed that. It was an expertly taken centre-forward's goal, as his movement got himself between the two centre-backs and in perfect position to smash a header past Areola. Should've scored with another header in the second half as well.
SUBSTITUTES
Roberto Firmino – 8/10
With one and a half eyes, he scored an absolutely brilliant match-winner. The ability and awareness to run into the box, check on to his left foot and then check back on to his right foot was one thing. The unerring finish into the bottom corner quite something else.
Xherdan Shaqiri – 6/10
He looked sharp in the ten minutes that he played. That first start shouldn't be too far away.
Fabinho – N/A
Debut!