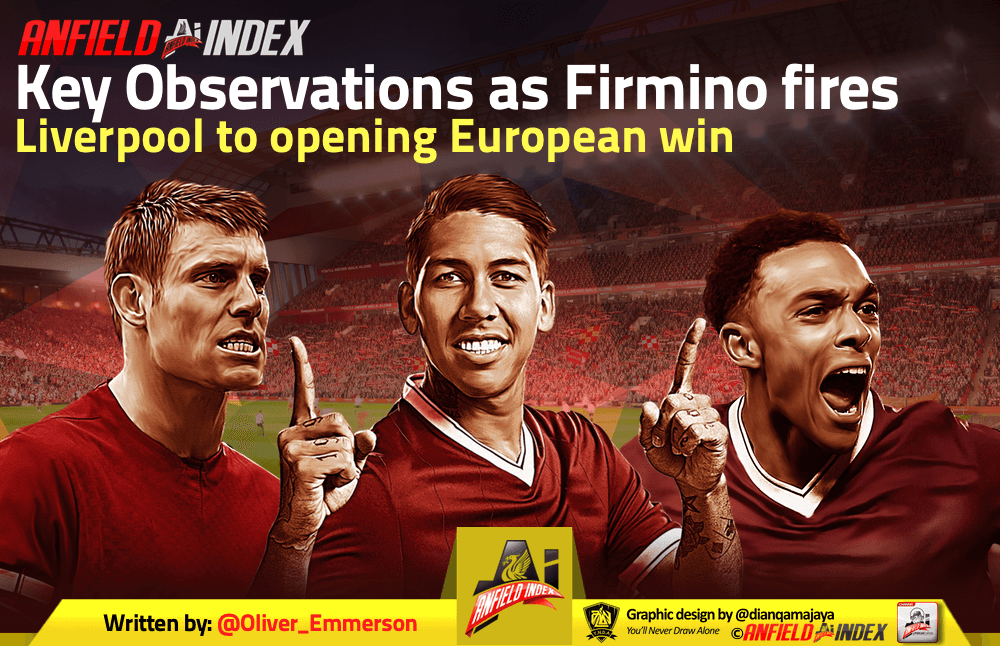 Observations as Firmino fires Liverpool to opening European win
And breathe. Liverpool are up and running in Europe once again by virtue of Roberto Firmino's last-gasp winner against PSG at Anfield.
Three points that looked as if they'd been lost wrestled back by one moment of genius from the Brazilian – who needs more than one eye?
Speaking of eyes, here's what I saw with mine.

An expected score in an unexpected manner
That was a weird one. If you'd told me ahead of the game that Liverpool were going to a couple of goals up before being pegged back, with Firmino bagging a late winner, I'd have been setting myself up for an end-to-end thriller with chances galore.
What we got was quite the opposite.
Liverpool enjoyed long spells of possession, especially in the second half, with PSG's two goals coming as a result of a marvellous snap-shot and one flick off Virgil van Dijk setting up Kylian Mbappe.
The Reds' first two goals themselves came from wide areas as a result of persistent pressure rather than a cutting counter attack. The second from the penalty spot as a result of Juan Bernat's silly challenge.
This game had the goals expected, but not in the way most were suggesting they'd come.
James Milner is Liverpool's midfield enforcer
The 'midfield enforcer' is a role scarcely seen in modern football, but James Milner is embracing his role as Liverpool's.
Despite what Gary Lineker says, age will slowly get the better of Milner to an extent as his body clock ticks down. However, he's adapting his game well to keep himself vital in a Liverpool side challenging on all fronts.
Thumping in to win five tackles over the course of the 90 minutes, an early challenge on Neymar set the tone for an evening where PSG's star-studded front three looked completely disjointed from those defending in numbers behind them.
Milner is an experienced pro and he's developed some nous over the years for knowing where he can make a tone-setting challenge without picking up a yellow card or even a foul at times, something Liverpool have been screaming out for since the days of Javier Mascherano.
Another superstar pocketed by TAA
Another day in the life of Trent Alexander-Arnold, another superstar put firmly into his pocket. Neymar got some joy out of the Liverpool team, especially for PSG's equaliser, but had nothing from Trent down the right.
Winning five tackles, a couple of those against Neymar, the 19-year-old once more looked like he'd been beating down such opposition for a decade.
Adding to that, it wasn't even in defence where the right-back was at his most impressive. With Neymar's careless positioning offering Trent acres of space down the right, there were multiple crosses, dribbles and intricate passes into Salah that highlighted his capability on the ball.
One cross, in particular, should have been buried by Sturridge to make it 3-1, a perfect ball in from the right undeservedly denied an assist as the striker couldn't quite make the right connection.
Rabiot well worth looking at
In a game where PSG's 'back 7' often toiled in the adversity of Liverpool position, muted target Adrien Rabiot looked slick in midfield.
Going on a free next summer, Rabiot's willingness to press – albeit often unaccompanied – and confident passing style made him look a player that would fit right into Jurgen Klopp's squad.
Completing 88% of passes, Rabiot wasn't dispossessed once by the Liverpool midfield and did a good job in keeping a fairly unbalanced midfield (containing a defender and a winger) innocent.
Although, good look getting in ahead of the lads that are 6/6 so far this season.