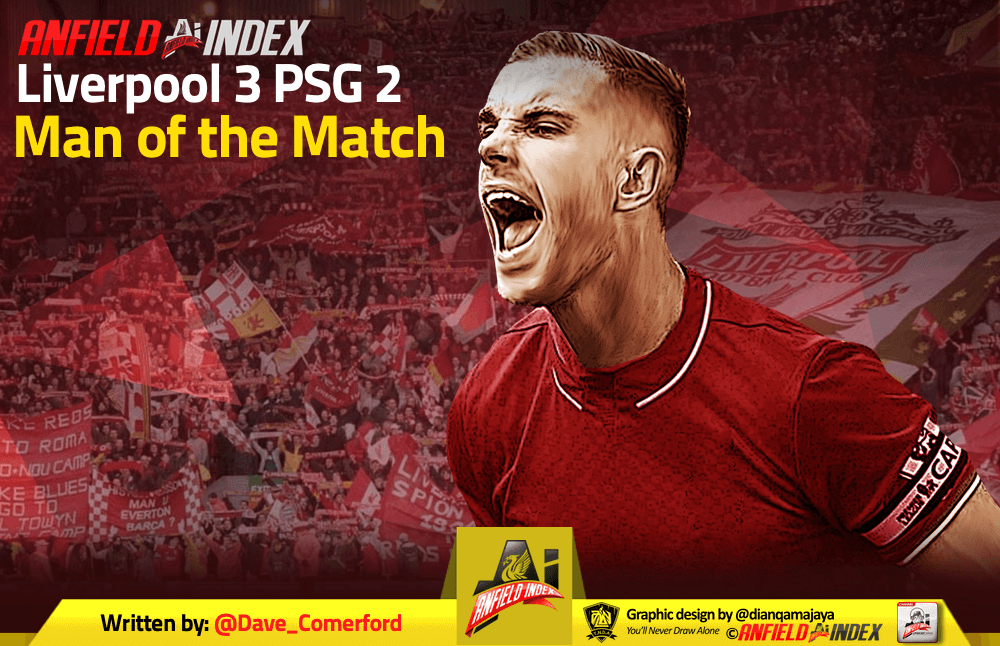 Liverpool 3-2 PSG: Man of the Match
Just three days after beating one of the best sides in the Premier League, Liverpool underlined their European ambitions by comprehensively outplaying, and battling past, a member of the continental elite.
After Mohamed Salah's frustrating evening took a nightmarish turn when he conceded possession in the middle of the park in the lead-up to PSG's gut-wrenching equaliser, one of his two partners in crime produced a moment of magic from the substitutes' bench to ensure this was another memorable European night rather than a case of what might have been.
Liverpool were in control throughout the second period, making their most fearsome Group C rivals look rather amateurish at times. Unlike last season, this was once again a battling team performance rather than an individual extravaganza.

Liverpool's best players against the French champions, then, were their greatest warriors.
Andrew Robertson was relishing the battle with Kylian Mbappe on the flanks and turned in a performance which proved that he is among the best left-backs in Europe.
He was as effective in the final third as he was in the defensive zone, teeing up Daniel Sturridge's opener with an excellent delivery.
Robertson was given the freedom to surge forward by James Milner's willingness to slot in at left-back and provide cover when necessary.
Indeed, the veteran, who has been his side's standout performer so far this season, was absolutely everywhere as always. Again he was impeccable in both departments – he made five successful challenges as he carried out his defensive duties, one of which set Liverpool on their way to Roberto Firmino's winner, and he was clinical from the penalty spot.
Milner was the man of the match at Wembley, and you could justifiably have labelled him the best player on the pitch once again. These excellent performances are beginning to seem an inevitability, and that is high praise indeed.
Georginio Wijnaldum was also brilliant against Spurs, and many feared that shifting him forward could disrupt that momentum, just as it did at Leicester before the international break. However, he was impressively tireless both on the ball, refusing to be dispossessed without a real scrap, and off it.
The Dutchman was a constant presence in the final third of the pitch and, so soon after shining in the no.6 role, he highlighted the versatility which makes him such an important asset.
Man of the match, though, goes to the third member of the magnificent midfield – Jordan Henderson.
Even though Naby Keita has yet to show what he's capable of, I was hoping he would start this one alongside Wijnaldum and Milner. Henderson, his chief competition, didn't look particularly good when he replaced the 23-year-old at Leicester and has generally struggled to hit top gear since returning to the fold.
But, under the lights at Anfield in the biggest game of the season so far, he rose to the occasion.
Henderson was uproariously brilliant in the knockout rounds earlier this year, and by delivering when it counts most, he is demonstrating to his innumerable doubters that he is a worthy skipper.
This was, as many have pointed out, a captain's performance. Not only was Henderson screaming instructions at his team-mates every time the camera focused on him, but he set an example with a dogged display right in the heart of the midfield scrap. He made three tackles, more than any of the defenders whom he was tasked with protecting.
One of the reasons Henderson continues to be a polarising footballer is what some deem the excessive praise dished out by his admirers when he plays well. Even his most ardent critics, though, couldn't deny that he did the job (and then some) against the Parisians.
Henderson's passing from the central areas was top-notch – he could boast an accuracy of 87% at the full-time whistle, having produced two key passes, three accurate long balls and three through balls.
A deep-lying midfielder should be the intermediary between the defence and the attack. By regaining possession multiple times and setting his side on the front foot, he certainly ticked the boxes.
In the context of Jordan Henderson's season, this was a big night. He had spoken in the build-up about the need to remain patient as he watched from the sidelines, but by returning to top form he has significantly boosted his chances of regular starts ahead of new arrival Fabinho, who only tonight got his first taste of action, and, when Jurgen Klopp deems it necessary, Naby Keita.
Klopp is fully aware of what Henderson is capable of, so perhaps performances like this will have bigger implications for how he is perceived. The melodramatic reactions to Henderson's new deal, and to every start he is awarded, indicate this stubborn resistance to the fact that he is a very good footballer who can be hugely important in big games.
There will never be a widespread Jordan Henderson love-in, but if the next few years see him dig deeper than most when it matters, we might eventually see an appropriate level of appreciation.