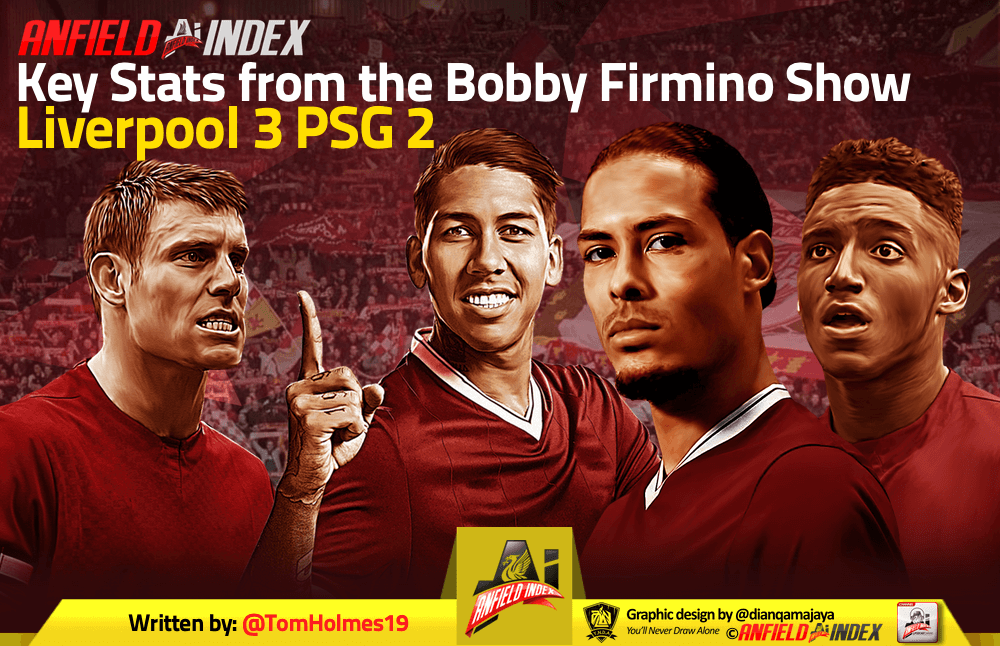 Key Stats from the Bobby Firmino Show - Liverpool 3 PSG 2
Liverpool went top of Group C with a breath-taking 3-2 win over Paris Saint-Germain at Anfield. But what were the key stats from a pulsating and thoroughly deserved win?
Penalty Man Milner Just Keeps On Running 
James Milner was once again damned close to being Liverpool's best player, with a superb display in the middle of the park. Milner won five tackles, had an 86% pass completion rate from his 44 passes, an interception and a clearance, as well as one dribble and crucially, his goal. Milner's last ten goals for Liverpool have now been penalties, scoring thirteen of his fifteen attempts from the spot since he joined the Reds. He's also regained his form from the spot, scoring his last two this season having missed two of his previous three.

IronBorn covered more than 12km for the 16th straight @ChampionsLeague game

— SimonBrundish (@SimonBrundish) September 18, 2018
And as this stat from Si Brundish illustrates, Milner is not just dependable from the penalty spot, but he's dependable in terms of work-rate. What an absolute machine, it's easy to forget he's in his 30s (except LFC journos keep reminding you.
Reds Dominate Again But Nearly Pay The Price 
Liverpool for the second time in a week went into a big game against exceptional opposition and played them off the park, making a very good PSG side look absolutely shambolic. The Reds had more possession (52%), more shots (17-9), more shots on target (7-5), more xG (2.2-1.2 from Caley, 2.5-0.9 from InfoGol), more tackles, more dribbles and 13 times as many corners. On just about every metric, the Reds deserved to win the game.
And yet they nearly didn't, for the second time in a week. At 2-2, you could be forgiven for thinking that Liverpool were due this sort of kick up the backside given the way they've played in recent weeks, but Bobby Firmino changed the tune with a stunning goal to make sure if the Reds are punished, it won't be tonight. 6 wins in a row now, the first time since 1961 that the Reds have started a season with six competitive wins, and the first time it's happened at all for Klopp since his title-winning season at Dortmund.
Firmino The Clutch Performer – Even With One Eye
What was better – Bobby's finish or his celebration? In the six games Liverpool have played this season, Bobby Firmino has scored or assisted in five of them – scoring the decisive winning goal in Liverpool's last three games. In his 150th LFC appearance, Bobby added his 53rd goal, as well as 41 assists. He's become an absolutely critical player under Klopp, and continued his love affair with the Champions League, scoring his 11th goal in just his 14th appearance, as well as eight assists. That's a goal or assist every 56.5 minutes in that competition. Absolute madness.
Anfield Impregnable In Europe – And In General  
Liverpool have never lost a European game at Anfield under Jürgen Klopp. Tonight was no exception. Last season the Reds beat Hoffenheim, Maribor, Moscow, Roma and Man City at Anfield, drawing with Sevilla and Porto – the latter after a 5-0 away win. And they remained unbeaten under Klopp in the Europa League too, seeing off Man United, Dortmund and Villareal amongst others. Moreover, the Reds have still only lost one game at Anfield since the start of last season, a shocking 3-2 defeat to West Brom in the FA Cup. Anfield is fast becoming impregnable, and the Reds are reaping the rewards. This is the first of three home games in a week across three different competitions, with Saints next up at the weekend, and then Chelsea in the Carabao next Wednesday. Hopefully, the Reds can keep their fine home form going.