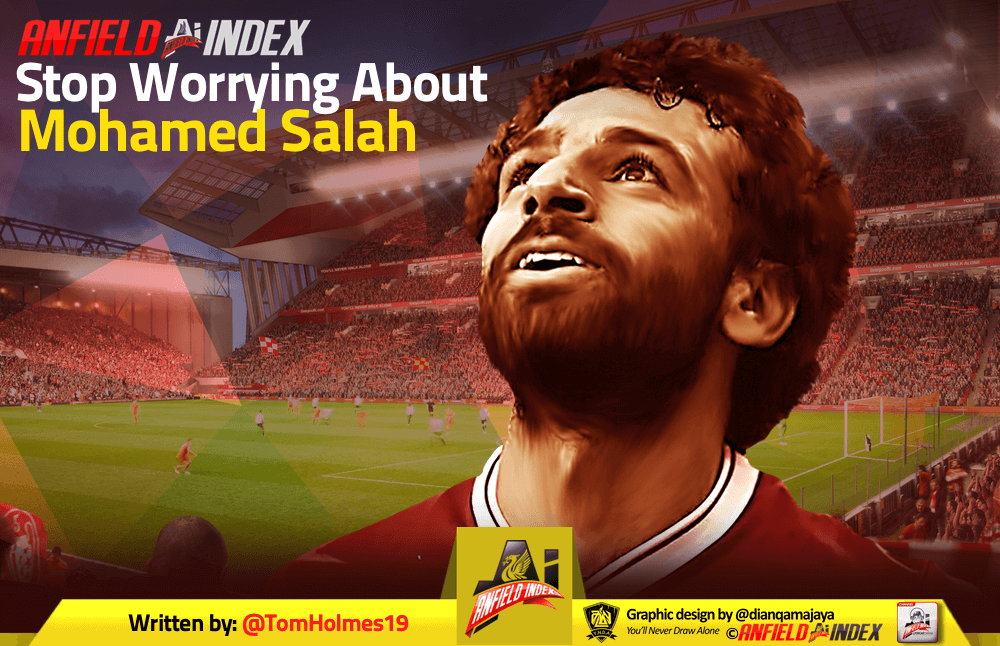 Stop Worrying About Mohamed Salah
Mo Salah has made a slightly below-par start to the season, and one that was exacerbated by his poor performance and misplaced pass that led to Mbappe's equaliser in Liverpool's 3-2 win over PSG on Tuesday night. But given that I am an unapologetic Mo Salah fan and have recently written articles saying that he'll be able to match his haul from last season, I feel duty-bound to tell everyone not to worry, for a multitude of reasons.
The first reason is that Salah is still producing the goods. In his five league starts, he's still scored two vital goals, the first goal in our 4-0 win over West Ham and the only goal in our 1-0 win over Brighton. And he also won a penalty and notched an assist in our 2-0 win over Crystal Palace. So despite not being quite at his best yet, Liverpool's first three wins of the season have Mo's touch all over them.
Moreover, as I've maintained throughout, Salah has the underlying numbers behind him. The time to worry about Mo Salah is when he stops getting into good positions, stops contributing to the attack and actively becomes a negative influence on his team. Yet in his first five league games, Mo has 3.90 xG, the highest in the league, despite only scoring two goals. He has the third highest xA in the league at 1.99, despite only notching one assist. At 4.8 shots per 90 and 3.34 key passes per 90, he's got the highest rate of both of Liverpool's players in the first five games and he has the highest xGChain in the league. Mo has scored at roughly 1.3 goals per expected goal throughout the last three/four years of his career, so he's almost certain to start banging them in soon.

All of that means that once Salah's finishing (and indeed the finishing of those around him) improves, he'll start hitting the big numbers again. In his first five league games last season, Salah only scored three goals and one assist, just the one more than he has so far in this campaign. Moreover, Salah is better playing at Anfield than playing away, having scored 19 goals at home last season in the PL compared to 13 away, and has scored in both of his league starts at Anfield this season.
There are of course, also plenty of other factors to take into account when looking at Salah's performance, rather than just pointing to the numbers and shouting "it's fine!" The first thing to consider is his fitness. For a lot of players, it's been a very long summer, and Salah is far from the only player in Europe who looks a little fatigued. Rushing back from his shoulder injury to help Egypt in the World Cup, followed by starting every game for Liverpool this season and playing ninety minutes for Egypt over the international break, means he is probably in need of a rest, which is one of the reasons I'd consider throwing in Xherdan Shaqiri against Southampton.
Another thing to look at is the team as a whole. Liverpool have as of yet not hit top gear, despite scoring fourteen goals in their six competitive games this season – and at least twice in five of their six games. Bobby Firmino is starting to find form but took a while to get going and with Sadio Mané banging in the goals, the pressure has also been taken slightly off Salah. Liverpool have an extremely explosive and dangerous front three, and with all of them contributing so far this season – nine goals and three assists between them – Mo has found himself less required to step up thus far.
But beyond that, the team has been slightly less gung-ho this season, and have often oriented their games more around defensive solidity and overall control of the midfield. Whether or not the lack of attacking flair has been caused by or necessitated this shift, it's nevertheless clear that Liverpool have been more cautious, calm and controlled so far this season, albeit off a small sample size. A big factor to consider is that with Alex Oxlade-Chamberlain missing, a man who was crucial in loading bullets for Salah whilst he was in form, Liverpool don't necessarily have that link-man in midfield directly feeding Salah, whilst Naby Keita is still finding his feet.
One final point to make is one that has been made by quite a few people already. This is Salah's second season, so teams know to watch for him, and tactically that means that more teams are going to set up (and have to an extent so far set up) to try and neutralise Salah, with the side-effect that Sadio on the other flank can get more joy. This is a theory that I don't quite buy into, and not just because Mo has still had five big chances so far this season. I think Mo is still getting plenty of freedom and plenty of joy, but he's just looking and feeling a bit rusty, and not quite at 100%.
I think one final and simple explanation is that Mo isn't necessarily playing badly at all, he's just not had a single explosive game yet. Towards the back end of last season, we were used to seeing Mo have games like Watford or Roma at home, where he was single-handedly taking opposition apart, and he's not quite in that unplayable, irresistible form yet. Nevertheless, in my opinion, there's no concrete evidence to suggest he's not going to reproduce that kind of form once he gets going, and plenty of contributing factors as to why he hasn't yet.
Oh and that water bottle nonsense? That's not going to earn more than a sentence worth of explanation because it's pointless. A player who knows he had a bad game allowed his frustration to boil over after he'd finished celebrating a win for his team. Stop sowing seeds of discontent where they don't exist, it's getting annoying.
We're six wins out of six, Mo Salah is different gravy, and we all need to chill out. Up The Reds.