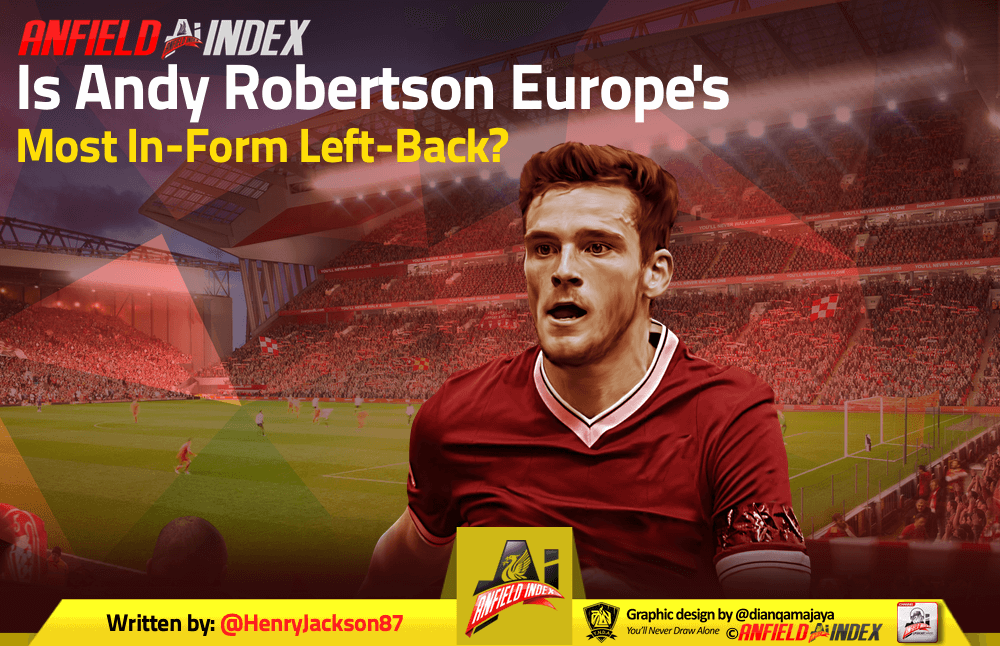 Is Andy Robertson Europe's Most In-Form Left-Back?
Trace your mind back about 14 months and a huge amount of trepidation surrounded Liverpool's acquisition of Andy Robertson.
Alberto Moreno's hit-and-miss form had called for an upgrade at left-back, with plenty of exotic-sounding names across Europe touted as ideal replacements, such as the forever Liverpool-linked Ricardo Rodriguez.
Instead, Jurgen Klopp opted to sign a scrawny-looking 23-year-old Scottish lad from Hull City, who had just been relegated to the Championship.
It was understandable why his arrival didn't garner resounding positivity, but then again, Klopp's brilliance in the transfer market merited more faith being shown in the German's eye for a top left-back.
In the space of just over a season, Robertson has gone from being a low-key purchase who was far from a household name, to both a cult hero and a top-class footballer, not to mention captain of his country. His rise has been the definition of meteoric, and from a Man of the Match debut at home to Crystal Palace early in 2017/18 he has rarely looked back.
It did take time for him to fully settle and adjust to his new surroundings, with Moreno remaining first-choice until early in the winter, but he has blossomed with every game that has passed.
As Liverpool produced another dominant Champions League performance on Tuesday night, this time against Paris Saint-Germain, Robertson was everywhere.
Immaculate with the ball at his feet, defensively savvy and providing ridiculous sums of energy down the left flank, he was one of the Reds' standout players, despite not covering himself in glory for Thomas Meunier's first-half strike.
This is just the norm these days, with Robertson seemingly putting in a seven-out-10 display every match, at the very worst. More often than not he is better than that.
Having produced such a sustained period of brilliance, which included being one of the best players in Liverpool's march to the Champions League final in Kyiv, we now have to be thinking of Robertson as truly elite in his position.
This is no freak run that is going to come crashing to a halt. This is a 24-year-old going from strength to strength, who has to already be considered one of the Reds' premier full-backs of the last 25 years – possibly the best since Steve Nicol.
In fact, is there a better left-back in Europe at the moment, and therefore the world?
It is sometimes easy to just swat aside such a bold claim, with more high-profile individuals naturally fitting the bill, but it is hard to think of a more reliable and in-form performer in all facets of their play.
Sure, you've got the all-conquering attacking force that is Marcelo, a player of incredible natural ability and someone who has often felt like Real Madrid's talisman, but he is defensively negligent.
He will rightly go down as a legendary full-back when he eventually hangs up his boots, but he has flaws that would be exposed in lesser teams.
Jordi Alba has become one of the best in the business during a consistently strong spell at Barcelona, but question marks surround some of his end product and his work at the other end of the pitch.
Many will naturally say that the Duracel Bunny-like Spaniard is better than Liverpool's popular No.26, but he has not been as impressive in the period since Robertson joined the Reds.
Bayern Munich's classy all-rounder David Alaba was as good as anyone a couple of years ago, but there seems to have been a dip in his previously world-class level, even though he remains a player of serious pedigree.
Benjamin Mendy looks to be a great addition for Man City, having recovered from a cruciate ligament injury, but it is unfair to compare him to Robertson, considering he missed so many months of action in 2017/18.
Over time, Mendy has the defensive capabilities and attacking quality to become a wonderful player, but he needs to do it for an extended period at the Etihad, before being considered the best.
Juventus' flying Brazilian Alex Sandro is a classic example of someone fans will say is superior to Robertson simply because he is more well-known, but he is playing no better than him and doesn't even always adopt a left-back role.
Filipe Luis remains a silky presence for Atletico Madrid but his powers are diminishing a little at the age of 33, and Marcos Alonso has been a surprisingly good signing for Chelsea but is inferior to the relentless Robertson.
Perhaps calling the Scotland skipper the best left-back in Europe at the moment is just another case of hyperbole from a Liverpool supporter brimming with positivity about his club. Maybe it will look foolish in the near future.
When you weigh everything up, though, it is a more than reasonable argument, with Robertson barely having a bad game as a Liverpool player, and proving to be a gigantic influence both on and off the pitch.
He already has three assists to his name this season, having teed-up Daniel Sturridge on Tuesday evening, and only Mo Salah and David Silva (16) have produced more key passes in the league than his 12 to date.
There are more gifted left-backs out there, while others are more athletic, but none are quite as rounded and consistently excellent as Robertson at this moment.
It is going to be fascinating to see how he progresses as the years pass – he is an almost faultless footballer and a great human being to boot.