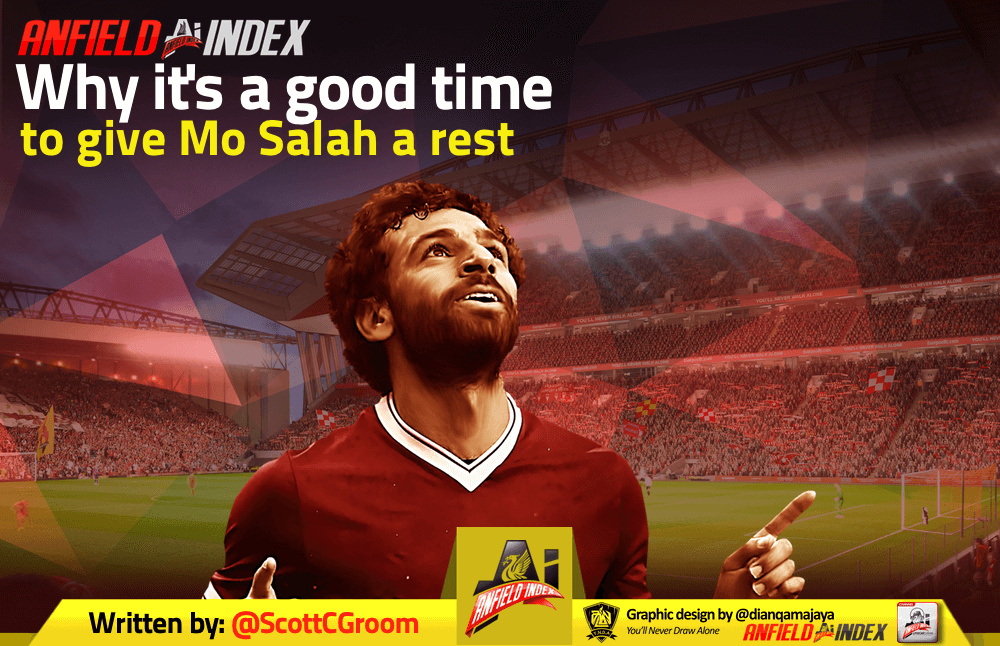 Why it's a good time to give Mo Salah a rest
The talisman of Liverpool's season last time out has looked a little out of sorts of late.
Mo Salah enjoyed a season like no other last term and notched up countless goals, assists and match-winning performances that saw him crowned player of the year.
At the start of this season, he has by no means played badly at all, but something seems missing with his game, which is why, starting with the Southampton game, he could be in line for a rest.

Everyone knows that Liverpool's games up until the end of October are challenging to say the least, and Salah will play a huge part in this run-in for sure.
However, games like Chelsea in the cup and Huddersfield in the Premier League may represent the perfect time to give Mo a break – both physically and mentally.
Now even as I write this, I can hear people screaming at me that he's just had a solid game against Southampton and bagged himself a goal, so why bother resting him? That is true, but consider his performance against PSG and how laboured it looked.
Perhaps the biggest indication that Mo looks a bit tired at the moment would be that pass that played loosely inside against PSG which was picked off and eventually ended upon Mbappe slotting home an equaliser.
This was unlike Mo in so many ways: careless, lacking quality and lethargic.
He is one of a few players in Klopp's squad who has played almost every minute of the season so far, meaning he's played six games in a short space of time, with a hectic international break sandwiched in between for good measure.
As I've previously mentioned, Mo hasn't been performing badly, but he's also not hit the heights we know he's capable of just yet and I think he does look a little fatigued, mentally too.
Over the summer he was used as a political puppet by the Egyptian FA, with arguments surrounding his image rights still rumbling on today, alongside a growing media and social media undercurrent that he doesn't get on with his teammates which is quite simply ridiculous.
Rumours have been doing the rounds that he and Mané don't see eye to eye after they were both a little selfish against Spurs in terms of their shooting – which they have both come out to rubbish.
Then there's the so-called footage showing Salah being angry as Firmino scored the winner against PSG, even though it's clear to see he celebrated with his teammates before slamming the water bottle down on the ground. He probably did that out of sheer relief as he maybe felt responsible for letting PSG back into the game, have you thought of that?
With all of these things combined, it might be best for Klopp to just take Mo out of the limelight for a little while, allow him to rest up, get his head space clear and allow him to prepare properly for what is a massive run of fixtures where Liverpool will undoubtedly need Salah's brilliance.