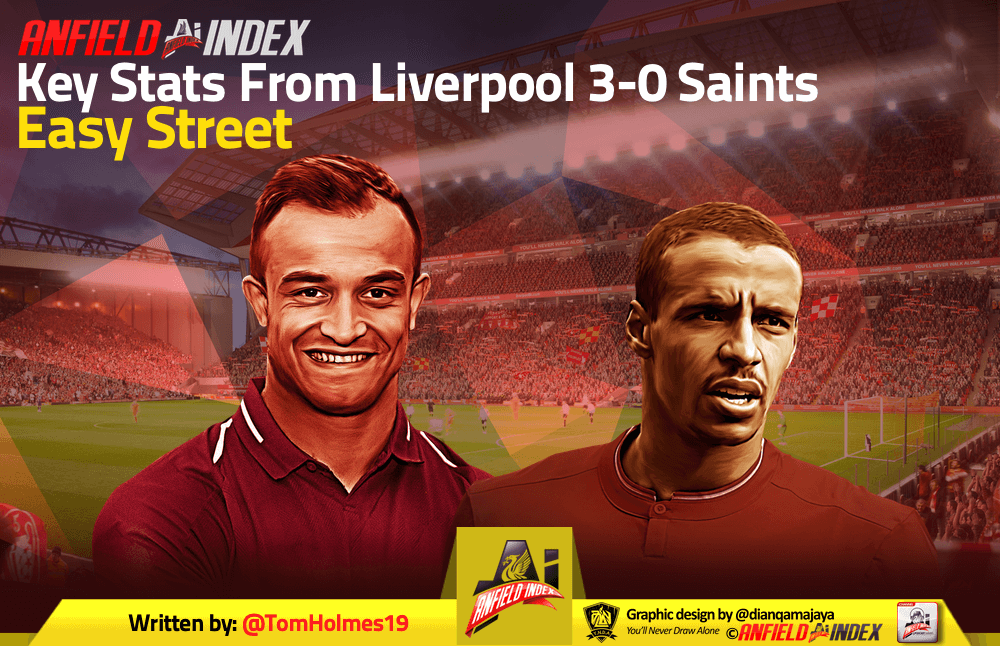 Key Stats From Liverpool 3-0 Saints - Easy Street
Liverpool sauntered back to the top of the Premier League after sleep-walking to a 3-0 win over Southampton at Anfield, making it six wins out of six without even breaking a sweat. But what were the key stats from the Reds' stroll in the park against the Saints?
Set Pieces and Late Goals Fuel Liverpool's Attack 
It's a slightly strange situation to be in, but once again it was set pieces and goals late in the half that were the story of Liverpool's attacking display. This was another fine attacking performance from the Reds but nothing special – creating just four chances themselves with no player having more than one key pass. Of LFC's 1.78 xG, 0.97 of that came from Salah's goal, with just 0.43 of Liverpool's xG attributable to a pass from an LFC player.
That said, set-pieces remained critical, with the first two goals coming from corners and the third from a free-kick. Liverpool now have five goals from corners in the league this season, as well as one from a free-kick and a penalty, making that 50% of their league goals.

Scoring late in the first half has been a feature of the games too, with this the fifth league game out of six that the Reds have scored inside the last ten minutes of the first half, and the staggering fourth game in which they scored in the 44th minute or later. Scoring goals at times like that can absolutely flat-line teams, and this was again the case as Southampton offered nothing to the game in the second half (admittedly having offered very little anyway).
Matip Thriving Back In The Side
Both Xherdan Shaqiri and Joël Matip impressed on their first starts of the season, with Matip turning in a very strong defensive performance, dictating play and scoring a goal. On top of his bullet header to put LFC 2-0 up, Matip had the most touches (122) and passes (112) on the pitch; won 6/7 of his aerial battles, with Van Dijk the only other player to win an aerial duel for LFC; and made one tackle, one clearance and three interceptions, blocked a shot, not getting dribbled past and not giving away any fouls.
Whilst a solid performance from Joe Gomez when he came on means he's unlikely to lose his spot in the starting XI alongside VVD, even with the latter bruising a rib, Matip remains a good option for Klopp to utilise. One other fun Matip stat, courtesy of Andrew Beasley:
When Matip scores, Liverpool get four:
4-2 Palace
4-1 West Ham

First goal at Anfield.

— Andrew Beasley (@BassTunedToRed) September 22, 2018
Reds Continue to Make Anfield A Fortress
The Reds keep winning at home, and I get to keep pointing out that we've not lost at home for nearly 18 months in the PL or in Europe. This was Liverpool's 24th straight unbeaten league game at Anfield, and their 8th win in 9 games there. It's also their 8th clean sheet in a row, with West Ham remaining the last team to penetrate the Reds' defence back in February.
On top of being brilliant at home, Liverpool are looking absolutely gravy in general now, winning their first seven competitive games of a season for the first time in the club's history. The Reds did win eight league games in a row back in 1990 though so a few more games before we get past that one. Chelsea and City next up though so it'll be something else if we get past that one.
Defensive Stoicism Remains Integral
These articles are really getting a bit boring to write to be honest. If only Liverpool's defence wasn't so effortlessly brilliant week in, week out. Southampton managed seven shots, one on target (in the 92nd minute), zero big chances and just 0.31 xG. The Reds are still the best defensive team in the Premier League this season, conceding just two goals from 3.25 xG.